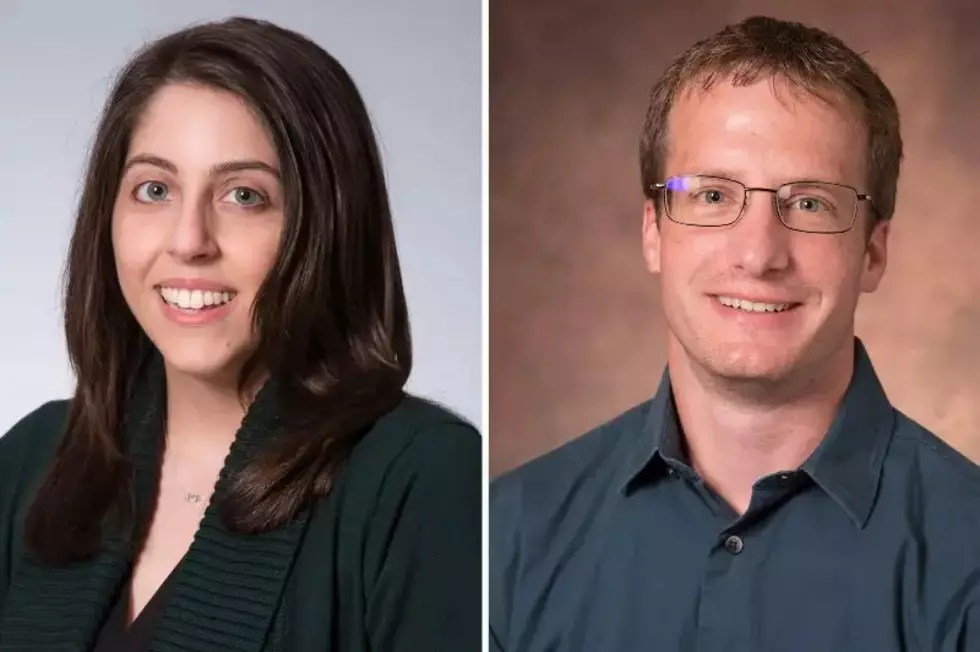 UCM Employees Honored Nationally for Work in Advising Students
UCM
After honoring a University of Central Missouri faculty member in 2021 with the Global National Academic Advisement Association's (NACADA) Outstanding Advisor Award, NACADA this year is recognizing both a faculty and staff member with one of its prestigious honors.
Matthew J. Garver, Ph.D., is receiving the Global NACADA Outstanding Advisor Award – Faculty Advising Role, and Jacqueline Faria is being honored with the Global NACADA Outstanding Advisor Award– Primary Advisor Role. Through their recognition, UCM claims two of only four different awards that are presented annually by NACADA specifically for outstanding academic advising.
"This is a stellar achievement in a very competitive field. Being chosen as the top advisor out of more than 14,000 members worldwide is nothing short of awesome, but to bring both of these awards home to UCM, is absolutely amazing and wonderful," said Ken Schueller director of Student Success at UCM. "I believe it speaks volumes about the quality of faculty and staff we have serving our students, and in perhaps a more general sense, the outstanding university that we are all privileged to call ours."
The award for faculty recognizes individuals whose primary responsibilities are related to academic advising services to students. To qualify, a recipient must spend at least 50 percent of their time doing research or teaching at an institution, and have at least three years of professional experience in those areas. Nominees for the staff award must spend at least half of their time on direct delivery of advising to students, and have also served in an advisement role for three calendar years.
Garver, serves as interim chair and associate professor in the School of Nutrition, Kinesiology, and Psychological Science, and Faria is a student success advisor in the College of Health, Science and Technology (CAST). They were most recently recognized as NACADA Region 7 award recipients, representing an area that includes colleges and university professionals in Arkansas, Kansas, Missouri, Louisiana, Oklahoma and Texas.
Prior to their regional recognition, Garver received Missouri Academic Advising Association (MACADA) honors in fall 202, but because Faria serves on the MACADA Board of Directors, she could not be considered for state recognition, but was able to participate in the other awards programs. Both honorees received Outstanding Academic Advisor Awards at UCM in spring 2021.
Phillip Bridgmon, Ph.D., provost and vice president for Academic Affairs, praised the NACADA honorees' most recent achievement, noting, "This is fantastic news.  I'm very impressed by our colleagues for winning these awards, but certainly not surprised. That our colleagues compete and win these awards on a regular basis I think is also a testament to their focus and professionalism. We are all beneficiaries of their commitments, and these contributions are very important to our entire academic community."
Faria became an academic success advisor in 2017, and she has served in that capacity for six years. She began her service at UCM in February 2015 as an office professional for the International Center. In 2016, she became the student services coordinator for CAST, where she worked closely with CHST advisors. In her current role, she serves students in the Schools of Technology; Aviation; Communication, History and Interdisciplinary Studies.
"I can't express what this accomplishment means to me. I think many of us doubt if we are making a difference in the lives of students, but achievements like this show the hard work and dedication that goes into serving the UCM community. This award represents the support my office has given me as a professional and our students' appreciation for what Success Advising can offer," Faria said. "It has been extraordinarily touching to receive comments of support and encouragement from my students through this process. Seeing that they care about me as much as I care about them is inspiring. I can't think of a better way to spend my days than helping our wonderful students to reach their potential and achieve their goals."
A resident of Blue Springs, Garver joined UCM in 2016, currently serving as interim chair and associate professor in the School of Nutrition, Kinesiology, and Psychological Science, where he will become chair of Nutrition, Kinesiology and Health on July 1. He is a faculty mentor to students in the Bachelor of Science and Master of Science programs in Kinesiology in which he has previously served as coordinator.
In addition to being honored by NACADA, Garver has received other institutional awards. Most recently he was nominated for the Faculty Mentor of the Year Award (2020), and he was UCM's recipient of the Missouri Governor's Excellence in Education Award in 2018.
Garver commented on his recognition stating that it is often difficult to know what kind of impact his efforts are having on students. It was rewarding to read comments from nominators that demonstrate his work is meaningful, Garver noted.
"The award is a testament that long days and impassioned investment are worth it," he said. "I purpose each day to try to make a difference to one or more people – students, staff, colleagues, or campus visitors – maybe this award reflects that intention."
Garver and Faria continue a tradition of outstanding academic advisors at UCM. Including their recognition, six individuals have been honored nationally by NACADA since 2015 for their outstanding efforts to help students succeed in their college education. In 2021, Krystle Gremaud, assistant professor and program coordinator for Career and Technical Education in the School of Professional Education and Leadership, became the first recipient of NACADA's Outstanding Advising Award – Faculty Advising.
Other individuals to be recognized nationally in previous years include individuals who have the primary role as Academic Success Advisors: Paula Brant, 2015; Jennifer Pint, 2016, and Natalie Peirce, 2017. These awards are in addition to a number of Certificate of Merit Awards that were earned in this recognition program by university members since 2015.
On a local level, earlier this spring, UCM honored two Outstanding Academic Advisors. One of them was Kerri Lopp, a staff member at the Success Advising Center who advises and mentors students in Anthropology, Speech Language Pathology, Criminal Justice and Criminology, Child and Family Development, Crisis and Disaster Management, International Studies, Modern Languages, Political Science, Psychology, Sociology, and Social Work.
The other honoree was Melissa Abner, Ph.D., associate professor and program coordinator in Fashion: Textiles and Clothing in Business, who works with students in the Bachelor of Science in Fashion, Fashion Merchandising Minor, and Apparel and Textiles Merchandising Certificate in CHST. Both campus members will have the opportunity to be considered for other awards related to academic advising, beginning with MACADA this fall.