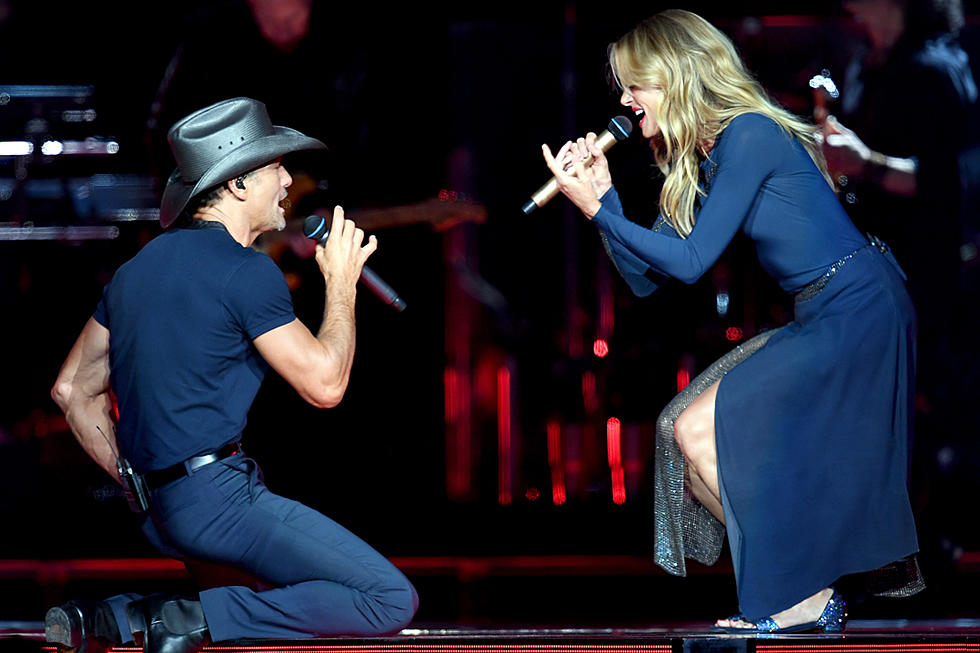 Tim McGraw, Faith Hill Bring Hits, Intimacy to Nashville Soul2Soul Concert
Kevin Winter, Getty Images
Tim McGraw and Faith Hill know exactly how to give fans what they're looking for in concert, and they did just that over the course of two satisfying hours at Nashville's Bridgestone Arena on Friday night (Aug. 4) during the first of two Nashville shows on their 2017 Soul2Soul Tour.
McGraw and Hill are both unusually good at making a personal connection with their fans, and between them, they're armed with so many hits that they could probably have played for two more hours with no repeats. Put them together onstage together with the familiarity of a long-married couple and it's just not a fair fight for country's other touring acts. The fans' goodwill toward the couple was so palpable Friday night that it was almost like another participant in the show, making it one of those special concerts where the audience is an active, rather than passive, factor in the success of the concert itself.
Hill sounded strong and clear in her first show back onstage after a doctor-ordered two day touring break during which she was placed on vocal rest, though there were a handful of moments when she seemed a bit tentative early on. She relaxed into the show as it went on, delivering strong versions of her classic hits including "The Lucky One," "The Way You Love Me," "This Kiss," "Wild One," "Piece of My Heart" and "Breathe," the latter of which gave Hill her crowning solo moment of the night. McGraw joined her for a subtle backing performance of "Like We Never Loved At All," a song she still owns but to which he makes an important contribution.
Tim McGraw Talks About 20 Years With Faith
Hill played acoustic guitar and subtly backed McGraw on "Angry All the Time," and they gave the crowd a humorous moment at the end of "Break First," a new duet they've been singing on their 2017 Soul2Soul Tour. They ended the song with a stare down that Hill apparently usually wins, but not Friday -- she got distracted by someone in the audience and started laughing, prompting her husband to exclaim, "I won! And not only that, I won in Nashville! I don't get that many wins in Nashville," he joked to the crowd in a reference to his home life, saying he's "drowning in estrogen" in his household full of women. "Just let me enjoy this," he told his wife as she playfully stomped her foot.
Each took a special moment with the crowd; Hill walked through and slapped hands with fans as she sang "Mississippi Girl," and McGraw heartily high-fived and fist-bumped his way through "Something Like That" as he walked through the audience. The couple also joined for a powerful version of their most recent single, "Speak to a Girl," and their joint performance of "It's Your Love," accompanied by footage of their life with their daughters over the years, was the show's most engaging emotional moment, with Hill calling each of their kids out by name as they flashed on the screen until both she and McGraw seemed to be holding back tears.
They ended on an intimate, quiet note that an unmarried duet pairing would not have been able to even attempt, sitting facing each other in chairs to perform a muted, but powerful version of "I Need You." They delivered the song with aching restraint before rising hand in-hand and waving an emotional goodbye to the Music City crowd and simply walking offstage together, leaving a drained but satisfied and uplifted hometown audience completely happy.
See Tim and Faith's Best Photos Through the Years