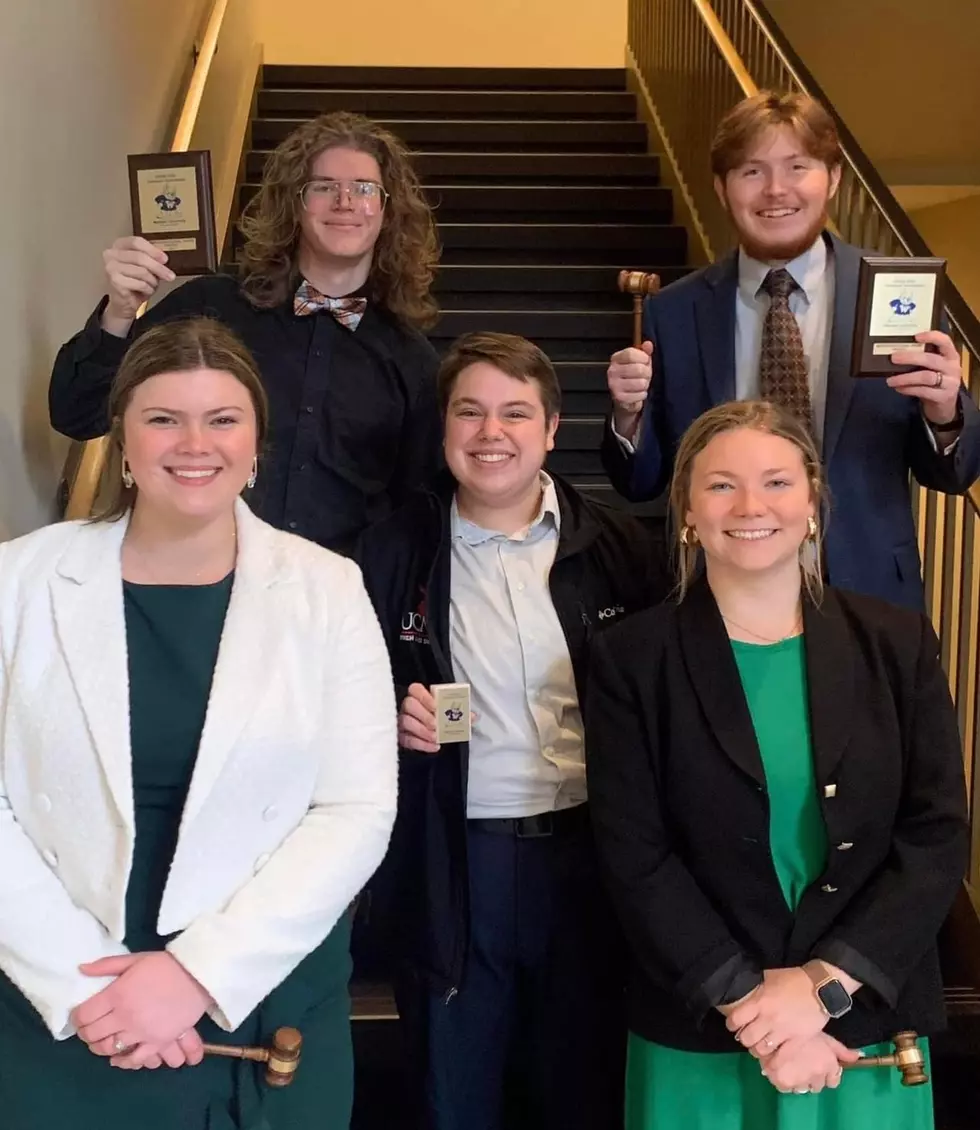 Talking Mules Ranked Ninth In Speech & Debate
UCM
As the Talking Mules speech and debate team prepares for a tournament this weekend in Nashville, Tennessee, followed by the Montgomery Cup in Great Britain later within the next three weeks, success in recent events has contributed to the University of Central Missouri team's ninth-place ranking by the International Public Debate Association (IPDA).
IPDA is an organization that was founded in 1997 and is dedicated to promoting competitive interscholastic programs that advocate opportunities for individuals to develop effective communication skills. UCM is one of 291 member institutions that have been ranked by the IPDA on the basis of a point system that considers individual and team successes in competitions with other colleges and universities that have occurred throughout the fall and spring semesters. These rankings can change depending on the team's success in future competitions this spring.
Unlike collegiate sports, IPDA sanctioned events do not separate colleges and universities by size, according to Jack Rogers, director of forensics and longtime coach of the Talking Mules. Throughout the year, the Talking Mules compete against teams from some of the largest and most prestigious public and private institutions in the nation.
"You are allowed to take points from eight sanctioned tournaments throughout the year, from the very first tournament of the fall semester up until the national finals, which will take place March 23, 24 and 25 in Boise, Idaho," Rogers said.
While the UCM team has earned an overall ranking in the top 10, individual members of the Talking Mules also have impressive IPDA standings, which impact the team's overall standing. Among the Nation's Top Speakers in speech and debate are UCM students, Lilly Rhodes, seventh; Caleb Nading, 11th; and Infinatasia Nading, 14th.
These individuals were among the leaders in individual and team events at the Gorlock Gala, the most recent competitive event at Webster University in St. Louis, an event that included teams from 30 colleges and universities. The team of Lilly Rhodes and Infinatasia Nading finished second in Open National Parliamentary Debate Association (NPDA) Debate to a team from Morehouse College.
Other individual honors at that event went to Infinatasia Nading, who finished second; Lillian Rhodes, third; and Caleb Nading, fourth. All three were successful in the Speaker competition. Talking Mules member Hayden Etter finished seventh in Prose Interpretation and the team of Caleb Nading and Caleb Wands captured fourth place in Duo Improvisational Pairs.
The Talking Mules will leave Friday, Feb. 3 to compete at the Fourth Annual British Parliamentary Debate Tournament at Vanderbilt University in Nashville, a weekend event that is not sanctioned by IPDA. This will give the team an opportunity to prepare for a run at the Montgomery Cup when they travel to Ireland, Wales and England for competitions scheduled Feb. 17-March 5. While this prestigious event enters its 25th year in 2023, UCM has competed in the tournament 23 times and has emerged 16 times as the winner. Rogers was among the individuals who helped establish this opportunity for overseas competition, but will be leading the UCM team for the last time.
"This is a big anniversary for me. I will be retiring at the end of the year," he noted.
Asked what he believes has contributed to his students' success over the years, Rogers commented, "Ultimately, it comes down to them and their work ethic, but if you don't have a strong faculty, and if you don't have a strong administration supporting you, it's difficult to be successful. We've been lucky to have always enjoyed a strong reputation and have had very strong support from the campus."
He stressed that many of the university's best and brightest students have been part of the Speech and Debate program throughout its history. Participants develop skills they can use the rest of their lives while also contributing to UCM's history of many successful forensic teams.
"My old coach used to tell me 'you can't make a silk purse out of a sow's ear.' I get lots of silk, so we are able to stitch that together and do pretty well for a smaller regional university," Rogers commented.
In the photo: Members of the University of Central Missouri's Talking Mules speech and debate team, front row, left to right, Infinatasia Nading, Hayden Etter, Lilly Rhodes, and back row, Caleb Wands and Caleb Nading, are ranked ninth among 291 teams by the International Public Debate Association following a recent competition in St. Louis.