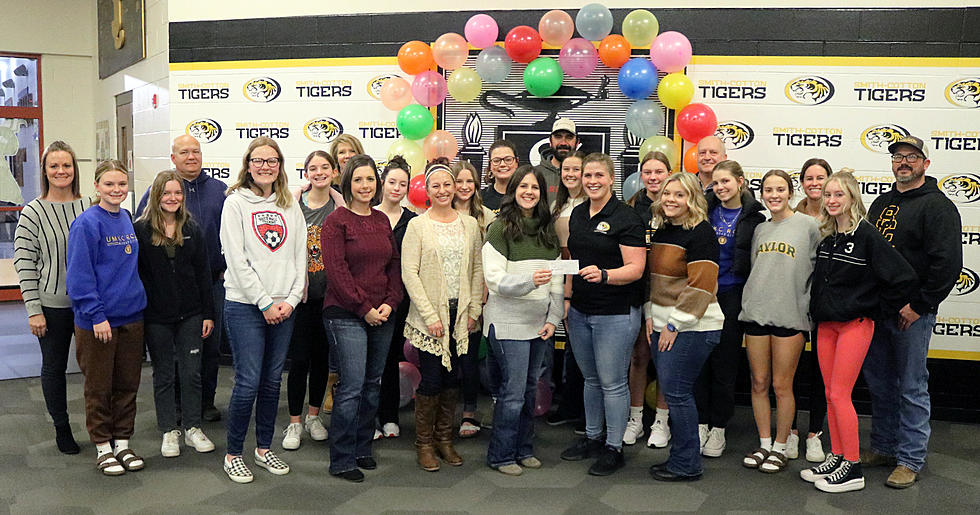 Soccer Program Presents Mental Health Grants
Sedalia School District 200
The Smith-Cotton High Girls Soccer program and the Lady Tiger Soccer Booster Club presented their first Mental Health Awareness Grants to four recipients in Sedalia School District 200.
Funding for the grants comes from the soccer team's annual mental health awareness game. The grants will support the recipients' projects, which are focused on improving mental health resources for Sedalia 200 staff and students. The recipients and their projects:
Lindsay Henry and Inclusive Playground Committee, Heber Hunt Elementary, $500
◼ Heber Hunt is developing an inclusive playground. This project will allow adults and children with varying abilities to engage in a more inclusive setting. This grant will go towards a "Ten Spin," which is a piece of equipment like a merry-go-round with built-in seats for stability which allows all students to ride safely.
Susie Howe, third grade teacher, Heber Hunt Elementary, $231
◼ The grant will purchase seven under-the-desk bicycles. This will help third graders' accessibility to movement in the classroom. When students engage in movement, the serotonin level increases in their brain so they feel calmer, safer and ready to learn.
Michelle Hofstetter, school counselor, Washington Elementary, $146.75
◼ These funds will go toward educator mental wellness through a project to help educators gain self-care practices, improve overall mental wellness and boost morale. At this time, educators are experiencing compassion fatigue, exhaustion, and burnout. This project will honor the importance of wellness and mental health for educators.
Lindsey Fish, school counselor, Sedalia Middle School, $350
◼ The grant goes toward implementation of a Child Safety Matters curriculum program, which empowers children and all relevant adults with information and strategies to prevent, recognize, and respond appropriately to bullying, cyberbullying, abuse, and digital abuse dangers.
Smith-Cotton Girls Soccer Head Coach Meredith Brick said, "As a program, we are very excited to offer this grant to our Sedalia 200 family and we congratulate our inaugural grant recipients. From our players and coaches to our booster club and parents, we have all played a role in raising funds to provide these grants. We are working as a program to destigmatize the need for mental health resources for everyone and hosting this event brings us closer together as a program and community."
Brick noted that all individuals have their own issues and concerns, and that people carry those loads differently. "By providing this grant, we are helping our students and staff carry the load with support," she said.
The Lady Tigers' third annual Mental Health Awareness game is set for Friday, April 21, at Tiger Stadium. The team and booster club will be selling T-shirts and bracelets, and there will be a silent auction during the game with a variety of items.
"Let's pack the stadium to make this event bigger and better each year," Brick said.