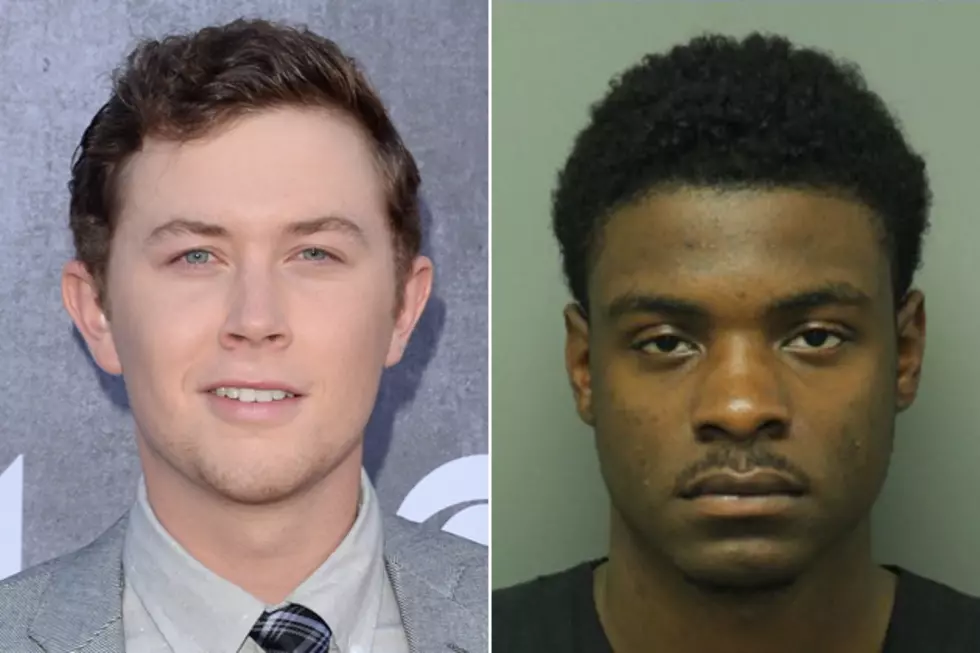 Arrest Made in Scotty McCreery Home Invasion Robbery
Jason Merritt, Getty Images / Raleigh PD
Police in Raleigh, N.C. have made an arrest in connection with the home invasion robbery of Scotty McCreery and several friends. Additionally, new details were made available about what the thieves stole early Monday morning.
Mikkail Jamal Shaw of Raleigh turned himself in to police on Tuesday night and police charged him with robbery with a dangerous weapon and conspiracy to commit robbery with a dangerous weapon on Wednesday morning. WRAL-TV reports his bond was set at $375,000. Authorities continue to search for the other two suspects.
"It was definitely a scary night," McCreery said on Facebook after the event. WTVD-TV in Raleigh reports that three men forced their way into an apartment, demanding the five men inside get on the floor and count to 100 before they get up. The stolen goods included over $1,600 worth of electronics and cash, like McCreery's iPhone and a $1,200 laptop belonging to a friend.
The incident took place at McCreery's friend's apartment near the campus of N.C. State University, where the 'Feelin' It' singer just finished his second year of studies. McCreery returned to his parents home in Garner that afternoon. The incident has left the whole family rattled:
"I will share more when the time is right, but as of now we do not want to do or say anything that could hinder the investigation," McCreery added in his statement. "Thanks to everyone for their prayers and support."