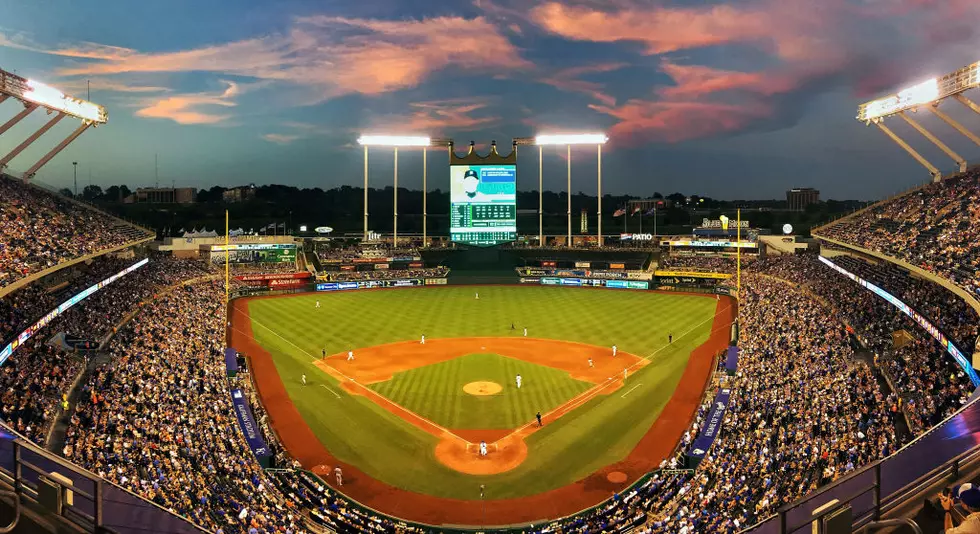 Royals and Cardinals Make Roster Moves Before Offer Deadline
Getty Images
The St. Louis Cardinals and Kansas City Royals made roster moves before last night's deadline to tender contract offers to players. The Cardinals non-tendered relief pitcher John Brebbia and infielder Rangel Ravelo. While the Royals non-tendered four players including third baseman Maikel Franco.
The Royals decision to not offer a contract to Franco was driven largely by economics according to an article posted on the Royals website. Royals General Manager Dayton Moore is quoted in the article as saying the decision to non-tender Franco was difficult because of the great job he did for the team, but with internal options in Hunter Dozier and prospects Kelvin Gutierrez and Emmanuel Rivera.
In addition to not offering Franco a contract the Royals parted ways with outfielder Bubba Starling, infielder Jeison Guzman and utility man Erick Mejia. Sources told Royals reporter Jeffery Flanagan, those three players could be brought back by the team before spring training.
Earlier in the day the Royals signed Dozier to a one year $2.7 million dollar deal. And the team agreed to one year deals with first baseman/outfielder Jorge Soler, right handed pitchers Jesse Hahn and Jakob Junis and outfielder Franchy Cordero, The Royals also signed left handed pitcher Mike Minor to a two year $18 million dollar contract on Tuesday.
On the other side of Missouri, Brebbia's elbow issues and limited playing time for Ravelo seemed to influence the Cards decision to not offer these players contracts according to an article on the Cardinals website.
Brebbia didn't play in 2020 as he was recovering and rehabbing from Tommy John surgery. And Ravelo was set to be released by the team last season until a bench spot opened up when they traded José Martínez. The Cardinals moving forward want to take a look at what backup infielders Edmundo Sosa and John Nogowski can do for the team in 2021.
The Cardinals did tender contracts to pitchers Jack Flaherty, Jordan Hicks, Alex Reyes and John Gant, as well as center fielder Harrison Bader. Flaherty and Bader are likely to see significant salary increases in 2021, while the injuries Hicks and Reyes have dealt with will factor into salary negotiations with the team, however they will likely make more in 2021 as well due to arbitration.
All the players mentioned here are arbitration eligible and salaries can be negotiated at any time or determined by arbitration if the team and the player can't agree.
Players non-tendered by Major League teams are considered free agents and can sign with other teams. According to Major League Baseball's website just under 60 players were non-tendered as teams scramble to cut budgets after losing significant money in 2020 due to the cornavirus pandemic and an uncertain financial picture for the 2021 season.
According to MLB.com some of the most notable non-tendered players who are now free agents include former Chicago Cubs outfielder / DH Kyle Schwarber, former Atlanta Braves outfielder Adam Duvall, former Minnesota Twin outfielder Eddie Rosario, former White Sox outfielder Nomar Mazara, former Rockies outfielder David Dahl, former Cincinnati Red Archie Bradley and former Toronto Blue Jay infielder Travis Shaw. A complete list of non tendered free agents can be found here.
ALSO: Former Minnesota Twins All-Star's Home for Sale - Complete With Brewery