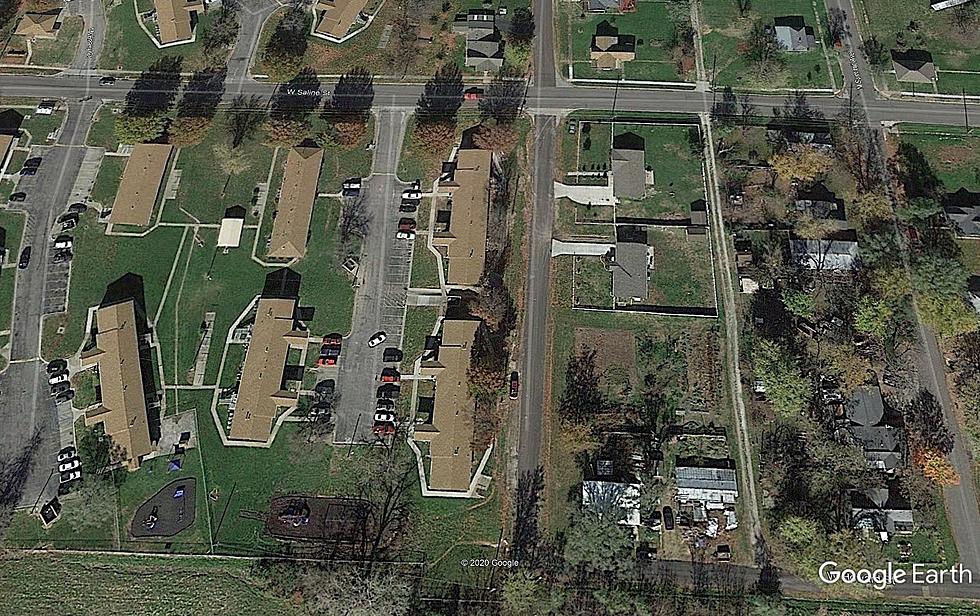 UPDATE: Man Arrested After Standoff With Sedalia Police
Google Earth
A tense standoff with law enforcement that lasted nearly 10 hours ended late Sunday night with the arrest of an armed man who refused to come out of an apartment at the Sedalia Housing Authority.
According to published reports, the 40-year-old man was inside an apartment in the 200 block of Scott Joplin Drive near Saline with his wife and four children when Sedalia Police responded to a domestic call around 11:30 a.m. Sunday.
The man reportedly didn't want to speak with officer and refused to let them inside. That led to a two-hour negotiation and then a decision to enter the apartment for the safety of the children. The man then allegedly shot through the door twice and struck one of the SPD officer's ballistic shield around 2:45 p.m.
The officers immediately retreated, set up a perimeter and a call was made to the Missouri State Highway Patrol to request their SWAT team. SWAT arrived around 4 p.m. Over a dozen MSHP units were on scene.
Negotiations continued with the suspect for several hours more. Rance M. Noble was later taken into custody without incident. He was charged with 2nd degree domestic assault and resisting arrest. The children were reportedly uninjured.
One SPD officer was treated for minor injuries. The MSHP's Division of Drug & Crime Control is conducting an investigation into that part of the incident.
Updated to Add Sedalia Police Report: 
Sedalia Police were sent to the 200 block of Scott Joplin Court in reference to a male and female yelling at each other Sunday morning. Upon arrival, Officers met with the female victim.  Officers observed marks around her neck, redness on her left cheek, the markings of a bruise on her chin and a cut to her left index finger.  The male, Rance M. Noble, 40, of Sedalia, would not talk to officers and locked himself in his residence.  Noble contended he had stab wounds and attempted to show injuries from a knife to his hand and the right side of his abdomen. Officers were able to see a superficial laceration to his hand from thumb web to the heel and two inch superficial lacerations, parallel to each other on his side.  Noble was told he was going to be placed under arrest and continued to stay inside the residence with the doors locked.  After approximately nine hours of negotiations, the subject surrendered to and was arrested by the Missouri State Highway Patrol.  Noble is being held pending prosecutor review of charges of Domestic Assault in the 2nd Degree and Resisting to Arrest and Interfering with an Investigation, Felony.