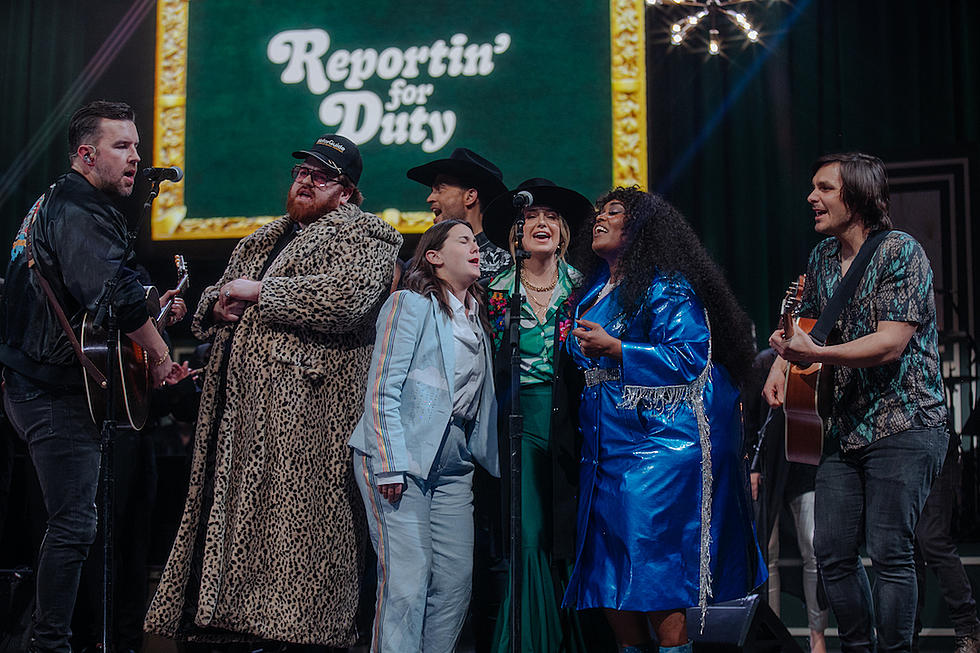 Country Stars Celebrate the Life of Leslie Jordan at 'Reportin' for Duty' Tribute Concert
Catherine Powell
Actor, comedian, singer and activist Leslie Jordan won the hearts of millions with his charming humor, positive outlook and warm personality. On Feb. 19, an all-star roster of celebrities and musical acts took the stage at Nashville's Grand Ole Opry House to pay tribute to the Chattanooga, Tenn. native, nearly four months after his death.
Jordan died at 67 after suffering "sudden cardiac dysfunction" while driving to a film set in Hollywood, Calif. His passing shocked friends, colleagues and fans, many of whom had connected with his trademark brand of lighthearted, loving humor that went viral on social media during the early days of the COVID-19 pandemic.
In 2021, Jordan fulfilled another career dream by recording his country-gospel album, Company's Comin'. The project, a charming mix of familiar hymns and original tracks, included collaborations with Dolly Parton, Chris and Morgane Stapleton, and Brandi Carlile, among others. Many of the special guests featured on that record appeared at Reportin' for Duty: A Tribute to Leslie Jordan to share stories and songs in honor of their late friend.
Although she was unable to appear in person, Parton sent a heartfelt video message which found her reflecting on the many similarities that bonded them.
"I bet you're having a big laugh over all of us being sad and sorrowful," Parton said with a smile. "I know that would be the last thing you would want us to be. You made us happy while you were here, and we're happy that you're at peace."
Between these personal reflections and tributes, concertgoers were treated to a rapid-fire stream of musical performances, including a powerful rendition of Vince Gill's "Go Rest High on That Mountain" from Fancy Hagood and John Osborne.
"Long before he was my friend, he was my hero," Hagood explained. "Leslie was a proud Tennessean, as am I. Tonight, this performance is for any queer person in this state," he noted, referencing Tennessee's recent advancement of anti-LGBTQ+ legislation. "On the days that feel hard, I just think, 'What would Leslie Jordan do?'"
Another moving moment came from Maren Morris, accompanied by Ryan Hurd, who shared a rare live performance of her song "What Would This World Do." The emotionally-charged cut from her 2022 album Humble Quest was written as a tribute to her close friend and creative collaborator, Busbee, who died from an aggressive form of brain cancer in 2019.
Decked out in rainbow sequins, Tanya Tucker kicked off the night with a soaring rendition of Jordan's favorite song, "Delta Dawn," accompanied by her daughters, Presley and Layla. Lukas Nelson joined Lainey Wilson for a moving take on Parton and Kenny Rogers' 2013 duet, "You Can't Make Old Friends," which drew a wave of applause from the crowd.
Other standout moments from the night included Brittany Spencer's rendition of "Skinny and Sober," a song that Jordan had praised on Instagram, Jelly Roll's reflection on their unexpected friendship before rolling into his recent No. 1 hit, "Son of a Sinner," and Brothers Osborne's dedication of "Younger Me" to a gay couple in the audience celebrating their 20th wedding anniversary.
"To be here tonight, comfortable and being able to express your love ... what a beautiful thing," TJ Osborne told the crowd.
It's fitting that love and acceptance were two of the themes at the heart of the evening's festivities, as Jordan spent much of his time helping others in need, including early outreach efforts during the beginning of the AIDS epidemic. In recent years, Pearl Jam's Eddie Vedder closely bonded with Jordan over his charitable work to help those suffering from Epidermolysis Bullosa, a rare skin condition that affects Vedder's own son, Eli.
Lukas Nelson joined Vedder to close the night with a powerful acoustic set, including a gripping cover of Jason Isbell's "Maybe It's Time." Vedder was visibly emotional as he explained his family's close relationship with Jordan, and the shock he felt when news of his passing first broke.
Although there were many moments of pause and sadness through the night, Jordan's legacy of love, humor and community radiated through the Grand Ole Opry House as the performers gathered together for one final singalong.
Reportin' for Duty: A Tribute to Leslie Jordan will air on the Circle Network on Saturday (April 29) at 10PM ET. Take a look at snapshots from the emotional evening below.
Tanya Tucker, Maren Morris + More Country Stars Celebrate the Life of Leslie Jordan [PICTURES]
On Feb. 19, 2022, some of country music's biggest stars gathered to remember the life, humor and music of Leslie Jordan. Take a look at these snapshots from Reportin' For Duty, a one-night-only tribute concert held at Nashville's Grand Ole Opry House.