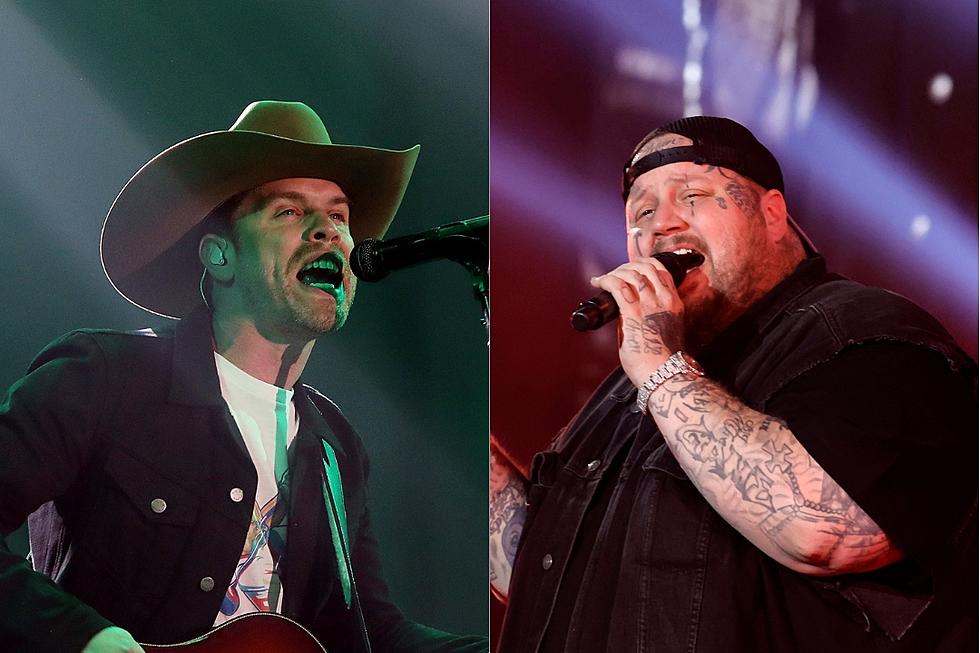 Dustin Lynch + Jelly Roll Evoke Nostalgia in Dobie Gray-Inspired 'Chevrolet' [Listen]
John Medina/ Kevin Winter, Getty Images
Dustin Lynch and Jelly Roll have teamed up for "Chevrolet" — a song that'll take fans back to the dreamy yesteryears of singing along to Dobie Gray's 1973 hit, "Drift Away."
Jessi Alexander, Hunter Phelps and Chase McGill wrote the track, with "Drift Away" songwriter Mentor Williams listed as a contributor as well. The breezy love tune opens with simple acoustic strums and audio samples of bar chatter, taking listeners into an all-too-familiar night setting.
"She was dressed to kill, I was in my boots / So I had to pay for the uptown top, yeah / But we talked for a while in a corner booth / Before closing time, she caught me by surprise," Lynch sings in the opening verse as he recounts his serendipitous romantic encounter.
"She said gimme a dirt road, the windows down / Wanna get lost on the edge of town / In your Chevrolet / She said gimme a six-pack, some Brooks & Dunn /If you want a country girl you just found one / Let's step away, yeah / In your Chevrolet," the singer continues in the nostalgic chorus over a melody inspired by the iconic "Drift Away."
"Chevrolet" is off Lynch's forthcoming record, Killed the Cowboy. The 12-track LP also features its title track, which is out now.
Of his new project's inspiration, Lynch shares, "When I'm off the road and working on my farm, I have a lot of inner dialogue. It's a boxing match inside of me, between living in the moment and enjoying where I am, versus what's the best version of me five, 10, or 20 years down the road."
"What do I want to be? What do I want life to look like? Who do I want to be around? Killed the Cowboy is that back-and-forth," he continues. "It's me asking myself, 'Am I okay? Or am I weird for not having found my person yet? And is she even out there?'
"My hope is that this album finds someone who needs to hear it," adds Lynch. "I want Killed the Cowboy to embrace the single people of the world and lift them up, to let them know that you don't have to live a 'normal' life to still be happy in your own skin."
Killed the Cowboy follows Lynch's latest album, Blue in the Sky, which features his current single, "Stars Like Confetti."
10 Artists We Totally Underestimated
Oliver Anthony
is country music's newest underdog, but he's just next in line on a list of hitmakers that fans, the media and the music industry scoffed at.
This list of 10 artists we underestimated includes at least five legitimate superstars with dozens of No. 1 hits, two
American Idol
finalists and country music's first real viral sensation. Each has proven themselves worthy in ways nobody saw coming.