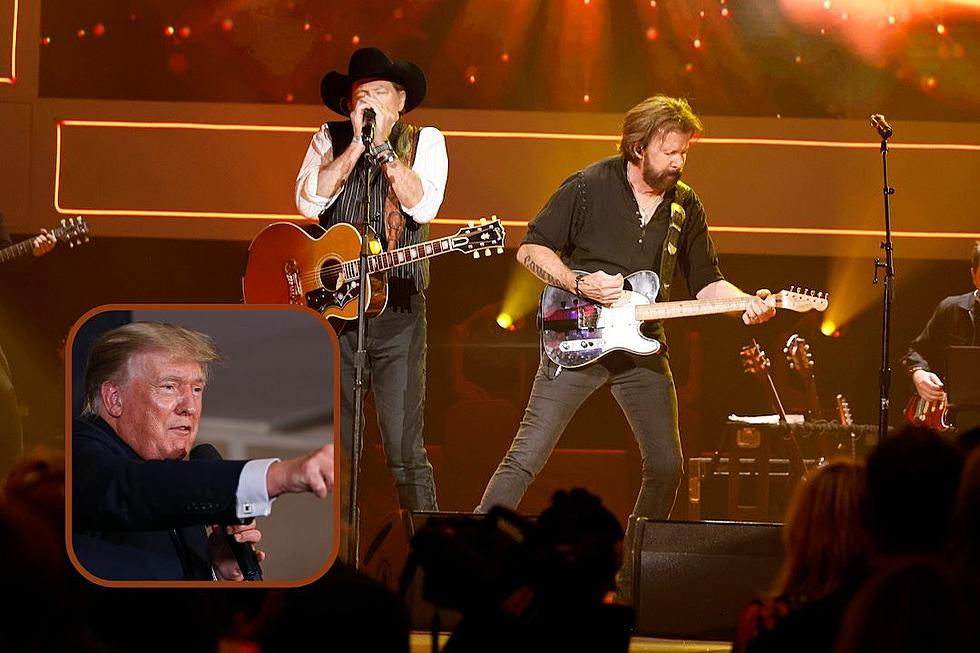 Donald Trump Walks Onstage to a Brooks & Dunn Lyric About 'Going to Prison' [Watch]
Jason Kempin, Douglas P. DeFelice, Getty Images
Former President Donald Trump walked onstage to a topical -- and eyebrow-raising -- line in a Brooks & Dunn song during a gathering of GOP 2024 presidential hopefuls in Des Moines, Iowa on Friday night (July 28.)
Like all the candidates who spoke at the rally, Trump walked out onstage to "Only in America," the country duo's sweeping 2001 ode to possibility and the American dream. The song's lyrics marvel at the infinite life paths available for citizens of the U.S.A., but they took on new meaning when Trump strode across the station just as the recording played the lyric, "One could end up goin' to prison / One just might be president."
That those exact lyrics were playing as Trump took the stage was apparently coincidental -- "Only in America" is a popular choice of walk-out music for campaign events of all description, on both sides of the political aisle -- but it was certainly a little on the nose, considering Trump's current legal woes.
Trump is currently facing charged in two separate investigations: One surrounding mishandling of classified information following his departure from the White House, and another regarding his alleged role in a scheme to pay hush money to adult film star Stormy Daniels during his 2016 presidential campaign. His trial in the former case is due to begin in May 2024, and if he's found guilty, the charges could lead to prison time.
When he chooses the music for his walk-out song, Trump typically selects Lee Greenwood's "God Bless the U.S.A." Greenwood performed the song at Trump's presidential inauguration ceremony in 2017.
The 50 Best Country Songs About Small Towns, Ranked
Love 'em or leave 'em -- small towns are the settings for some of the finest songs in country music history. Here are our 50 top songs about small towns throughout country music history.