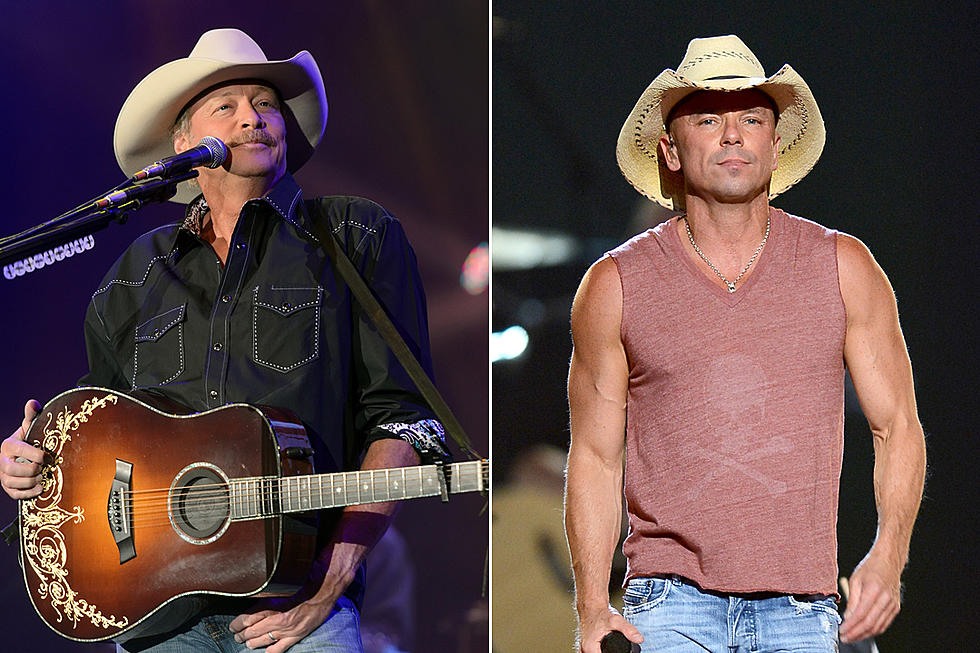 10 Best Songs About Hard Work
Daniel Boczarski / Ethan Miller, Getty Images
Chances are the office or the factory is the last thing you want to think about on your day off, but these 10 best work songs are all tributes to the good ol' American work ethic. They're songs about you and your fight to make sure there's food on the table every night. Could there be a better reason for a holiday?
While a couple of work songs by Kenny Chesney and Josh Thompson come from modern times, the best country songs about work are 10, 20 or even 40 years old. Alabama, Garth Brooks and Alan Jackson all have songs that pay tribute to the 40-hour-plus work week. Dolly Parton is the only woman to make the list, but there are certainly other female singers that an argument could be made for.
10

"Beer on the Table"

Josh Thompson

Josh Thompson has a song on our 10 Best Songs About Hard Work list. His fun tribute to the work week is sung slightly tongue-in-cheek, but the tempo and blue-collar sensibility he brings to the song is good enough to allow him to crack the list. "Beer on the Table" is Thompson's debut country song. Perhaps there will be many more work songs to come from his guitar and pen.

9

"Workin' for a Livin'"

Garth Brooks (Feat. Huey Lewis)

Garth Brooks' 2007 remake of the Huey Lewis and the News song was a Top 20 hit that included the song's original voice and harmonica player. Their arrangement simply cooks, with a busy beat that races from start to finish. "Workin' for a Livin'" is as much fun singing about work as you can possibly have.

8

A couple of songs on this list of the best work songs are more of a social statement than a celebration. Jackson's poignant tribute to hard-working families that couldn't keep up with big, box-store businesses is as relevant today as it was in 1999. The singer has released other songs that could crack an expanded list of work songs. Most recently, "Good Time" and "Hard Hat and a Hammer" are two that cement his blue-collar image.

7

"Six Days on the Road"

Sawyer Brown

Dave Dudley originally recorded this truck driver's anthem in the early '60s. It began a movement of truck driving songs. As country music became the working man's music, music men who drove the big-rig began to feel appreciated. Their story and struggles were becoming well known. You don't think driving trucks is hard work? Give this song a listen and you'll come around.

6

If there's a harder working woman in country music, we haven't found her. For over 40 years Dolly Parton has been writing, touring and innovating. This is one of her more campy songs by today's standards, but is an undeniable entry to the list of the best-ever work songs.

5

"Hard Workin' Man"

Brooks and Dunn

Ronnie Dunn wrote this song and Brooks and Dunn released it in 1993. The duo sings about the struggles and pleasures of a blue-collar work ethic. "Got everything I own / By the sweat of my brow / From my four-wheel drive to my cowboy boots / I owe it all to my blue collar roots." "Hard Workin' Man" was an easy choice for this list of the best work songs.

4

"Shiftwork"

Kenny Chesney Feat. George Strait

Kenny Chesney's island boy image might not make him the most genuine mascot for the blue-collar community, but this hilarious tribute to men and women working round the clock felt good throughout 2008. George Strait's vocals give the song some grit, but in the end this is a song about vacations. Hey, that's an important part of life for the working man.

3

"40 Hour Week (For a Livin')"

Alabama

This should be Labor Day's theme song. Alabama manage to thank just about every hardworking, blue-collar American employee they can think of in one three-and-a-half minute long song. The boys from Ft. Payne had a pretty good work ethic of their own. One doesn't just glide into the Country Music Hall of Fame on a pretty smile.

2

"Working Man's Ph.D."

Aaron Tippin

The top songs on this list of the best work songs are from men who would no doubt be angry to take handouts from anyone. Aaron Tippin's hit from 1993 sums up that sentiment. "As a matter of fact I'd like to set things straight / A few more people should be pullin' their weight / If you wanna cram course in reality / You get yourself a working man's Ph.D." "Take pride in a job well done," Tippin is saying.

1

"Working Man Blues"

Merle Haggard

When you look at Merle Haggard today, it's clear not a lazy day passed under his feet. This song was one of his earliest No. 1 hits, and it's still a fan favorite today. "Hey hey the working man, the working man like me / I ain't never been on welfare, that's one place I won't be / Cause I'll be working / Long as my two hands are fit to use / I drink a little beer in a tavern / Sing a little bit of these working man blues," Haggard sings. Due to its chart success and relevance today, this song is the top tune on this list of 10 great work songs.