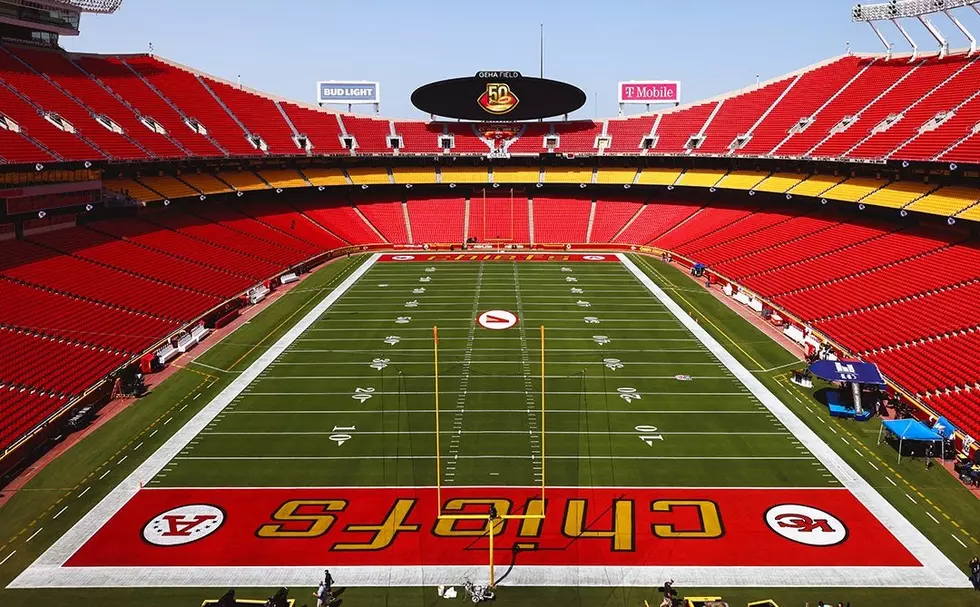 It's The Chiefs Home Opener! Here Is Some Fan Info You Should Know
Twitter - Kansas City Chiefs
The Kansas City Chiefs will have this season's home opener September 15th.  Thursday Night Football.  They will be battling the Los Angeles Chargers and the game will be carried on Amazon Prime.  If any of you are going to the game, I wanted to share with you some of the info that you may need to know.  From how the field will look, who may be there, and what you can expect.
That field looks amazing.  50 years in the making indeed.  Reminds you of the old AFL days doesn't it.  You will also see on the uniforms of the Chiefs for the entire season a sticker of Len Dawson's number 16.
There will be a former Kansas City Chiefs wide receiver who will be the drum leader before the game.  Dwayne Bowe will handle those duties.  He last played for the Chiefs on Dec. 28, 2014.  He caught 532 passes for 7155 yards for KC.
Whiteman Air Force Base will be sending four A-10's to Arrowhead for a flyover before the game.  Retired Petty Officer Generald Wilson will be singing the National Anthem.
Now if any of you going to the game, here is some info that you should be aware of if you want to park, tailgate, etc.  The Truman Sports Complex parking lots will open at 2:30pm.  Hopefully you purchased your passes through the Chiefs website which you can access HERE.  And you better leave early, as traffic will be heavy.
Expect the metal detector when you enter the stadium and the clear bag rule set by the NFL is in effect too.  More info on that HERE.  As for some major important time you need to know, here they are:
2:30 p.m.: Parking gates open 5 p.m.: All gates open at Arrowhead Stadium 6 p.m.: Team warm-ups begin 7:04 p.m.: Chargers team introduction 7:06 p.m.: Chiefs team introduction 7:10 p.m.: National anthem 7:12 p.m.: Coin toss 7:15 p.m.: Kickoff
Also, the Chiefs kicker Harrison Butker is out for the game.  The injury report link is HERE.  Despite all of that, I am expecting a high scoring game.  How about you?  Just protect Patrick Mahomes.  Enjoy the game, from the comfort of your home, a sports bar, or at Arrowhead.  Lets Go Chiefs!
KEEP READING: Here are 50 of the most famous sports goofs