Has Common Courtesy Gone Away In The Drive Thru Window?
Getty Images/iStockphoto
After my performance of Legally Blonde at the Liberty Center on Sunday, I decided to treat myself to Goody's for dinner.  When I pulled up to the window to collect my food, I saw a sign in their window.  It asked drivers to please turn off their windshield wipers.  I asked the nice girl in the window why that sign was there.  She said, that when it is raining, that the water from the wipers flies through the window and gets the employees wet.  I can only suspect that this has been an issue on multiple occasions and people being inconsiderate when picking up their grub.  It got me thinking.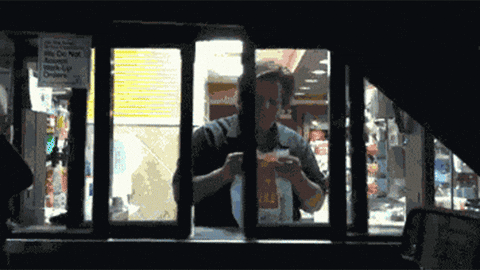 I was speaking to my colleague and market manager Craig, and he mentioned that there is a sign at the Subway on Limit, that ask people not to blow smoke through the drive thru window.  Seriously....this sign needs to be posted? I have seen signs asking for patience because so many of our fast food places in town are understaffed.  Since the pandemic, I can only assume that many of our favorite fast food places aren't paying enough to get people to go back to work.  It is an industry that has been overworked and underpaid for a long time.
I am sure that many of us have dealt with long waits in the drive thru, and I am sure not every employee was in the best mood.  But it does seem like common courtesy has gone by the wayside.  You don't have to be super sweet or overly enthusiastic when you get your food, but is a 'please' and 'thank you' too much to ask? And yes, the people working the window could at least try and fake it if they are not in the best spirits.  If they act like they cannot be bothered, then I understand if we get frustrated.
Have you noticed any of the fast food places in our area either have good or bad customer service? Have you noticed any customers being a bit more abusive to the staff for no reason? Which place do you frequent the most and how is the service? And for the record, a please and thank you can go a long way for the people working in an industry that is suffering a staffing shortage.  Being kind and considerate doesn't take that much effort.
50 Most Popular Chain Restaurants in America
YouGov investigated the most popular dining brands in the country, and Stacker compiled the list to give readers context on the findings. Read on to look through America's vast and divergent variety of restaurants—maybe you'll even find a favorite or two.