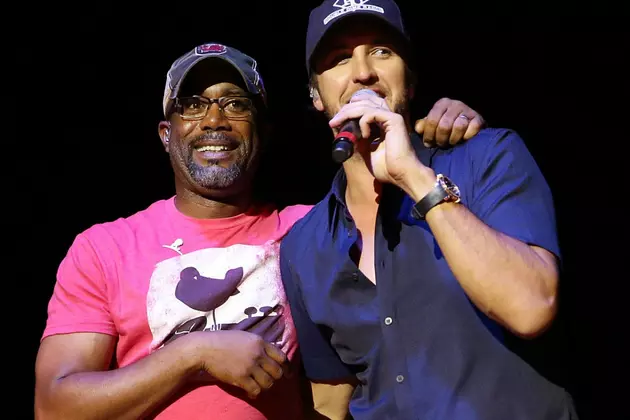 Darius Rucker Is Going 'Straight to Hell' With Famous Friends on New Album
Kevin Polk, Getty Images
A throwback country hit, "Straight to Hell" is a classic tune that sparks camaraderie even in the most down-and-out circumstances: "When it was played in the bar, every single person in the bar was singing and hugging their best friend," Rucker tells Nash Country Daily. "I've wanted to cut that song since I came to Nashville, and I kept saying I was going to cut it someday."
Rucker and company's cover of "Straight to Hell" will be included on his upcoming studio album, When Was the Last Time, which is due out on Oct. 20. The artist says that all it took was a little outside encouragement to make it happen.
"Charles Kelley called me out of the blue and says, 'Man, I was just listening to Drivin' N Cryin's "Straight to Hell" and I think you should cut it, and you should let me sing on it.' I took that as the universe telling me it was time to cut the song, and I cut it," Rucker recalls. He goes on to say that getting his buddies Aldean and Bryan on board was an easy sell but made the cover "something special."
Darius Rucker, When Was the Last Time Track Listing:
1. "For the First Time" (Darius Rucker, Derek George, Scooter Carusoe)
2. "Bring It On" (Ross Copperman, Ashley Gorley, Dallas Davidson)
3. "Life's Too Short" (Copperman, Jon Nite, Jaren Johnston)
4. "If I Told You" (Copperman, Shane McAnally, Nite)
5. "Don't" (Adam Doleac, AJ Babcock, Pete Good)
6. "Twenty Something" (McAnally, Nite, Zach Crowell, Josh Osborne)
7. "Straight to Hell" with Jason Aldean, Luke Bryan and Charles Kelley (Kevin Kinney)
8. "Count the Beers" (Rucker, Dean Dillon, Josh Thompson)
9. "Another Night With You" (Rucker, Dillon, Josh Thompson)
10. "Hands on Me" (Copperman, McAnally, JT Harding)
11. "She" (Chris Tompkins, Rodney Clawson)
12. "Story to Tell" (Copperman, Gorley, Rucker)
More Artists Who Unexpectedly Went Country