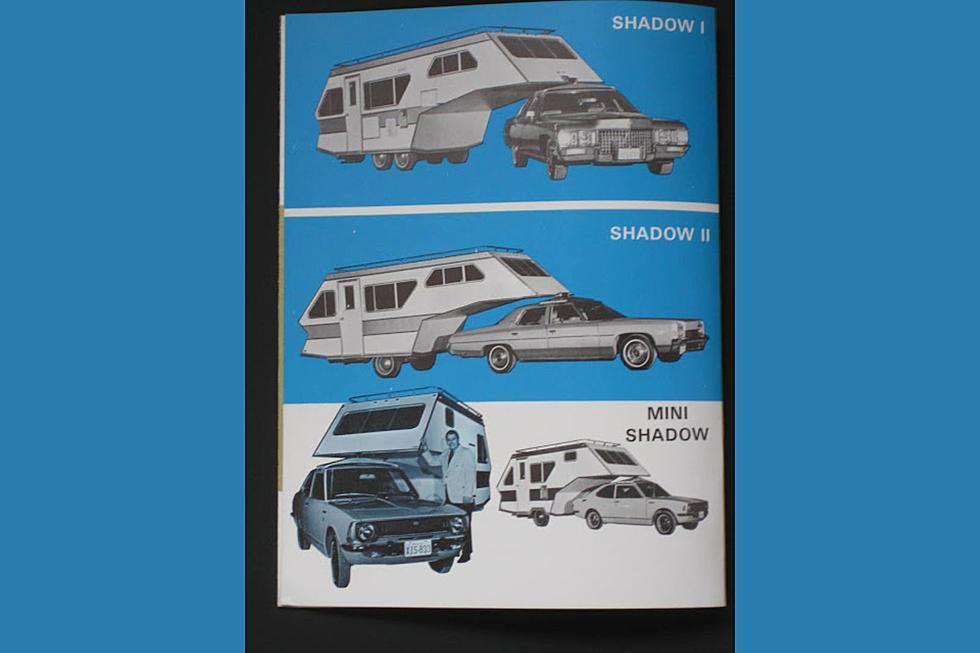 Check Out This Innovative 70s Era Trailer Made In Missouri
Harmon Industries via Johnson County Missouri Historical Society.
The 1970s gave us the post-modern era and a lot of design inventions. One West Central Missouri company known for producing railroad electronics decided to branch out by designing a fifth-wheel travel trailer that your sedan could pull.
I'm talking about The Harmon Shadow Trailer manufactured in Warrensburg, Missouri by Harmon Industries. Harmon Industries was an offshoot of Harmon Electronics, known for manufacturing electronics for the railroad industry. It was the way the company wanted to expand its business. This is according to the autoevolution website.
The Harmon Shadow is a fifth-wheel travel trailer, yet what made it unique was that the company produced a removable steel plate that bolted into the roof gutters of passenger cars that allowed people to pull the trailer with their passenger car. According to Harmon's own promotional literature from the time, reposted by the Johnson County Missouri Historical Society:
"Fifth-Wheel Trailers usually hitch onto a pickup-truck cargo bed, but this new Shadow design from Harmon Industries, Warrensburg, Mo. tags onto a passenger-car rooftop. A removable steel plate, bolted to brackets along the roof gutters, take advantage of the roll-resistance built into modern roofs to firmly anchor the trailer hitch. Great maneuverability and easy tow handling are claimed for these rigs. Models of 18, 23, and 27 feet are being produced, and unfinished units are available for extra savings. Shell for the Shadow 18-foot Mini will start at about $1700; price is $6500 for the completed 27-footer fully equipped. Driver reports indicate the design is aerodynamically suitable and does not buffet at speed or in strong winds."
Autoevolution talks up the safety features Harmon promoted with The Shadow. However, the website points out there were several problems with pulling the trailer. First, the bracket system placed too much stress on car roofs causing damage, and it wasn't as easy to remove the system as Harmon claimed. Sudden breaking could also cause the back wheels of the tow vehicle to leave the ground, and in some cases, vehicle roofs would be torn off in that same scenario. The trailer also was prone to tipping during turns in high winds because of its high center of gravity.
The 27-foot Shadow trailer cost $6,5000 when it was available, that's $47,500 in today's money, according to autoevolution. Harmon Industries produced the trailer at their facility on the corner of Main and Young streets in Warrensburg from 1971 -1975, which today is a fenced-in field with some of the parking lot and building foundation still visible. Here's a photo of the facility from the Johnson County Missouri Historical Society.
It was even popular, or peculiar enough to be a prize on the TV game show "Let's Make A Deal". If you watch some of the video and Monty Hall's sell job on the trailer, I'm not sure it inspires me to believe it's the safest thing out there.
While the Harmon Industries Shadow Trailer wasn't exactly the roaring success the company hoped for, Harmon Industries was. The company was very successful when it came to railroad signaling, crossing, and safety equipment and innovations. Encyclopedia.com has an excellent entry on the company's history, successes, and challenges if you're interested in learning more.
Eventually, Harmon Industries was sold to General Electric and then became part of Alstom, whose "State-of-the-art signaling solutions allow operators to ensure the highest standards in safe, seamless travel with urban and mainline solutions that meet the specific needs of each operation environment."
That's not all that different than what Harmon Electronics set out to do when they started, and what they were very successful at doing. They're still in West Central Missouri and Warrensburg too, with Alstom Signaling Operations located on Enterprise Drive.
See the Must-Drive Roads in Every State
LET'S GO: The most popular historic sites in America