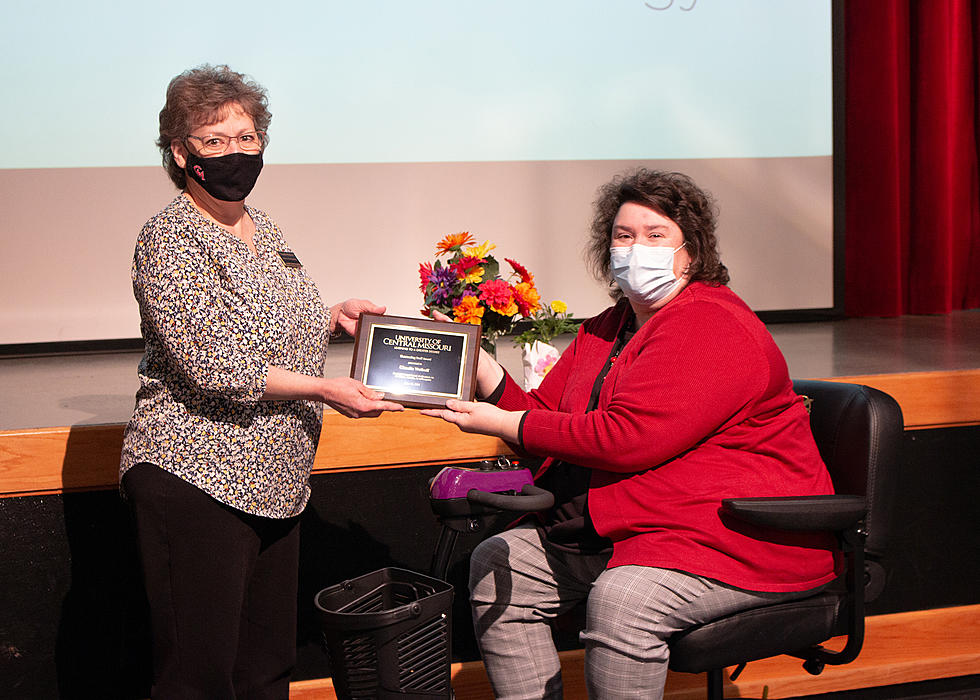 Welhoff Honored with 2021 Outstanding Staff Award
Caring, resourceful, conscientious and dedicated to customer service.
These are among the many words office colleagues and others campus employees used to describe University of Central Missouri employee Claudia Welhoff in supporting her nomination for the 2021 Outstanding Staff Award.
Welhoff was recognized during the Staff Appreciation Breakfast May 12 in the Elliott Student Union. Her recognition was one of two awards presented during the program, which also included an opportunity to learn more about staff achievements throughout 2020-2021 and to introduce newly elected members of the Staff Council
The Outstanding Staff Award is annually presented to a non-exempt employee who has worked at least one year for UCM. To be considered, an individual must have demonstrated superior service to students, staff, faculty and the community, and demonstrate professionalism, a commitment to go above and beyond normal duties, while also promoting teamwork and collaboration.
Welhoff has devoted approximately two decades of service to UCM, and currently serves as operations coordinator for the Office of Technology. Individuals who supported her nomination wrote about her dedication to students, faculty and staff. They commented on her helpful, upbeat, positive attitude, and a willingness to offer service no matter what the task.
Welhoff began working for UCM on Feb. 5, 2001 in the Office of Telecommunications, which was under Information Services. After a reorganization of Information Services, the department name became Office of Technology and she began serving in the Technology Support Center in June 2009. In 2018, Welhoff became part of the Office of Technology's front office Technology Operations group, where she serves in her current role as operations coordinator.
Several co-workers and individuals across campus who have worked with Welhoff submitted comments in support of her as part of the nomination process. One employee noted her support for faculty, staff and students, adding, "For years she has provided the UCM community with reliable help and direction on anything account related. She continues to serve them with a helpful attitude and desire to find a solution for the many technology-related questions she is asked."
"She is always willing to help, even if it doesn't fall under her job description," noted another employee who supported Welhoff's nomination.
Another supporter commented, "Claudia's input regarding processes and workflow has been invaluable because she looks at things through a user perspective experience which allows processes to be more thought through." They also added that "Claudia is extremely selfless" in that she frequently donates food items to the Campus Cupboard. This is in addition to her strong support of Jennies athletics, often serving at the officials' table during events such as Jennies home basketball games.
Other supporters described her as a great team player with an ability to make other laugh, detail oriented, resourceful, friendly, upbeat and positive in pursuit of serving others.
Welhoff learned that she was selected for the Outstanding Staff Award through a personal visit to her office that was made by members of the awards committee to let her know she was going to be honored.
Still humbled after learning about her recognition, she said, "I would like to thank everyone that submitted an email for this award. I would also like to thank everyone for all the congratulatory emails and phone calls I've received (and still receiving) since Wednesday (May 12). It is very much appreciated and I was very, very surprised. I really enjoy what I do and helping others in any way I can. It is crazy to think I've been here for 20 years."
In the photo: Claudia Welhoff, left, operations coordinator for the Office of Technology's Technology Operations group, receives the 2021 Outstanding Staff Award from Kristie Brinkley, assistant director for volunteer services, during the Staff Appreciation Breakfast on May 12. Brinkley is the 2019 award recipient.