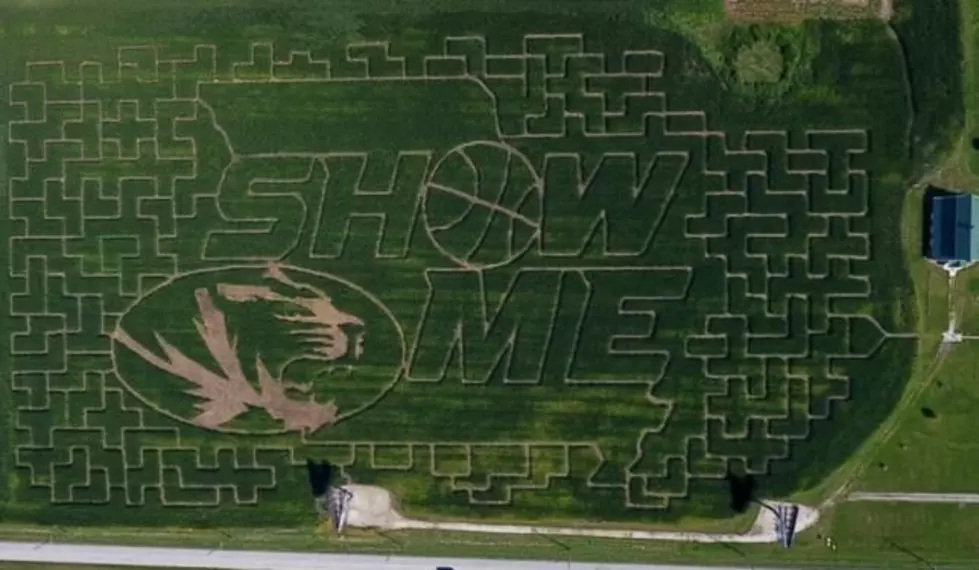 Want To Try A Fall Day Trip? These 10 Missouri Options Will Do The Trick
Facebook - Shryock's Corn Maze
The Fall equinox will officially be here Sept 22.  This will mark the first day of fall.  It isn't that far away.  It will hopefully be a little cooler and those fall colors may start to slowly appear.  There will be more "fall" activities happening, and perhaps with gas prices a little lower, you can find some time to take a trip for the day and experience them.  Here are 10 options for you in Missouri that may interest you.
When I would drive home to Illinois from my time in Columbia, I would pass this maze quite often.  Some of the designs they have had in the past, feature the Mizzou logo and our Kansas City Chiefs as well as Pac-Man.  Lots of options here, and you can click HERE for the website.  Find them on Facebook above.
Mark Twain National Forest
Missouri's only national forest is perfect for a fall foliage tour. Mark Twain National Forest encompasses roughly 1.5 million acres and has about 750 miles of trails to enjoy. You can check out their Facebook page HERE.  Website link is HERE.  I am certain the colors along in the fall will be amazing to see.
Lemp Mansion
It is fall, and Halloween isn't too far away.  How about a bed/breakfast stay in a haunted mansion? This place is also available for dinners, weddings, and private events.  Their website link is HERE.  Located in St Louis, this might be a great options for mystery dinners and ghost tours.  Facebook link is HERE.
Stone Hill Winery
Hermann Missouri is where you will find the famous Stone Hill Winery.  This place is historic.  It will be harvest season.  Perhaps a grape stomp or Oktoberfest would be an autumn activity for you.  Of course, don't forget the wine.  5 years in a row voted Best Wine in Missouri.  Visit their Facebook page HERE.  If you want their wine shipped to you, check out their website HERE.
Dunn's Cider Mill
Dunn's Cider Mill in Belton has been making the best freshly pressed cider in the state for over 40 years.  I bet the donuts are amazing.  Looks like they may be retiring after 41 years.  Their pinned post is below. Too bad they are closed.  Sounds like they made a lot of people very happy over the years.
Sunshine Valley Farmstand
A road trip to Rogersville Missouri for some apple picking? Could you think of something more Fall than that?  That is where you will find Sunshine Valley Farmstand.  Their Facebook page is HERE.   They grow their own fruits and veggies and sell fresh produce including blueberries, blackberries, raspberries, peaches, apples and varied vegetables. Website link is HERE.
Apple Butter Festival
This is a popular festival every year in Kimmswick and this year should be no different.  It is held the last full weekend of October every year.  It is a two day event that draws more than 100,000 people.  The Facebook page link is HERE.   You will be able to enjoy fall treats, pick up some crafts and learn about its history.  More info is available on the website link HERE.
Carolyn's Country Cousins Pumpkin Patch
Do you carve pumpkins or color them for the fall? Perhaps a trip to this popular patch will be worth your time, and bring the kids.  Lots of activities for them, if you aren't that far from the Kansas City area.  It has been Kansas City's premier pumpkin patch & educational farm since 1991. This attraction is one of the oldest and largest family owned pick-your-own pumpkin patches in the region.  60 acres.  Facebook link is HERE.  Website link is HERE.
Branson Zipline And Canopy Tours
Now this looks like an adventure, especially if you get to see the fall colors.  Head to Branson where you can take a canopy and zip line tour through the trees. You'll find the peak time for seeing all the beautiful fall foliage is early to mid-October so be sure to plan your trip at the right time.  Website info is HERE to get info on pricing and times.  The Facebook link is HERE.
St Louis Gateway Arch
Fall would be a perfect time to visit this Missouri landmark.  Especially when the leaves start to change color.  Do I really need to say more.
If you have participated in any of these 10 options, feel free to share your experience.  Fall will be here before you know it, and you want to make your plans now.
The 100 Best Places to Live in the Midwest