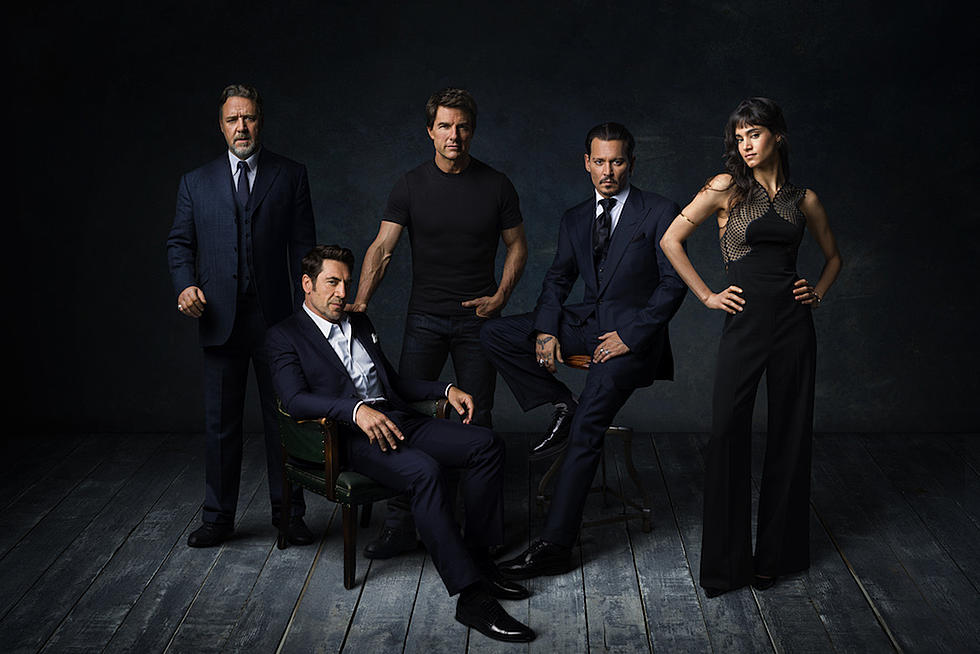 Universal Announces 'Dark Universe' of Monster Movies, Including a New 'Bride of Frankenstein' in 2019
Universal
The famed Hollywood studio has promised a new cinematic universe of monster movies, launching with next month's reboot of The Mummy starring Tom Cruise, and today they made it official, announcing the full details of what they're calling the "Dark Universe." They also announced the next movie in the saga: Bride of Frankenstein from Beauty and the Beast director Bill Condon. That movie will hit theaters on February 14, 2019. Nothing says romance for Valentine's Day quite like the undead bride of an undead monster.
The Bride has not been cast, but Frankenstein's Monster has; that will be Javier Bardem, who you can see in the fetching Dark Universe cast photo above with Cruise, Mummy co-stars Russell Crowe and Sofia Boutella, and Johnny Depp, who will play the new version of the Invisible Man. Here's a little sizzle reel Universal put together showing off their sleek Dark Universe logo (it's like the Universal logo, but, like, dark) and a new theme song from composer Danny Elfman:
The official press release notes that the brain trust behind this universe includes Mummy writer and director Alex Kurtzman, Fast and Furious screenwriter Chris Morgan, and Mission: Impossible filmmaker Christopher McQuarrie. It also explains exactly how the Dark Universe movies are connected:
At its organizing principle, Dark Universe films are connected by a mysterious multi-national organization known as Prodigium.  Led by the enigmatic and brilliant Dr. Henry Jekyll, Prodigium's mission is to track, study and—when necessary—destroy evil embodied in the form of monsters in our world.  Working outside the aegis of any government, and with practices concealed by millennia of secrecy, Prodigium protects the public from knowledge of the evil that exists just beyond the thin membrane of civilized society…and will go to any length to contain it.
Universal will have to fight the mounting sense of blockbuster fatigue out there (or at least here, in my mind), but they've got a lot of talented people involved with these movies. That's a veritable universe of stars assembled in that picture up there. And Bill Condon directing a Bride of Frankenstein movie 20 years after he made Gods and Monsters about the life of original Bride director James Whale is just unbelievable.