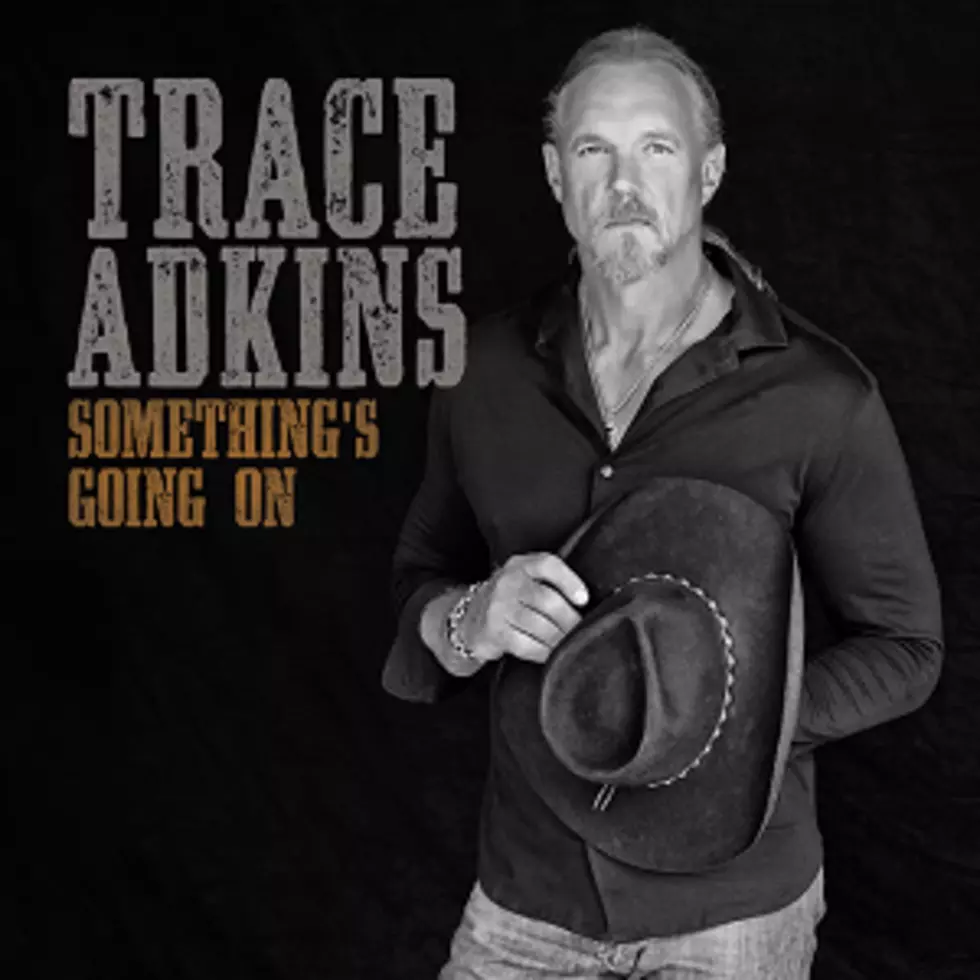 Album of the Month (March 2017): Trace Adkins, 'Something's Going On'
Wheelhouse Records
Adkins' 12th studio album, Something's Going On is scheduled for release on March 31; it will be the singer's first album with BBR Music Group's Wheelhouse Records, with which he signed in 2015. The record includes Adkins' previous singles "Jesus and Jones" (released in late 2015) and "Lit" (released in the summer of 2016), as well as his current single, "Watered Down."
"When I first heard "Watered Down," I felt an immediate connection with what I wanted to say," Adkins explains. "A man comes to a point in his life where he begins to reflect on his past and what he's learned, and that's what fueled this song. If you've led the kind of life I've led, at some point you have to temper your vices."
Adkins last released a studio album, Love Will …, in 2013. In early 2016, Adkins told The Boot that his next project was in the works and would be "freaking awesome."
"I spent the last couple years working on this, and there's been no sense of urgency: Nobody's been pushing me; we've taken our time," Adkins said at the time. "I'm really pleased with the way it turned out."
Something's Going On was produced by Mickey Jack Cones; songwriters featured on the project include Tyler Farr, Craig Campbell and more. Adkins was writing songs himself while working on the disc, he told The Boot, but the album doesn't include any of that material.
"Songwriter friends of mine here in town know when I'm cutting a new record, and they send me the stuff that they think would work on me," Adkins explains, "and that process has been that way for the last almost 20 years now."
Something's Going On is available for pre-order on iTunes. A complete track listing is below.
Trace Adkins, Something's Going On Track Listing:
1. "Ain't Just the Whiskey Talkin'" (Terry McBride, Brett Beavers)
2. "Jesus and Jones" (Tyler Farr, Jim McCormick, Casey Beathard)
3. "Watered Down" (Matt Jenkins, Trevor Rosen, Shane McAnally)
4. "Something's Going On" (Chris Cavanaugh, Mark Stephen Jones)
5. "If Only You Were Lonely" (Jon Coleman, Troy Johnson)
6. "Gonna Make You Miss Me" (Tommy Lee James, Matt Nolan, Andrew Dorff)
7. "I'm Gone" (Craig Campbell, Max T. Barnes)
8. "Country Boy Problems" (Tommy Lee James, Josh Osborne)
9. "Lit" (Mickey Jack Cones, Monty Criswell, Derek George)
10. "Still a Soldier" (Phil O'Donnell, Wade Kirby)
11. "Whippoorwills and Freight Trains" (Phil O'Donnell, Jeff Middleton, Brandon Kinney)
12. "Hang" (Lynn Hutton, Phil O'Donnell)
More of 2017's New Releases
Unforgettable Trace Adkins Moments