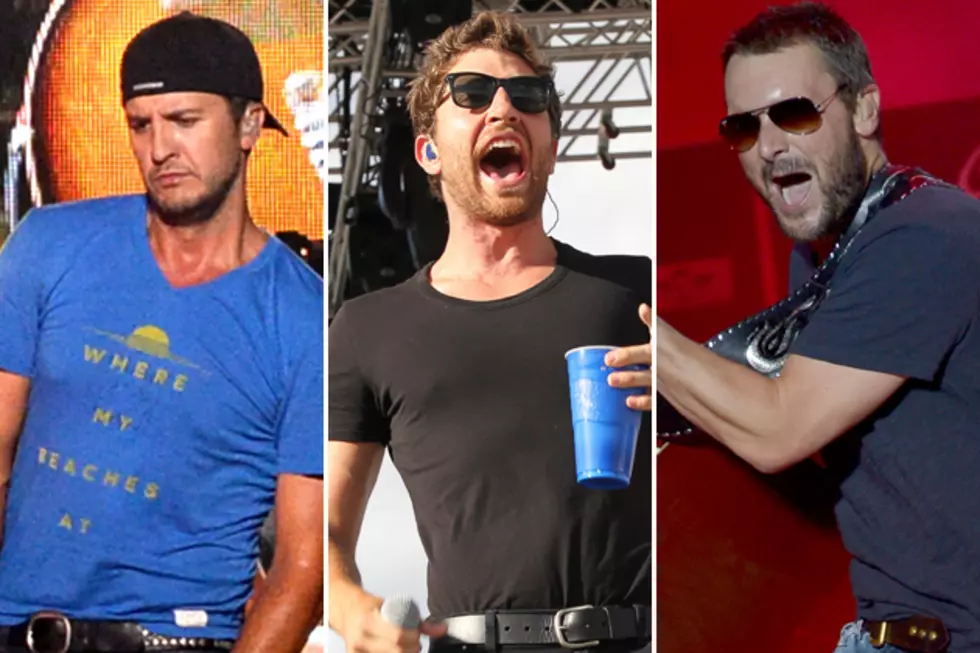 Taste of Style – Tight T-Shirts Make Summertime Hotter
Rick Diamond, Getty Images (2) / Clark White for Country Jam Colorado
Sometimes a country boy (or girl) chooses comfort over classy. With temps pushing 90 across much of the country, this was the week to stay cool in country music with fitted T-shirts! Between scoop necks, graphic tees, plain and chest-hugging tees -- there was a lot to look at.
Luke Bryan donned a great graphic tee that made us want one pina colada for each hand, while Eric Church opted for a plain jane black tee. Think T-shirts can't be sexy? You obviously haven't met Brett Eldredge.
One little lady stood out in a crowd of casual this week, giving her country best during a big debut. She looked totally adorable in her white dress (not that white dress, but she did dream about this day), which gets her crowned Diva of the Week. See all the photo highlights in this week's Taste of Style.
Luke Bryan
You better watch out for the boy in blue. Yep, we did just use a Jason Aldean lyric to describe Luke Bryan's sexy look -- he won't mind, right? During the Florida Country Superfest, Bryan reminded everyone why he deserved to win the title Country's Sexiest Man.
The 'Country Girl' singer rocked a sky blue graphic tee that read, 'Where my beaches at?' under a yellow sunset. The soft cotton gripped his strong shoulders -- and clearly, the man was working hard on this sweltering summer night. Now, excuse us as we go find a cold shower ...
Who knew a T-shirt could be that sexy?! He completed the look with (what else?!) tight jeans, his trademark black ball cap and cowboy boots. Hey, Luke -- if you find that beach, invite us! Our beach towels and bikinis are ready!
Eric Church and Brett Eldredge
We know, we know ... they're just wearing plain T-shirts, but look at how well these two pull them off! Eric Church donned a dark blue tee for a recent show, combining country and rock 'n roll with his signature aviators and frequent screams. He looked good all the way down to the cowboy boots. Men, take note of the way his jeans fit perfectly over his boots. Metrosexual? Who cares? It's hot!
Brett Eldredge was the Man in Black at Country Jam Colorado. He wore a black scoop neck tee that tucked into his, umm ... fitted, black jeans. The blue Solo cup was an interesting accessory that added some color to his outfit. Despite drinkin' while singin', Eldredge showed off that washboard stomach in his tight outfit. Twelve pack, anyone?
Love and Theft
Yum, yum! Love and Theft looked like they should be on the cover of a country GQ this week! The duo, comprised of Eric Gunderson and Stephen Barker Liles, played Nashville as part of the StubHub Next Stage concert series, and they brought their style with them. The pair opted for Southern style button downs -- a look that's as classic as the fiddle.
Gunderson wore a white patterned button down with small pockets perfect for a few guitar picks (obviously, they're much too hip for pocket protectors). Liles' shirt was more traditional country. It would have been perfect for a night out in Music City, or playing the circle at the Opry. The dark blue shirt was accented with red and white flowers (perhaps he was feeling a little patriotic) that showed his arm-ink perfectly. Lookin' good, fellas!
This Week's Fashion Diva: Lucy Hale!
Lucy Hale says she's been dreaming about what she'd wear during her Grand Ole Opry debut since childhood. "A lot of little girls dream about their wedding dress, but I dreamt about the dress I was going to wear on the Opry," she told the crowd on Saturday night (June 21).
Hale fell in love with a dress that couldn't have been more perfect for her big moment. The white leather, ankle-length DSquared dress was scalloped from the waist down. It combined pop with country, which is everything that Hale represents.
Before she picked out her dress, the newcomer had to help her L.A. stylist understand all things Opry (and country music). She said that they may not have known much about the Nashville music scene and what was appropriate on such an iconic stage, so she had to set the stage for her. Somehow, it worked -- Hale found the dress she's always dreamed of.
"I just always saw myself wearing white -- I don't know why," she tells Taste of Country. "So I sent them the song so that they could get a feel for what I was doing and I was just going through the rack and I saw it and I was like, 'Well, we better hope this fits 'cause this is it. We gotta make it work whether it zips up or not.'"
Lucky for Lucy, it fit like a glove. No alterations necessary. The scallops made the leather dress a little more feminine and even a little flirty -- Joel Crouse best be treating her right! Hale wore her long ombre locks down, stunning in every way possible. The actress-turned-singer had no competition for this week's top spot as the Diva of the Week -- and we bet we'll see her here again.