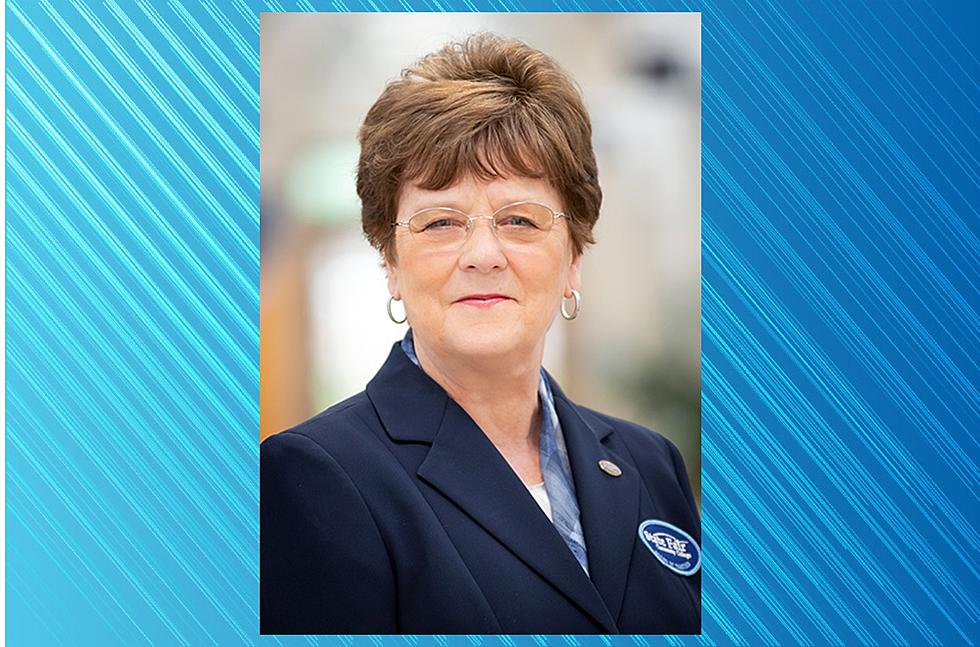 SFCC to Recognize Patty Wood as 2023 Distinguished Alumni May 19
SFCC
State Fair Community College is pleased to recognize Patricia "Patty" Wood of La Monte as the 2023 Distinguished Alumni.
Wood has served on SFCC's Board of Trustees since 2012 and currently is president of the board.  She will be the keynote speaker for SFCC's general commencement ceremony at 7 p.m. Friday, May 19, in the Mathewson Exhibition Center on the Missouri State Fair Grounds. A reception for Wood will be held at 3:30 p.m. on May 19, in the Daum Museum's reception area on the Sedalia campus.  The public is invited to attend.
Wood graduated from State Fair Community College in 1972 with an Associate of Arts degree. Later she earned a Bachelor of Science in Education in 1974, a Master of Science in Education in 1998, and additional hours towards a Specialist Degree, all from the University of Central Missouri. Her 32-year career in education includes pre-K and elementary teaching, K-12 Library Media Specialist and Technology Coordinator at Pettis County R-V and Sedalia school districts.  She is a member of the Missouri Retired Teacher Association.
Wood attributes her success to the educational foundation she received at SFCC.  She serves on the SFCC Foundation Campaign Committee and is helping to raise funds for a new advanced agriculture and transportation technology center. Additionally, Wood has served on other committees including SFCC's 25th, 40th and 50th anniversary celebrations.
In addition to the college, Wood supports agriculture locally, in Missouri and nationally.  Recently, she was appointed by the U.S. Department of Agriculture to the National Cattlemen's Beef Promotion and Research Board.  In 2021, she served as Missouri Cattlemen's Association president and is the University of Missouri (MU) Extension of Pettis County council president.  She is a member of the Pettis County Cattlemen's Association, Missouri CattleWomen, Missouri Farm Bureau, American National CattleWomen, National Cattlemen's Beef Association, and the Missouri State Fair Foundation.  Since 1994, Wood and husband Pat have welcomed fairgoers to the Missouri Cattlemen's Beef House on the Missouri State Fairgrounds.
In 1990, the Wood family was named MU Extension of Pettis County State Fair Farm Family, and in 1991, was named Sedalia Area Chamber of Commerce Farm Family. Wood and Pat received Missouri Cattlemen's Association Cattlemen of the Year Award in 2007, and Wood received Missouri CattleWoman of the Year Award in 2016.
The Woods own and operate a diversified farm with a cow-calf operation and row crops. They have two children, Stacey Follis (Chad), Brian Wood (Becky) and four grandchildren.
"We are extremely proud of alumna Patty Wood, who has provided exemplary leadership within the SFCC Board of Trustees," said Dr. Brent Bates, SFCC president. "She is passionate about SFCC and cares deeply about student success. Patty's educational and career accomplishments are outstanding, making her a wonderful honoree for the SFCC Distinguished Alumni Award.  I hope the community will attend our reception in Patty's honor on May 19 at the college."
Nominations for the Distinguished Alumni award are accepted online throughout the year.  Go to  www.sfccmo.edu/alumni to learn more and submit applications.
Health Sciences will hold a pinning and commencement for its graduates at 2 p.m. May 19 in the Matheson Exhibition Center. This year approximately 142 Health Sciences students will receive 192 degrees and/or certificates in these programs: Associate of Applied Science – Dental Hygiene, 10; Diagnostic Medical Sonography, 13; Health Care Specialist with Emphasis in Pharmacy Technician, 2; Health Information Technology, 4; Medical Assisting, 5; Nursing, 57; Occupational Therapy Assistant, 11; and Radiologic Technology, 13; Professional Certificates - Medical Assisting, 11; Medical Coding, 11; Pharmacy Technician, 2; and Practical Nursing, 40; Skills Certificates – Medical Assisting, 11 and Pharmacy Technician, 2.
This year approximately 580 graduates will receive 734 degrees and/or certificates. Breakdown of degrees (as of May 8) include 387 Associate of Arts, 7 Associate of Fine Arts, 31 Associate of Arts in Teaching, 7 Associate of Science, 179 Associate of Applied Science, 96 Professional Certificates, and 27 Skills Certificates.
The numbers include students who attend SFCC in Sedalia and at campuses in Boonville, Clinton, Eldon, Lake of the Ozarks, Whiteman Air Force Base, and online.
SFCC's Adult Education and Literacy program will celebrate individuals who passed the High School Equivalency exam during 2022-2023 with a ceremony at 10 a.m. May 20 in the Stauffacher Theatre on the Sedalia campus.