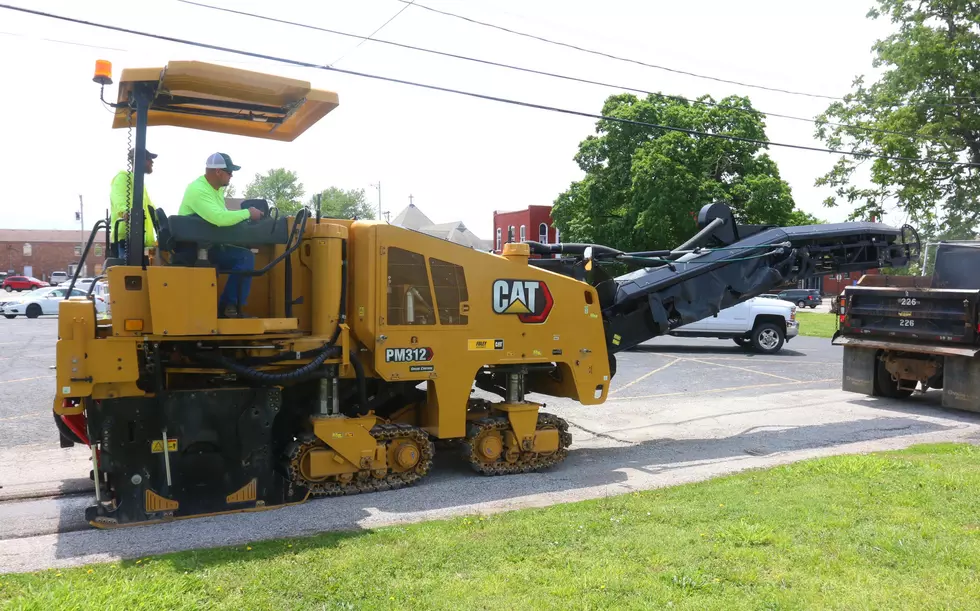 Sedalia's New Asphalt Milling Machine Now In Operation
Randy Kirby
The City of Sedalia gave a demonstration of its newly-purchased asphalt milling machine on Monday afternoon in downtown Sedalia.
With Public Works Ops Manager Justin Bray, Mayor Andrew Dawson and City councilwoman Rhiannon Foster in attendance, Public Works employees drove up in the new machine and began working on an alleyway between 6th and 7th as a demonstration of the new machine's abilities.
The milling machine was preceded by a City dump truck that collected the debris being ground up by the miller.
"It's very cool. It's very exciting that we're going to be able to rebuild some roads here in Sedalia," commented Mayor Dawson when asked for his reaction after seeing the milling machine in action.
"It's got an auto-leveling feature on it. Once they set that grade running down through there, it'll level things and then it makes it that much easier when they're coming back in with the laydown machine and putting asphalt down," Dawson added.
The mayor explained that the trouble before was that a milling machine had to be leased for a couple months. "And you may end up with 15 working days out of that two months (due to weather issues), whereas now, we can run it when the asphalt plant is open, so we can keep moving," he said.
Dawson noted that the new machine will be used for alley reactivation initially, and eventually on various stretches of roads in Sedalia.
Councilwoman Foster commented, "I am extremely excited that we can fix our roads more efficiently. When the lay down machine arrives (hopefully next week) it will be able to follow and pave!! Woohoo!! We are really trying to make Sedalia the best it can be. It is important to share with our taxpayers all of the great improvements we are working for!! Our city crew is really working hard, they are getting it done," she said.
On April 4, City Council approved the purchase of the new milling machine from Foley Equipment at a cost of $522,500 for a Caterpillar PM312-02B Cold Planer (miller). The new machine is expected to last 15 to 20 years.
Council also approved the purchase of a Weiler Commercial Asphalt Paver P385B at a cost of $228,390, as well as a Caterpillar skid steer loader ($91,900) discounted to $78,200 with a trade-in of the City's current Bobcat, worth $13,700.