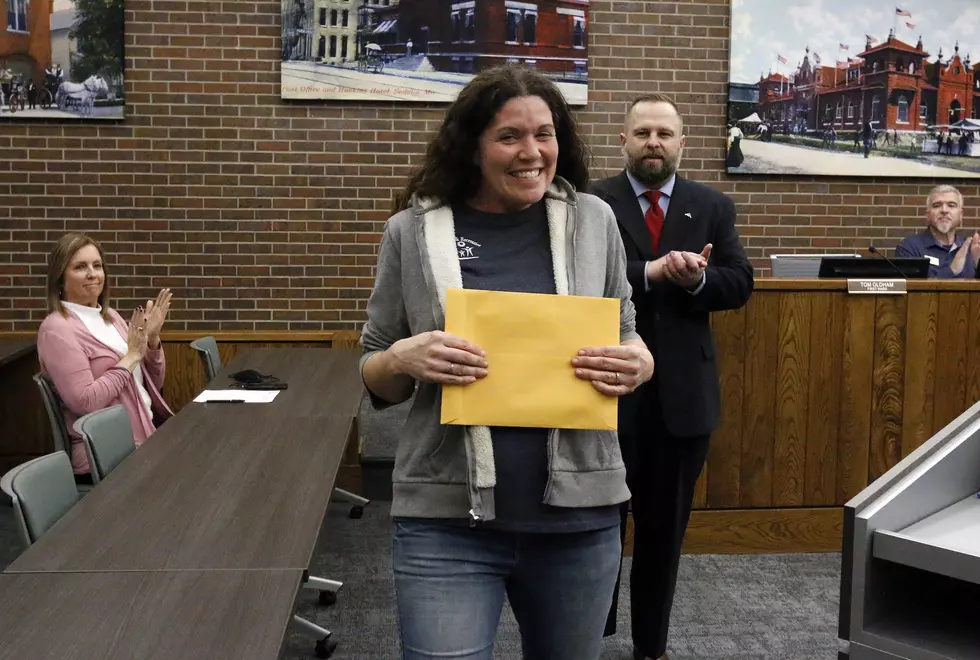 Sedalia Parks & Rec Supervisor Recognized for Her Service
Randy Kirby
Monday night's City Council meeting led off with a service award to Shawna Lynn Yager for five years of service to Sedalia Parks & Recreation.
Yager works as a landscape supervisor and arborist for Parks & Rec, and told KSIS she loves her job.
Sedalia Mayor Andrew Dawson presented Yager with a certificate and thanked her for her service.
Council continued with their 51-minute meeting by officially naming Liberty Stadium Drive, which is the newly resurfaced street between Liberty Park Stadium and Liberty Pool that runs north and south. The street previously had no name.
The City has been approved for a Traffic Engineering Assistance Program (TEAP) grant through MoDOT to develop a plan to improve the safety and flow of traffic along Engineer between the city limits to 7th Street.
The amount of the grant is $12,000. This will be applied toward the total cost of the project, which is $20,000. MoDOT sent the City an agreement which outlines specific requirements on the use of the funds.
Council then approved a budget amendment to reflect the amount of the TEAP grant and formally appropriate the expenditure.
Council awarded a $5,500 bid from ArborPro to review the health of some 1500 trees located in City parks and right-of-ways. This goes along with a $10,000 TRIM grant recently awarded to Sedalia through the Missouri Department of Conservation. ArborPro was the lowest of two bids received.
Council approved a resolution and ordinance to pay for three new pumps for the Southeast Wastewater Treatment Plant. The pumps were damaged when power was lost at the plant in mid-January, it was noted.
The pumps were not repairable, and the cost to replace them would be under an insurance deductible. The purchase of the pumps at the sewer plant was deemed an emergency by Mayor Dawson. The vendor recommended a phase protector that will help prevent this type of damage again.
The total cost of the three pumps and a phase protector was $25,996.87. A budget amendment was also approved as a result of the purchase.
Third Ward Councilman Bob Hiller suggested asking Evergy to cover the cost of the pumps, since it was not the City's fault that power was lost. Mayor Dawson said he would look into it.
Council then approved a budget amendment to increase the amount needed to remove diseased and storm-damaged trees this year. Oak Wilt was blamed on a majority of the problem.
Council approved a change order for the Central Regional and Pellham Drive lift station projects, with a decrease of $440, which makes the total cost of the projects $2,615,748.45.
Council approved adding two engineering sewer projects that Engineering Surveys and Services will work on. The projects include an extension of a sewer line to WireCo World Group, and installing a sewer main from Lamine to Main Street.
Council approved a change order for the Locust Lane Water Main Replacement project, which is now complete. It amounts to a reduction of $5,100, making the total cost of the project $139,715.
The City went with a new company to provide management and oversight services by licensed personnel to ensure compliance for the City's sewer utility.
Alliance Water Resources, which the City has used for several years,
indicated that they did not want to continue with the contract when renewal time arrived. They wanted less Sedalia employees and more Alliance employees, according to the packet. An RFP was issued, and Mid-Mo Operations, LLC, (Harrisburg) responded and was approved for a $249,996 annual contract.
Council set a date of March 15 for a work session dedicated to transitional services and planning and zoning.
Council approved the purchase of two mobile dual-band radios for Sedalia Police at a cost of $12,319.66. JAG funds will be used to make the purchase, which will be made through a cooperative purchasing agreement.
The next Council meeting will take place Wednesday, Feb. 22.
Feb. 20 is a holiday (President's Day) and on Feb. 21, several council members will be attending a Missouri Municipal League conference out of town.