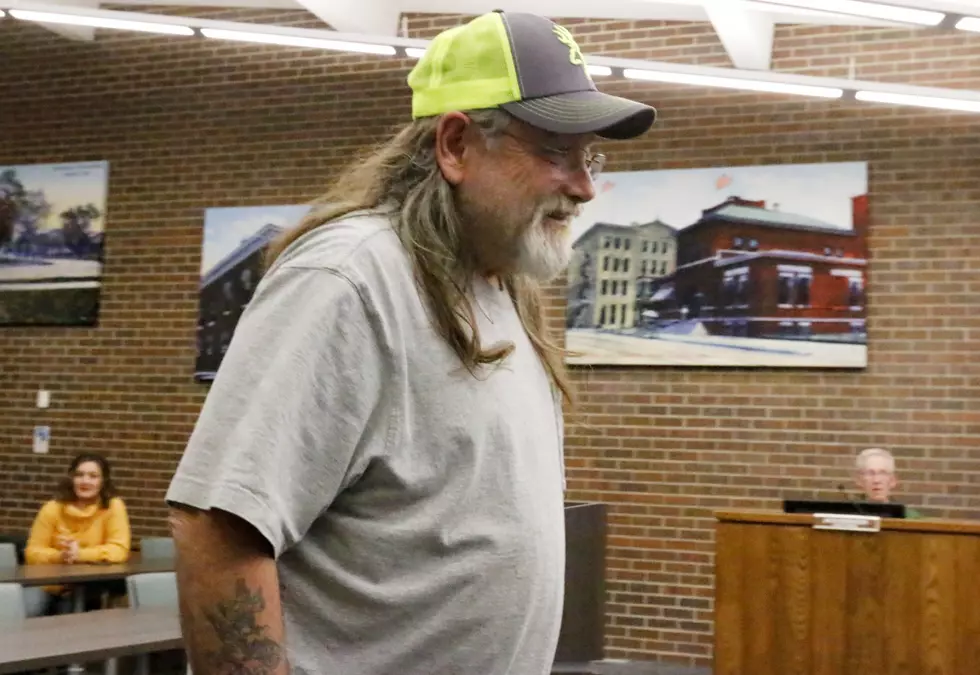 Retiree Oswald Recognized for Over 25 Years of Service
Randy Kirby
The start of Tuesday night's City Council meeting, the first one of 2023, featured two awards.
A service award went to Heather Bridges, Human Resource Specialist, for five years of service. She received a certificate.
A retirement award was presented to Kenneth Oswald for 25 years, three months of service in the City Street Department. He received a barbecue grill.
Under Finance and Administration, there was an annual report presentation from John Simmons, representing the Scott Joplin International Ragtime Foundation.
Numbers were down for the festival in 2022, judging by the number of paid concert tickets sold, Simmons said.
This past festival, 633 concert tickets were sold. This compares with 1171 in 2019, the last year the ragtime festival was held prior to the COVID pandemic.
The total direct economic impact of the music fest to the Sedalia area in 2022 was estimated at $98,058, Simmons noted. The festival attracted ragtime music fans from 26 states and four countries.
Board President Doug Freed told Council he was appreciative of their support (the City of Sedalia provides $10,000 to the ragtime festival annually), and also the personnel the City provides during the festival in regards to street closures, setting up, trash removal & cleaning up, and painting the curbs.
Freed noted that the City exhibits an "all-hands-on-deck attitude" at festival time. He also credited the CBCD, the Missouri Tourism Commission, Katy Depot, Missouri Arts Council, and the Liberty Center. Freed singled out the new Furnell Pavilion as a wonderful addition to the festival as a performance venue. "Everyone loved it," he said.
MAC provides an annual grant of $10,729, while a tourism marketing grant provides $33.620 to attract overnight visitors. Other sponsors such as Sedalia Rotary also provide funds for education throughout the year.
The Foundation's annual Artist in Residence program will take place the first week of February. The program helps to advance awareness of the annual Scott Joplin Festival in June and features live performances from one of the festival stars in local schools.
The festival was canceled in 2020 and 2021 due to the COVID pandemic.
Council then approved an ordinance concerning an agreement by and between the City of Sedalia and Central Trust Bank.
Under Public Safety, Animal Services Director Randi Battson delivered her strategic planning session presentation to Council.
Under Public Works, Council heard from Sedalia Parks & Recreation Director Amy Epple as part of the strategic planning session.
Public Works Director Brenda Ardrey then gave a presentation on wastewater.
Ardrey noted that she is currently experiencing a personnel shortage. Working in the wastewater industry is not very glamorous and requires highly technical skills. To work as a Class A wastewater operator requires five-and-a-half years of experience, Ardrey noted. Many wastewater systems across the country are aging and constantly in need of repair.
Council then agreed to a budget amendment to pay for WPC Lift Station pumps and valves, as well as replace dry pit submersible pumps and valves at the Main Street Lift Station at a cost of $52,446 from FTC Equipment, LCC of Kansas City (was previously $35,196).
As a result, a $30,000 budget request which included a mixer for the Southeast Plant was reduced to $12,750. The mixer replacement will be requested in the fiscal year 2024 budget, it was noted.
Council then approved a $500,00 MoDOT grant agreement for a Transportation Alternatives Program, or TAP, for a "Katy Depot-Liberty Park Connect Sedalia" 10-foot-wide trail project.
The one-mile, concrete trail project is for non-motorized vehicles utilizing Third Street, from Katy Depot to the Heckart Community Center. It will include trail surfacing, safety gates, lighting and signage.
Construction on the one-mile trail is expected to begin in 23 months.
Mayor Pro Tem Tina Boggess was absent from Tuesday night's 90-minute meeting.
Mayor Andrew Dawson recommended that Mike Privitt complete Kevin Wade's term on the Zoning Board of Adjustment, expiring June, 2026.
Chris Paszkiewicz will be the alternate member.
A liquor license renewal was approved for Heather R. Trotter dba Walgreens, 801 South Limit, for packaged liquor and Sunday Sales, $450.
Sedalia Senior Center Director Rene Vance addressed the Council during Good & Welfare, noting that the Center is seeking corporate sponsors to help raise funds so they can continue to feed hungry seniors. She added that 240 meals are delivered regularly to homebound seniors, and volunteers to deliver the meals are always needed.
Vance said that a March 23 fund-raising gala is planned for the Sedalia Senior Center.
Council then adjourned to closed-door session.
A strategic planning session is scheduled for 8:30 a.m., this Saturday at City Hall. The public is invited to attend and observe. The session is expected to last until 2 p.m. The session will determine the City's budget priorities.
Council has been hearing presentations over the past several weeks from every department head to let them voice their priorities and goals, as well as give them an overview of what their department does for the City on a daily basis.
LOOK: The states with the most UFO sightings
For each state, we've also included details of famous UFO sightings in that state. Of note is that almost three-quarters of all UFO sighting reports in the United States
occur between 4 p.m. and midnight
, and tend to peak between 9 and 10 p.m. Food for thought next time you're out scoping for alien life. Keep reading to see which states have had the most UFO sightings.