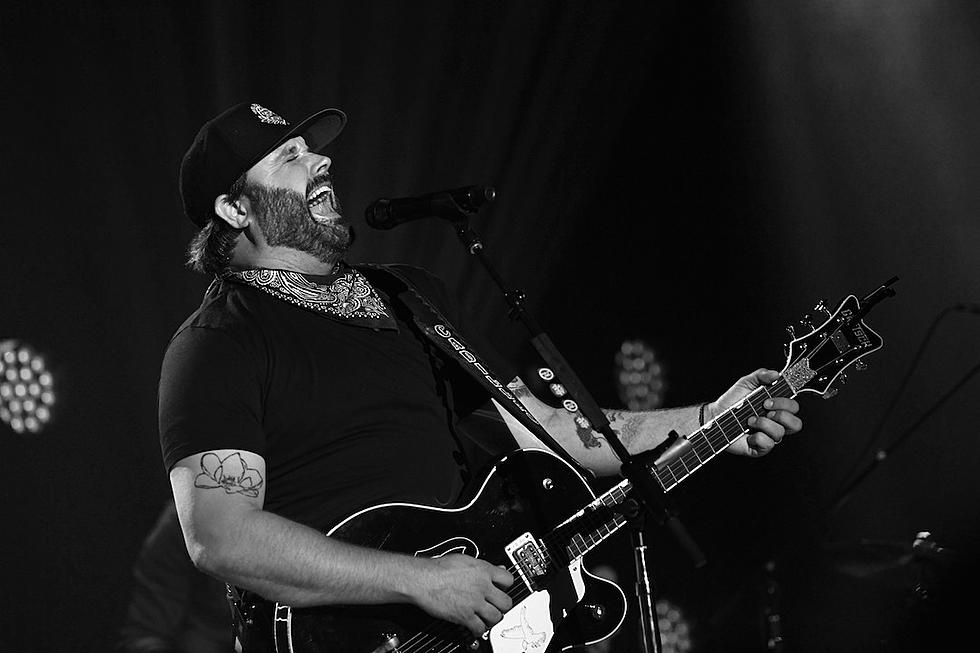 Randy Houser Is Feeling the Creative Freedom: 'No One Can Tell Me How to Make My Music Anymore'
Kevin Winter, Getty Images
Sometimes, acclaim and recognition show up when you least cater to them.
"I've seen an unbelievable reaction to the album. I've never had any kind of reaction like this from critics and fans and the industry," Randy Houser tells The Boot of the response to his fifth and most recent studio album, Magnolia, which came out on Friday (Jan. 11). "It's been an overwhelming impression that people who never would have paid any attention to my music before do, and are, because I stuck my neck out there to do something that I believed in."
That hasn't always been the case for Houser, who has admitted that his last project, 2016's Fired Up, didn't have much heart or personal passion behind it, in part, he says, due to pressure from his record label to release commercially viable, radio-friendly music. After all, Houser has proven he can write a smash: He co-penned Trace Adkins' infamous "Honky-Tonk Badonkadonk" and has earned radio hits of his own with songs such as "Runnin' Outta Moonlight" and "Like a Cowboy."
Still, the singer says, he quickly started craving more independence in the songs he was writing.
"You reach a spot where you feel like you're not being allowed to be as creative as you'd like to be, just because of the marketplace, and the way music is. You have different expectations from people at record labels and stuff for you to make music that competes on that level," Houser explains. "Sometimes that's not what the artist actually does or wants to do. For me, it was just that I had to find that thing and go ahead and exercise the creative side of my brain again. That's what makes me happy."
"I can't just go make music anymore because that was what was successful yesterday on the radio."
In order to do that, Houser -- a veteran of Music Row's writers' rooms and co-writing sessions -- isolated himself at first, coming up with the blueprint for many of Magnolia's songs alone.
"When I was writing this record, it was really important for me to just start the songs and get 'em to a place where I was pretty sure they couldn't get screwed up that much, as far as starting to sound like someone else," he recalls. "Because that's what happened a lot of times in co-write situations: You have a great idea, and it gets steered into another direction that doesn't sound like anything I would ever record. And so I made sure that a lot of these were headed down the path I would take with them."
That's not to say that Magnolia was made in a vacuum; on the contrary, the finished project is a highly collaborative album, filled with co-writes, melodies and guest appearances from some of the artists and songwriters Houser most admires. The singer recalls that, after he laid the foundation of what he wanted the record to be, he worked hard to assemble a talented cast of musicians and songwriters that includes the Brothers Osborne, Travis Meadows, Hillary Lindsey, James Otto and a slew of others.
"Once we started recording on it, it was all hands on deck," Houser continues. "[I wanted to] get all my crazy-talented friends and the people I admire, the people that I've known for years and years, and watched 'em, and loved what they do. All the people that were involved on this record, I admire them in a way that's hard to explain."
There was one song in particular that, for Houser, marked the moment that he knew he was on track to making the record he wanted to make: "Whenever I wrote the song "Our Hearts," that was the catalyst, or the trigger, for me knowing I was gonna start making a record," he recalls. "It was like, we were just gonna start making good songs. Whether they fit into anybody's box or not, that was up to them to decide, but I was gonna try to make the best record I could."
That track became a duet with Lucie Silvas, though Houser adds that it didn't start out as a song that was meant to be sung by two people. "It wasn't designed at the start to be a duet at all," he says. "And then it just felt better with a female harmony on it."
While creative freedom was the driving force behind making Magnolia -- in fact, Houser explains to NPR, he paid to record the songs out of his own pocket in order to achieve that independence -- his label ultimately stood behind him, even suggesting the idea for a visual component to the album that became its companion film. Houser says that film -- which tells the story of a complicated relationship between oil rig worker Noah and his girlfriend Ana, and features Houser in a minor role as a singing bartender -- complements the album, but to some extent, both projects can exist independently.
"It runs a pretty strong parallel to the record," he explains. "In a way, [the album and the film both] have lives of their own, but I think they tie in really nicely. The album, I feel like, is very congruent; I feel like it feels like an album. And I think once you tie them together visually, the film does the same thing."
"I had to find that thing and go ahead and exercise the creative side of my brain again."
When an artist releases an album full of music marketed to succeed at country radio, the metrics of success are tangible. With a project like Magnolia, however, Houser's goals for what will make the album a "success" are a little less numbers-driven -- but that doesn't mean they're hazier.
"I just hope that people find the album and understand where I'm coming from," he says. "And understand that, no, I'm not making a pop-country album, and, no, I'm not making a traditional country album. I'm just making a Randy Houser album."
Whatever "a Randy Houser album" might sound like, one thing is clear to Houser: He can't ever go back to making music that doesn't feel true to the kind of artist and songwriter he is.
"The only place I can go from here is to continue making records that are unique to me, that sound like Randy Houser music," he continues. "I hate to use the freakin' third person like that, but I can't just go make music anymore because that was what was successful yesterday on the radio.
"I'm a grown man," Houser adds. "Nobody can tell me how to make my music anymore."