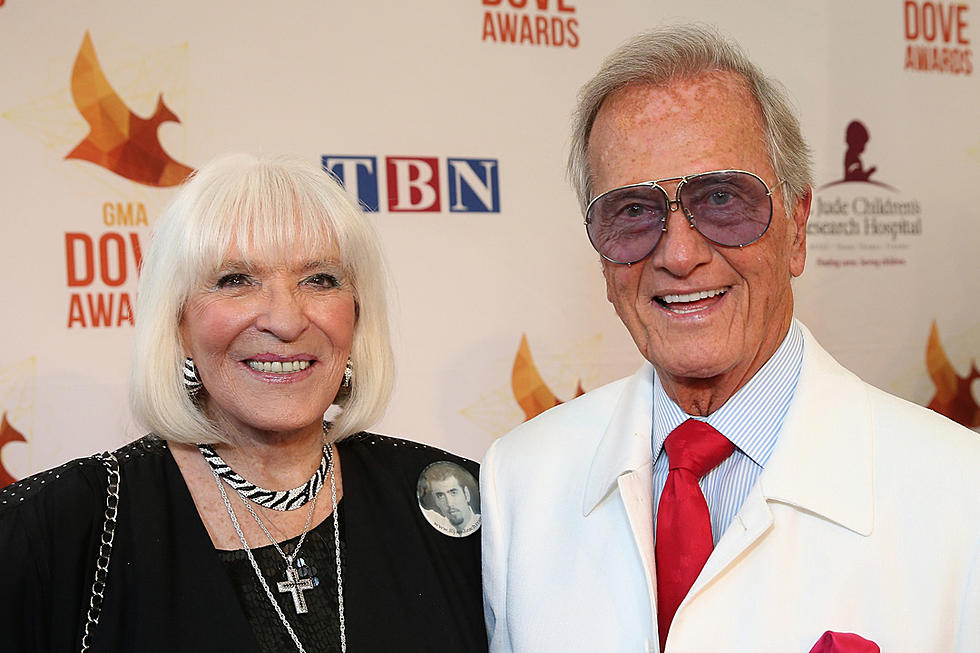 Pat Boone's Wife, Shirley, Dead at 84
Terry Wyatt, Getty Images
Singer Pat Boone's wife of 64 years, Shirley Boone, has died at the age of 84.
People reports that Boone died "peacefully" on Friday morning (Jan. 11) at the couples' Beverly Hills home. She had been suffering complications from vasculitis, which she had contracted in 2018.
Her husband and their four daughters Cherry, Lindy, Debby and Laury were by her bedside singing hymns when she died. Pat Boone tells People he believes he will reunite with his high school sweetheart soon.
"We lived a wonderful, blessed life together for 65 years. I've parted with my better half for a little while… but we don't die, we just move on to another place, and today was moving day," he says. "She's changed her address is all and moved to a different mansion that I expect to join her in one day."
"I'm very confident of that," Boone states. "That took the sting out of what happened today because we know we're gonna be together again and have a whole new beginning."
Charles Eugene "Pat" Boone met Shirley Lee Foley when they were teenagers. Her father was the legendary country singer Red Foley, and her mother was singer Judy Martin. The couple married in November of 1953, when both were just 19 years old. Pat Boone would go on to a singing career that included a stint on Motown's subsidiary country label, Hitsville, from 1974 until the label closed in 1977, releasing singles including "Indiana Girl." His run there included an album titled Texas Woman in 1976. The couple's third daughter, Debby, would go on to a recording career that scored several country hits, including two No. 1 singles: "You Light Up My Life" in 1977 and "Are You on the Road to Lovin' Me Again" in 1980.
In addition to being a loving wife and mother, as well as a grandmother and great-grandmother, Shirley Boone was an author, singer, humanitarian and founder of a billion-dollar Christian ministry. Pat Boone attributed their marital longevity to their shared faith.
"We didn't have the perfect marriage, but it helps to marry a magnificent woman," he reflects. "You make your commitments to God and each other, and in troubled times, you hang on to the commitment to God, and to your kids. You see the problems through and you find you're stronger because of it."
Country Stars Who Died in 2018: