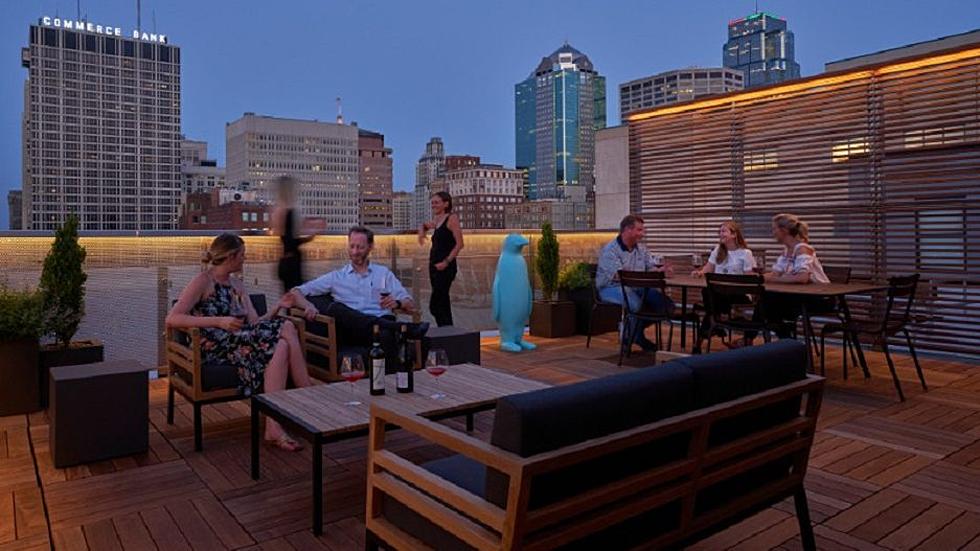 One of the Best Hotels in The World is 90 Minutes from Sedalia
21c Museum & Hotel
Have you ever had a desire to stay at one of the best hotels in the world, but figured you'd have to travel to New York or Los Angeles to do so? Nope. The 15th best hotel in the world according to Condé Nast Traveler is in Kansas City.
What Condé Nast Says 
That hotel is the 21c Museum and Hotel in Kansas City on 9th Street. And here's what Condé Nast Traveler had to say about it:
Opened in 2018, the Kansas City location breathes new life into the 1888 Savoy Hotel and Grill, where President Harry S. Truman was such a regular that his favorite booth is now marked with a plaque. The hotel's gallery welcomes rotating exhibits, but guests don't have to leave their beds to see art: Each room features photographs of penguins and Antarctic landscapes shot by brand co-founder Laura Lee Brown.
Condé Nast doesn't really say why their readers voted it one of the best, or why or how the Kansas City location of the combination 21st Century art museum, hotel, and restaurant in Kansas City beat out its seven sister hotel, museum, and restaurant locations. But if Condé Nast's readers say it's so, it's got to be great. Right?
What Expedia Reviewers Have to Say 
I decided I'd like to see what reviewers on Expedia had to say about 21c Museum and Hotel in Kansas City, and I don't think I've ever seen so many great reviews. Pro tip: a travel expert I used to book trips through for radio promotions said Expedia was a great resource to gauge how good or bad a hotel was. He told me Expedia reviews and their rating system was more consistent and accurate than some other travel review sites.
Expedia gives 21c Museum and Hotel in Kansas City a 4.6 rating out of 5. That's really good. And many of the reviews I read over the past three or four weeks give the hotel a rating of 5 out of 5.
Kyle's 5 out of 5 review on Expedia from this past weekend says, "A great unique hotel to stay at. Very affordable. Fantastic attached restaurant. I would stay again."
And Lacy, who stayed there to attend the Chiefs game gave it a 5 out 5 rating even though her family got thrown a curveball with their stay. She writes, "The staff is so so helpful here! We got upgraded to a suite and it was SO comfortable. The windows have black-out blinds which are so nice when you're up late and need to sleep in a bit. Short walk to the Power and Light District as well. The website says there is a shuttle to Arrowhead Stadium - this is not the case (there used to be) so if that is something you're needing you may have to look elsewhere. For us, this hotel was worth having to uber to Arrowhead. It is very quiet, never heard any of our "neighbors."
Patrick's Expedia review, where he gave it a rating of 3 out of 5 even references the Condé Nast review. His is probably the harshest I read.
"I will mention the positives first. The people at the front desk were terrific. The location is outstanding as are parking options. Housekeeping on the other hand needs a little work. The second and third day at the hotel, we had no towels, coffee or coffee cups. The trash can was placed on top of the sofa which I found curious. The ironing board was not sturdy, collapsing several times during set-up. Fortunately, the people at the front desk responded quickly to resolve any issues we had with the room. The rooms were adequate, but nothing special. The breakfast on Saturday did not look appetizing. I would recommend going to a restaurant east of the hotel on 9th street for breakfast or lunch. Unlike Conde Nast, I certainly did not consider the hotel to be one of the top hotels in the midwest. I would say that the reality did not measure up to the great things written about the hotel."
Truthfully, it's not that harsh a review. Although it does give you a look at potentially what may happen during a stay there.
The Cost 
So how much does it cost to stay there? Room rates average from $206 dollars a night for a Deluxe King to $377 dollars per night for a corner suite. And these are rates for the first weekend of 2022, January 7- January 9. So it's probably some of the lower weekend rates of the year. I checked my prices right off the hotel's website. Expedia's rates for booking matched the hotel's.
Other Things You Should Know Before Booking 
According to Expedia's page, there's free wi-fi and internet. Self-parking is $15 a night on site. There is a breakfast buffet available on weekends for a fee that ranges between $13-$35 a person. There is an on-site bar and restaurant. The hotel is family-friendly offering free cribs/infant beds, high chairs, and travel cribs.
Guest services include concierge services, luggage storage, housekeeping (once per stay), tour/ticket assistance and turn down services.
The hotel offers bathrobes, free toiletries, 42-inch flat-screen TVs, free newspapers, laptop-friendly workspaces, and separate sitting areas.
Pets are allowed up to 50 lbs and cost $75 per accommodation per stay. Restrictions apply, and service animals are exempt from fees. Rollaway beds are $30 extra per night, and cribs for infants are free.
The museum portion of the hotel is open seven days a week, 24 hours a day.
Some of the food and beverage options and extras like turndown service or housekeeping may have changed due to COVID 19. If anything is a make or break service for your stay I'd check with the hotel to see if what service you want is available.
Conclusion 
Does the 21c Hotel and Museum in Kansas City live up to the moniker one of the world's best hotels? I can't speak from experience, I haven't stayed there yet. However, as someone who put together customized trips for many radio station contest winners over the years. And has stayed in plenty of hotels myself over the years. I think there's a good chance you're in for a world-class experience at one of Kansas City's best hotels.
LET'S GO: The most popular historic sites in America