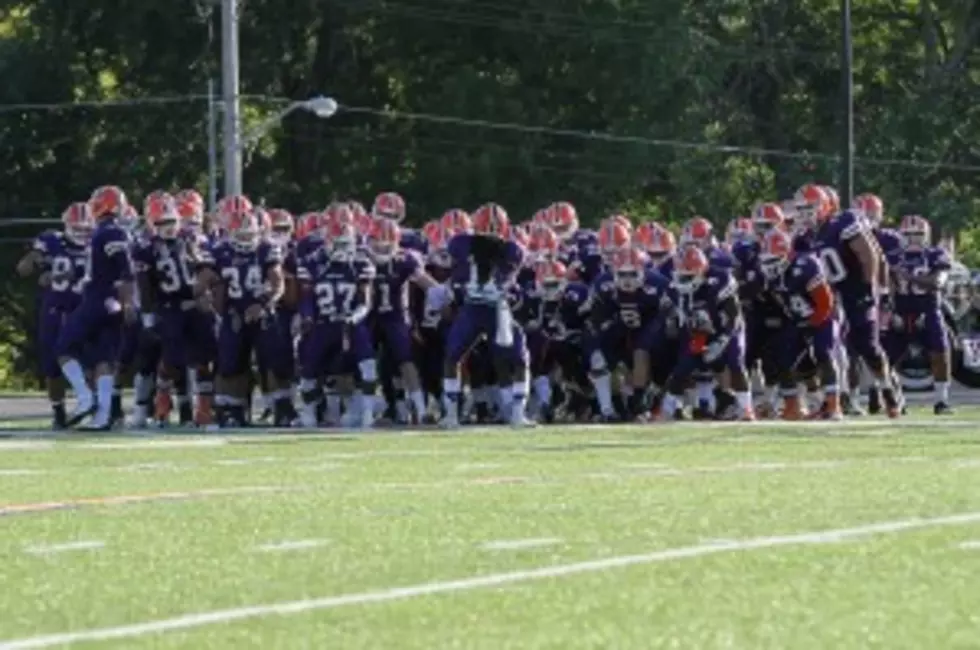 Missouri Valley College Vikings Selected As Top Team in HAAC Preseason Poll
Missouri Valley College Basketball (MVC Football Facebook)
Marshall, Mo. (August 5, 2014)- The Missouri Valley College football team was picked to win the conference in the 2014 HAAC Preseason Coaches' Poll released Tuesday at the Heart America Athletic Conference Media Day held at the NAIA National office in Kansas City, Mo.
The Vikings received six first place votes and 77 of the possible 81 voting points to sit atop the preseason poll. MVC is coming off a 2013 season that saw the team win a third-consecutive HAAC championship, advance to the NAIA Football Championship Series quarterfinals and finish with a 9-3 record.
"We know we'll have to show up every week ready to play," said Head Football Coach Paul Troth. "Multiple teams have the goal of winning a conference title, and it will be tough to win in such a tough conference."
The Vikings will return a number of starters from last year's offense, including Senior Quarterback Bruce Reyes (Beaumont, Texas) who is 26-4 as the starting quarterback in his career. Most of the offensive line returns for the Vikings including Senior Offensive Lineman Roy Wolfrum (Wentzville, Mo.) who spoke at Media Day.
"Our offensive line coach expects a lot out of us every week," said Wolfrum. "He has high expectations for us, and we have high expectations for ourselves."
Defensively the Vikings return the reigning HAAC Defensive Player of the Year with Senior Defensive Lineman Ty Phillips (East St. Louis, Mo.). Also returning for the Viking defense is Senior Defensive Back Michael Barnes (Beaumont, Texas) who attended Media Day.
"We know what it takes to succeed at a high level and now it's about getting over the hump," said Barnes. "There's always competition on the defensive side of the ball and we have guys capable of taking over open spots on the defense."
The Vikings finished ahead of second place Baker University by just one voting point, with Benedictine College picked third, Peru State College tabbed as fourth and MidAmerica Nazarene University chosen fifth by the coaches. The rest of the preseason poll had Evangel University in sixth followed by Central Methodist University, Avila University, Culver-Stockton College and Graceland University in that order.
The Vikings will open their season at home on Sept. 13 against Tabor College. MVC was ranked No. 7 and Tabor was ranked No. 8 in the NAIA Spring Football Coaches' Top 25 Poll. The game is part of the HAAC/KCAC Series and takes place on Family Weekend at Missouri Valley with a 6 p.m., kickoff.
Also, the Vikings will play in the first NAIA Gridiron Challenge at Arrowhead Stadium on Oct. 11. MVC will play MidAmerica Nazarene University that day with kickoff set for 3 p.m. Go to www.moval.edu/athletics for more information on the NAIA Gridiron Challenge, or call 660-831-4006.
2014 HAAC Preseason Coaches' Poll
Missouri Valley (6)          77
Baker (4)                        76
Benedictine                    65
Peru State                      56
MidAmerica Nazarene      48
Evangel                           44
Central Methodist             29
Avila                                21
Culver-Stockton                19
Graceland                        15
Press Release Courtesy of Missouri Valley College Athletic Department