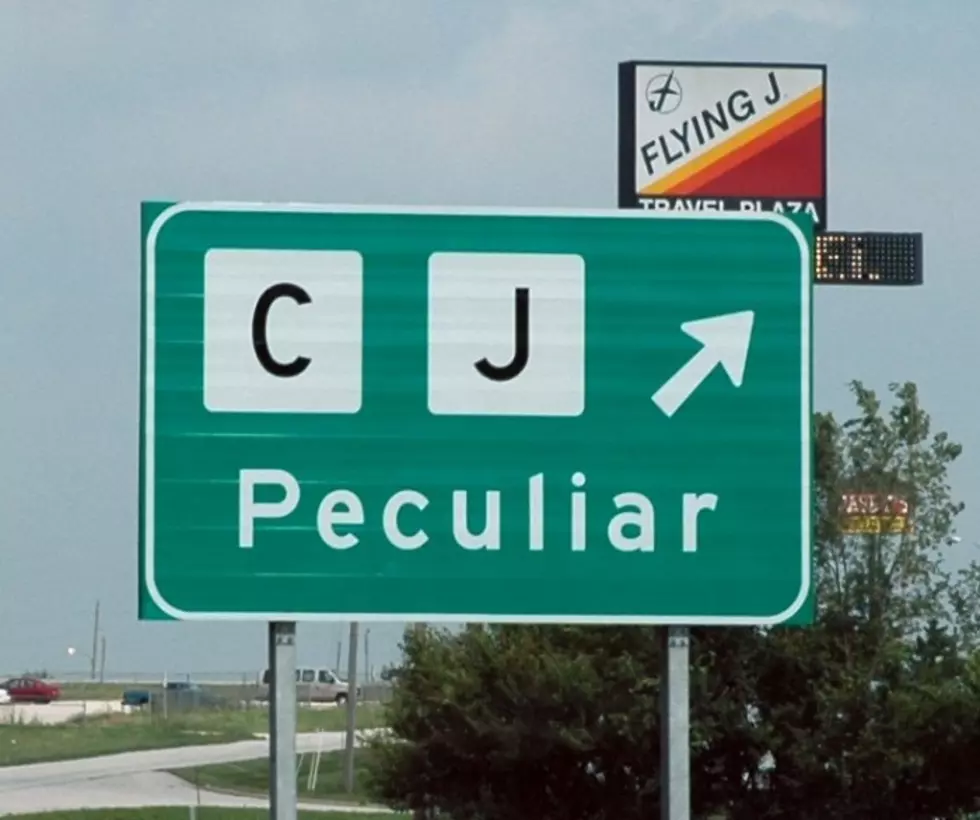 Missouri Has Some Funny Named Towns. Don't Believe Me? Try These 10
Wikimedia
Have you ever taken a road trip, and gone through a small town that barely had any population at all?  There are so many places like this throughout our country.  And every state seems to have a name that is just a little odd, or funny, or a little unique for various reasons.  In doing some research, I found 10 of them in our state of Missouri that fit that description.
Peculiar, Missouri
Peculiar is a city in Cass County, Missouri and is part of the Kansas City metropolitan area within the United States. The population was 4,608 at the 2010 census. The town motto is "Where the 'odds' are with you." How did the town of Peculiar get its name? You can click HERE for that info.
Bacon, Missouri
Yes, there is a town named after one of the greatest foods on the planet.  They are located in Moniteau County and it is unincorporated. It only has a populations of about 630 people.  You can click HERE for some more info.
Tightwad, Missouri
Sportswriter Jeff Passan has been through Tightwad Missouri.  Have you?  Tightwad takes its name from a Scrooge-like mythical character who stars in at least four legends. The most popular tale—the one that locals tell over and over—pegs him as a watermelon farmer who lived many more than 75 years ago (that's the most concrete dating locals could do). Back then, Tightwad was Edgewood.  Read more about it HERE.
Vulcan, Missouri
The world's best known Vulcan is Leonard Nimoy.  No, the town isn't named after the Star Trek character, or species.  Vulcan is an unincorporated community in southern Iron County, Missouri, United States. It is located on Missouri Route 49 between Des Arc two miles to the south and Annapolis 3.5 miles to the north. Ironton is approximately twenty miles north. The community is in the Big Creek valley. Learn more about this place by clicking HERE.
Elmo, Missouri
The Sesame Street character shares his name with this small town.  Only about 150 people can currently call this town home.  It is a city in Nodaway County, and was probably named after the novel entitled St Elmo. You can get more info HERE.  Their Facebook page link is HERE.
Clever, Missouri
I wonder if the town of Clever Missouri has people who live there that are NOT clever? Probably. The towns website link is HERE.  Clever is a city in Christian County, Missouri. The population was 2,139 at the 2010 census. It is part of the Springfield, Missouri Metropolitan Statistical Area.
Humansville, Missouri
The website link for Humansville Missouri is HERE.  This city is located in Polk County. It is part of the Springfield, Missouri Metropolitan Statistical Area. Only has a population of about 1000 people.  Humansville was named after an American settler, Judge James G. Human, who settled in the area in 1834.  A post office called Humansville has been in operation since 1839.
Bland, Missouri
Bland is a city in Gasconade and Osage counties in the U.S. state of Missouri. The population was 506 at the 2020 census. The Osage County portion of Bland is part of the Jefferson City, Missouri Metropolitan Statistical Area.  For the record, I do not think everything in the town is bland.  You can learn a little bit more about the town HERE.
Licking, Missouri
The Licking News is the newspaper of Licking Missouri.  The community was named for a mineral lick near the original town site.  Licking is located in north central Texas County in the Ozarks of southern Missouri. The city is located at the intersection of US Route 63 and Missouri Route 32.  Learn more about the town HERE.
Turtle, Missouri
Yes, there was a town called Turtle Missouri.  It's an extinct town in Dent County. A post office called Turtle was established in 1905, and remained in operation until 1954. The community took its name from nearby Turtle Pond, the habitat of many turtles.
Are you familiar with any of these towns in Missouri? Some odd names and funny ones.  Maybe in your travels you can check them out sometime.
LOOK: Here are the best small towns to live in across America