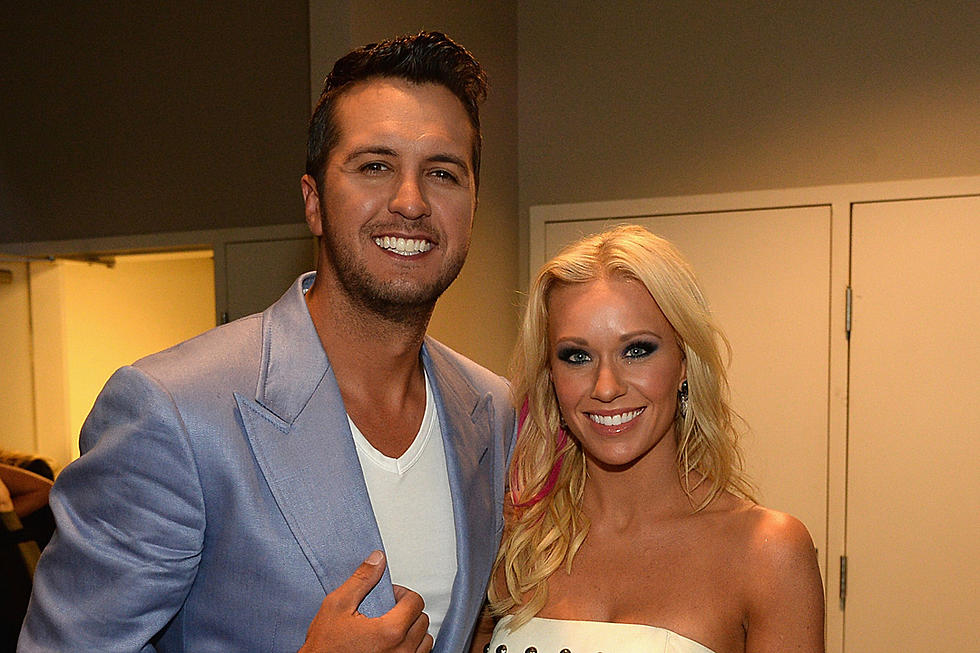 Luke Bryan's Wife, Caroline, Opens Up About Their Past Breakup
Rick Diamond, Getty Images
Luke Bryan and his wife, Caroline, are one of country music's happiest couples, but in a no-holds-barred new interview, she opens up about the reasons behind a four-year split that happened early in their relationship.
The former Caroline Boyer sat down for a very personal, hour-long interview with the Get Real With Caroline Hobby podcast, and during the wide-ranging conversation, she revealed that she was "very sheltered" growing up in Georgia, and had only had one boyfriend all through high school. When she met her future husband at a bar during her very first week in college, she admits she was "terrified."
"I didn't know what the hell was happening. It was my first time in a bar," she recalls. "Luke was the second guy I'd ever kissed in my life, ever. So I meet Luke in a bar, and he's such a big personality that I was just staring at him, like, 'Is this guy for real?' 'Cause he is how he is. It is not fake. It is totally real."
See Country Music's Best Love Stories:
They began dating, but Caroline broke it off after a year and a half.
"I got freaked out, because he was talking about marriage," she recalls, adding that the breakup "was horrible. It was Christmas of my sophomore year."
She had two other serious boyfriends over the course of the next few years, but she and Bryan were still in touch sporadically. He even brought a girl he was dating to a pre-party at her house one time, causing her to storm out of her own house. Years after they'd split, Caroline's brother, who had remained in close contact with Bryan, told her the singer was playing in town while she was visiting.
"I said, 'Okay, I'll go for like an hour,'" Caroline recounts. "I saw him playing, and something was different ... we were older."
She left when he took a break, thinking he was trying to avoid her. Bryan ended up calling her brother's house at 3AM.
"He was like, 'Where did you go?' And I said, 'I'm sorry, I had to leave. I thought that you didn't wanna see me, and I've gotta be up at six,'" she relates. "After that we started texting, and we saw each other at Christmas, and we've been together ever since."
Luke Bryan's Hip Shake Goes Back Further Than We Knew!
See Luke and Caroline Bryan on the 2018 CMA Awards Red Carpet