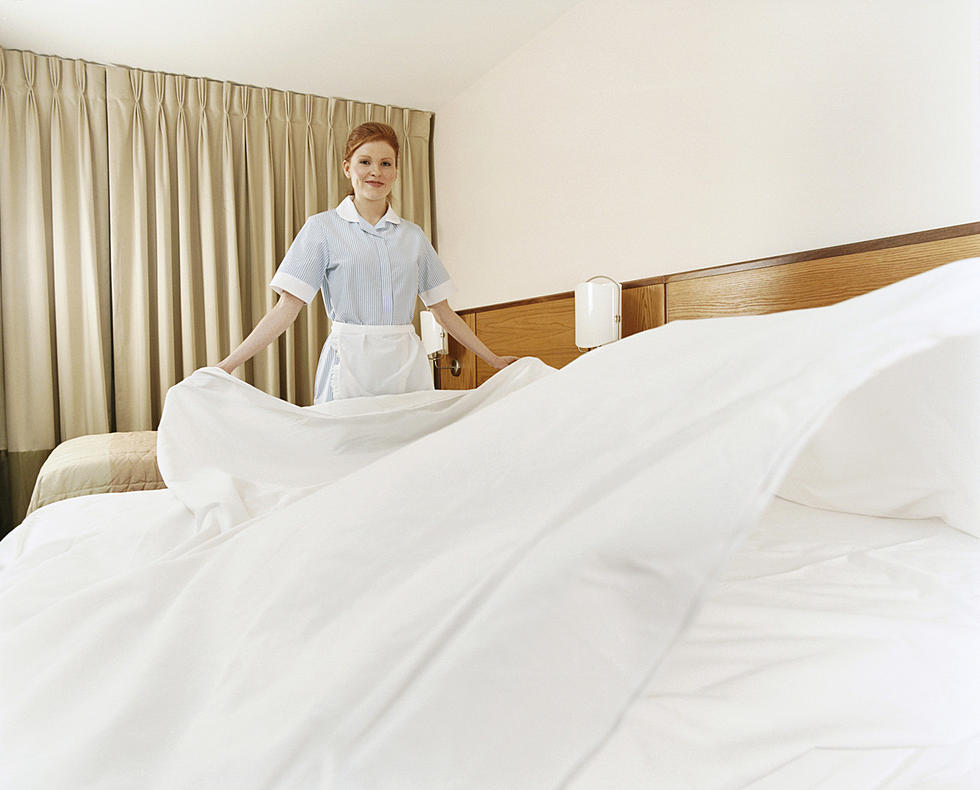 Know A Great Hotel Housekeeper? Nominate Them To Win $5,000
Digital Vision.
If you remember the TV show "WKRP in Cincinnati", or its theme song, which contains the lyrics: "Got kind of tired packing and unpacking, town to town and up and down the dial." I'm here to tell you there's truth to that lyric for many of us in the radio business. Many times, we'll start the job before we can move our family and furniture. Which means hotel living. So when I saw hotel expert, business fixer, and "Hotel Impossible" host Anthony Melchiorri promoting a uniform company's contest looking to award a cash prize to "housekeeping professionals who are instrumental to the success of the hospitality properties they maintain." I thought I need to speak up.
Throughout my career, I've spent months living in hotels. Here in Sedalia, it was The Best Western State Fair Inn. In Davenport, it was The Best Western Steeplegate Inn. In Lubbock, it was the LaQuinta Lubbock Inn North. And before that, I spent time at a couple of Ramada Limited's in Lafayette, Indiana, and Joliet, Illinois. So I'm an expert when it comes to hotel living.
Hotel living can be difficult. Walking into a really clean room at the end of a long day's work is always great. It's nice to have the garbage emptied. The beds made. The carpets vacuumed. More important though, are the short interactions I've had with housekeepers while enduring long hotel stays. The exchange of pleasantries. Thanking a housekeeper for taking care of me. Or just asking about their day has made my stays better, less isolating. So yes, I'd like to see dedicated hotel housekeepers recognized for doing a great job.
According to Cinta's, which is holding the contest:
The 2021 Cintas S.H.I.N.E. (Star Housekeepers In a New Era) Award recognizes hardworking housekeeping professionals who are instrumental to the success of the hospitality properties they maintain. By upholding cleanliness, these individuals have protected the wellbeing of guests and fellow employees with grace, grit and integrity during the COVID-19 pandemic.

Colleagues, supervisors, family members, hotel guests and others are invited to submit nominations for qualified housekeeping employees between Monday, September 13, 2021 and Friday, October 15, 2021.
The hotel industry is one that's been hard hit by COVID-19, and it's definitely made the difficult job of being a housekeeper harder. So if you're part of the hospitality industry in West Central Missouri and you know a housekeeper who is the tops at their job, nominate them. If you've had a loved one who stayed in one of our area hotels recently and had a great experience with a housekeeper nominate them. And if you've recently had a hotel stay anywhere else and had an excellent experience, nominate them.
The grand prize winner will receive $5,000 dollars, and their hotel property will win some goodies as well. You can learn more about the contest and nominate a housekeeper here. Nominations are being accepted through October 15. And Mr. Melchiorri's thoughts on how important great housekeepers are is below:
See the Must-Drive Roads in Every State
LET'S GO: The most popular historic sites in America