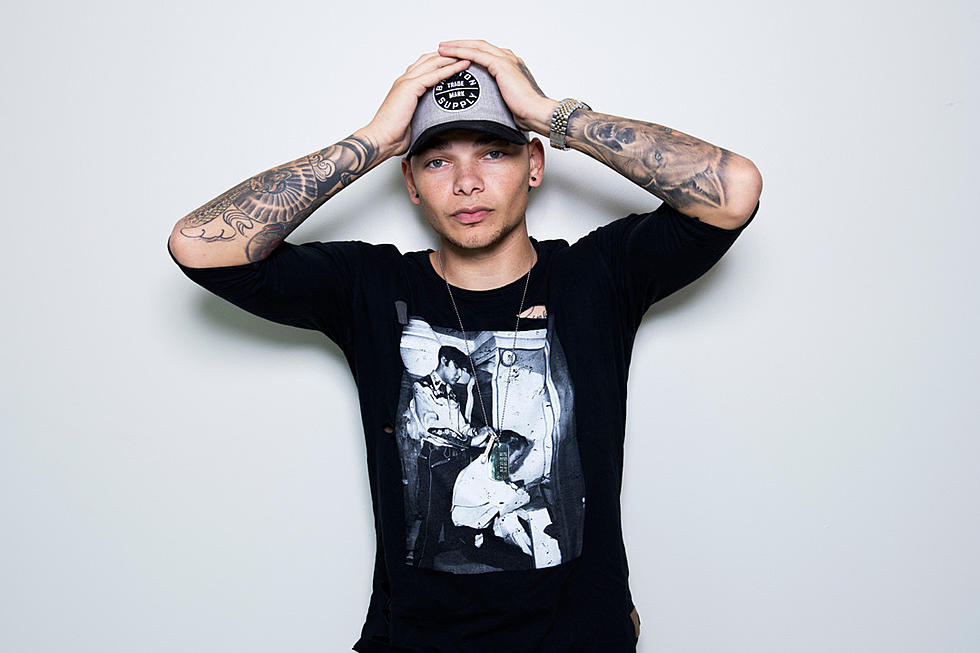 Fresh Ink: Kane Brown Is Country Music's Most Mystifying Newcomer
John Shearer
Kane Brown's path to stardom has been anything but ordinary. He was famous before he released a radio single and sold out venues before he'd ever played a full show. The mystery man has a deep, dark story he shares on his new self-titled album. He wears his emotions on his sleeves, literally.
 
Kane Brown is crying his eyes out.
The tatted 23-year-old social media star is at the back of the stage doing what no crowd wants to see. His two guitarists strum the opening chords of "Cold Spot" again and again and again. It's a Monday afternoon and the audience is the Nashville music industry. It's Brown's debut album listening party, and depending on your perspective, it's either going very well or very, very poorly.
Tom Douglas, the songwriting legend who helped Brown pen the song along with Allen Shamblin ("The House That Built Me"), tries to mend the situation by grabbing a microphone to sing in Brown's place.
Brown eventually shuffles back to center-stage, and Douglas puts a hand over his shoulder to calm him down. Amid the tears and the music, a striking slice of 21st century life plays out: Brown — young, ink heavy, the son of a white mother and black and Cherokee father — finds comfort in Douglas, an older man in reading glasses and khaki slacks.
"He hadn't been in town that long, and he had all the movers and the shakers and the beautiful people in the room, and it was almost like the weight of all that, and of the past two years of his life came to bear on his shoulders at that moment," Douglas said of Brown's breakdown days later. "He'd been carrying all this weight, all that work, all that energy, the death of his grandfather, all those expectations of all those people, and it was just the tipping point."
The tears were unscripted, a genuine flood of emotion from a singer whose experiences have not yet caught up with his success. Yes, Kane Brown cries. In fact, the tears come more often than you'd guess. When he was young, he says, he'd cry over bullies at school or the imprisoned father he barely knew. In high school, he says he broke down listening to Tim McGraw's "Don't Take the Girl." He was such a mess that day he told the principal he was leaving and went to beg his girlfriend to forgive a transgression he's long since forgotten.
"I found out how to cope with it is just always being surrounded by people," Brown says, describing the depression that's common in his family. "I used to isolate myself and be in my room by myself all the time. So that's why I'd be emotional."
"Cold Spot," the most traditional song on Brown's new self-titled album, released on RCA Nashville this month, was started in June but finished in late September on the day Papa, his great-grandfather, died. The title is the name of the store Brown's Papa ran until Walmart put him out of business. You can find photos of the dilapidated building online. It's broken and covered in weeds, an atrophied memory.
"I remember one day my granddad was like, 'The store almost got robbed today,'" Brown says. "My Papa, he was in the Army, so he's a badass." The robber had a knife, and Papa had a gun under the counter he couldn't get to. Instead, "There was a fresh pot of coffee that he had and he was like, 'You ain't robbing my store' and threw the hot coffee on him."
Those were formative years for Brown. At age five, the shop was his default afterschool daycare. It was one of those old country stores that sold groceries, fishing bait, kerosene, beer and hunting tags. A "hole in the wall with holes in the wall," he sings in "Cold Spot," describing a familiar, stable place when all the boy knew was instability.
Brown is a social media sensation, country's first true viral star. After quitting the third season of X Factor  — because he didn't want to be part of a boy band — he started to post videos of himself singing cover songs, often from his bedroom or a bathroom, to Facebook. He didn't have expectations or a business plan at the time.
"I was happy if I got 60 likes on my stuff, and then one morning I woke up and had 800 friend requests," he mumbles in a soft, deep voice that's diametrically opposed to the thick, fluid vocals that can blow the top off a crowd. In conversation it's difficult to believe this is the same young man who tries to top out his Dodge Hellcat and shows off his sculpted abs onstage.
"I accepted them," he says. "Seven hundred more [requests] came through … and then after that I was like, 'I'm gonna try to run with this. Maybe I can get internet famous.'"
A cover of George Strait's "Check Yes or No" was viewed more than 10 million times as the number of followers on his personal Facebook page grew from the hundreds to the hundreds of thousands to over two million. But at that point, in autumn 2015, Brown had never played a live show. He'd scarcely picked up a guitar. That, Brown says, only came when he started to see his social interaction slipping, and he knew he had to expand his appeal.
The music industry watched Brown's rapid climb with skepticism. Many, like the country music blog Saving Country Music, wondered if the numbers — including iTunes sales that outpaced Luke Bryan's — were real. Kevin Frazier, who owns City Limits Saloon in Raleigh, North Carolina, recalls his club being one of the first live venues Brown played. The hype was that tickets would sell out in minutes. Didn't happen. On the day of the show he remembers Brown was shy and "100 percent out of his element." He remained on the bus instead of doing the usual walk-and-talk an artist does with an important club owner.
"I had to give him every benefit of the doubt, but it did skyrocket," Frazier recalls. Robust walk-up crowds led to a sellout that was very loud and very real. Afterward he held a 100-person meet-and-greet, and between then and now a growing cadre of (mostly young, female) fans beat down his DJ's door until they played Brown's latest single. Today, fans line up early for sold-out performances, and once the doors open they park themselves in front of the stage until the lights come on.
Brown recalls those early shows, as well. His first came on November 13, 2015 in Darlington, South Carolina, several days after Taste of Country's first profile on his unique story. "If I was to have went to the show as a fan, I would have been like, 'This is awful,'" he says, looking back with a laugh. A few originals were sprinkled between covers, and Frazier recalls a slow-paced show that the audience seemed to love.
Other artists have helped improve Brown's live show since. The number and variety of Brown's industry supporters are myriad. It begins with his record label team at Sony, a group that's very protective of their developing star. Chris Young talks about singing and writing with Brown like he's a younger brother. Tyler Hubbard and Brian Kelley of Florida Georgia Line — two men who know a thing or two about fast fame — brought him on the road last summer. Songwriter Josh Hoge has worked with Kane more than anyone, collaborating on a dozen songs for Brown's debut EP and his new album. He describes it as a big brother–little brother kind of relationship, and admits he gets very protective when people are critical.
"I think sometimes he gets a bad rap because you look at him and you see this intense looking guy that's tattooed up and all that stuff," Hoge explains. "And then you get around him and he doesn't always say a lot, and I think people kind of judge him on that and think, 'Oh, he's a jerk,' but he's not at all. He's a humble, shy, great kid and not scared of who he is and his emotions."
American Idol's Lauren Alaina, whom Brown credits with "discovering" him, remembers meeting him for the first time in junior high, when they were classmates. One day she heard him humming and coaxed him into singing a little bit.
"He was really shy and he wouldn't sing in chorus class, and I said, 'Come on, Kane, I think you could be a good singer,' and then he started singing, and now look at him," she says.
"It's what I wanted to do, I just didn't think I had the talent," Brown recalls. Watching Alaina shine on reality TV gave him a confidence boost. Still, his plans after high school didn't involve music. He planned to follow in Papa's bootsteps.
"My tattoos … I'd be in the Army right now if I hadn't got 'em," Brown says.
Options are limited for anyone growing up in northwest Georgia, especially a vagabond like Brown. A childhood that included stints of living in a car with his mom or at friends' houses led to teenage years bouncing around. He went to five different high schools but graduated. When asked if he was a good student he smiles and admits he was … as soon as he realized he needed good grades to get out of there.
Some of Brown's friends weren't so lucky, falling victim to the small-town malaise that leads to drug abuse and crime. A few wound up in jail. A few overdosed and died. He sings about it.
"There was one time where it was like five people in two weeks that I went to school with [who overdosed]," he recalls. "I was really close with one of them. The dude was awesome, he worked at a movie theater. Always happy, and he was just … gone the next day."
So Brown says he set his sights on joining the U.S. Army. He passed the ASVAB test — the qualifying exam to enter the military — and was at camp before they told him he'd have to remove his tattoos before they let him in. That left a door cracked for alternatives — a door Facebook would blow wide open within weeks.
You can learn the good and bad about Kane Brown's story by studying his tattoos. Take the giant, half-finished Batman across his chest. For a long time he said he just liked Batman, but last fall he admitted to Taste of Country that it was partially inspired by a girlfriend. It also covers an unfinished chest piece of three skulls by a man he used to call his uncle until he went to jail. The unfinished wing holds a bible verse: John 3:16.
"For God so loved the world that he gave his one and only Son, that whoever believes in him shall not perish but have eternal life."
On his right bicep, three skulls with roses over their ears, eyes and mouths stand in for the See No Evil, Hear Evil, Speak No Evil monkeys. Just below that is a newly painted wolf, and Brown and the members of his touring band plan to get matching ink soon.
Brown's mother has the same Chinese symbol for love on her neck. His grandmother, "Nana," has the same music notes on her neck. Nana also inspired the Elvis microphone on his left forearm and one of the most memorable lines on his album: "My Nana showed up she was super protective / Had a tear in her eye, she saw how I was neglected," he sings on "Learning," an R&B-influenced autobiography that's as raw as you'll ever hear. "When I was six years old I kinda wet the bed / My stepdad came in and nearly beat me to death."
"(Nana) took me in when my mom couldn't find anywhere to stay," Brown says. "(My mom) went off and met this dude, came back, and we lived in a trailer on my Papa's farm. There was this one day, I had a dream that I went and used the bathroom, but I was still in my bed. He came and woke me up and we had to go get my mom for work. I woke up and he just pretty much beat the crap out of me."
His mother didn't notice the bruises in the dark of night, and Brown recalls not saying a thing when she asked how he was doing during that car ride home. "Then my Nana picked up me up and she seen all the bruises and asked me how it happened and I told her. She was the only one I could really trust."
"Three weeks later she had him locked in a cell / Now I'm seven years old with a story to tell."
When Brown first shared "Learning" on Facebook, both his mother and his grandfather replied in the comments section. What took place was an emotional and surprisingly public conversation, like so many things that are surprisingly public for this introvert.
The stories painted on Brown's arms and in his songwriting inspire. "Learning," for all its tragedy, feels uplifting by the time it's all over, a song that emboldened dozens of fans to approach him with their own stories of struggle. Single mothers and biracial kids make up a notable subset of his fanbase — a diverse, passionate group that doesn't care about skeptics or bigots.
"Now in the spot I'm in, I'd love to be a role model to a bunch of kids," Brown says. "I don't do anything bad. I could help a lot of people's kids that are going through racism or getting bullied. That's what I wanna do."
How far Brown goes depends on your measuring stick. He already has a gold-certified single ("Used to Love You Sober") and sells out most of the clubs and theaters he headlines. But radio has been slow to catch on. Perhaps it's a matter of him simply having the right song at the right time, but it's a struggle to find another act to compare him to.
"When you look at him, he looks like somebody that should be in Detroit rapping, but then when you talk to him he's like this north Georgia hillbilly," Douglas says. "The truth is it takes a lot of courage to be that vulnerable and that honest, and I think what's part of his appeal is he's willing to say things lyrically that other people would be very uncomfortable saying."
The next chapter of Brown's career will likely be determined by who's listening.
Kane Brown: The Taste of Country Photo Shoot