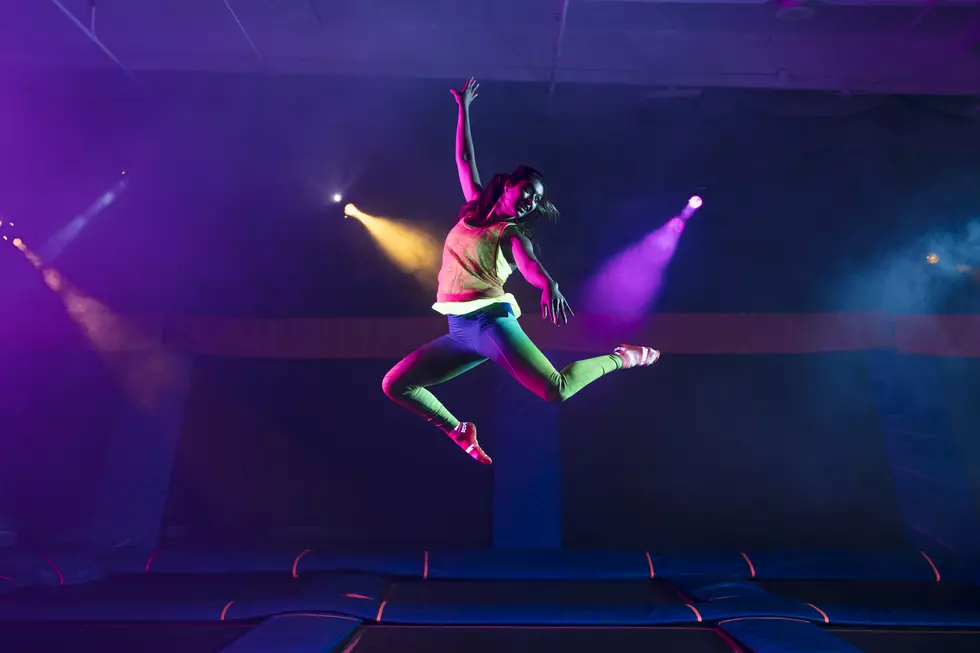 Jump, Catch Big Air, and Have Family Fun in Columbia
Sky Zone / Kevin Winzeler
One of the things that always comes up when we talk about what Sedalia needs are places for family activities. While I don't know of any businesses coming to fit that bill in Sedalia, that doesn't mean you can't load the family in the car and head to Columbia to jump, catch some big air, and enjoy a day out with your family at Sky Zone Trampoline Park.
First of all, most trampoline parks these days are more than just buildings with lots of trampolines where your kids can go and jump around like their on a pogo stick. They're complete entertainment destinations with a variety of loosely themed activities for kids of various ages, as well as a place where you can hold birthday parties, fundraising events, and more.
Sky-Zone in Columbia offers the following attractions:
You can take on a variety of obstacles in a test of speed, strength, and agility on their Ninja Warrier Course.
Kids ten and up can immerse themselves in a universe where the real and virtual worlds collide in the VR Zone. Or bring some friends and play a game of Ultimate Dodge Ball on trampolines.
Visitors can take on the curved incline of Sky Zone's Warped Wall. As well as Sky Zone's signature activity, freestyle jumping on their wall-to-wall trampoline courts.
Of course, there are other attractions that you can participate in as well such as heading to the Drop Zone for floor-to-ceiling fun where you can catch some big air. Dunk like a pro basketball player with Sky Zone's SkySlam and more. They even have a Toddler Zone.
So what's all this cost? General Admission tickets for 90 minutes are $19.99, 120 minutes for $21.99, and Sky Zone also offers monthly memberships which might be beneficial if it's a place your family might enjoy going a few times a month. The VR Zone costs extra. Sky Zone also offers promotions which might mean you'll save some cash.
Obviously, when you're jumping around, climbing, or participating in a sporting type activity there's always a risk. So, Sky Zone asks people who want to participate in the fun they offer to sign a waiver before they start jumping and having fun.
While we might not have a fun place like this here in Sedalia, it doesn't mean you can't find that fun within an easy drive of Sedalia,  Sky Zone is one of those places. Sky Zone is located at 1201 American Parkway in Columbia, and their phone number is 573-309-9600. Hours vary, so be sure to check their website prior to making the trip.
Sedalia Needs an Entertainment Complex Like This One in Rolla
One of the top things you told us Sedalia needs is more entertainment options for families. Sure, we have Leisure Park. But with Gokarting and Mini Golf being the main attractions, it's not that great a destination for the cold weather months. Rolla has an entertainment complex called the Zone that offers everything from Air Hockey to Skee Ball. Bouncy Houses to Roller Skating. A complex like this downtown in an old warehouse might be one of the things to help downtown come alive. Check out these pictures from
The Zone in Rolla
.
Don't Want To Rough It Camping? Try Jellystone Park near Hannibal
If you're not much of a camping family but would like a camping experience. Or if you just don't want to rough it but still want to use your camper or camping gear check out
Jellystone Park at Mark Twain Lake near Hannibal
. Heck, you can also skip the camper or tent and just rent a cabin or hotel room if you'd rather. You might also run into Yogi and Boo Boo during your adventure.