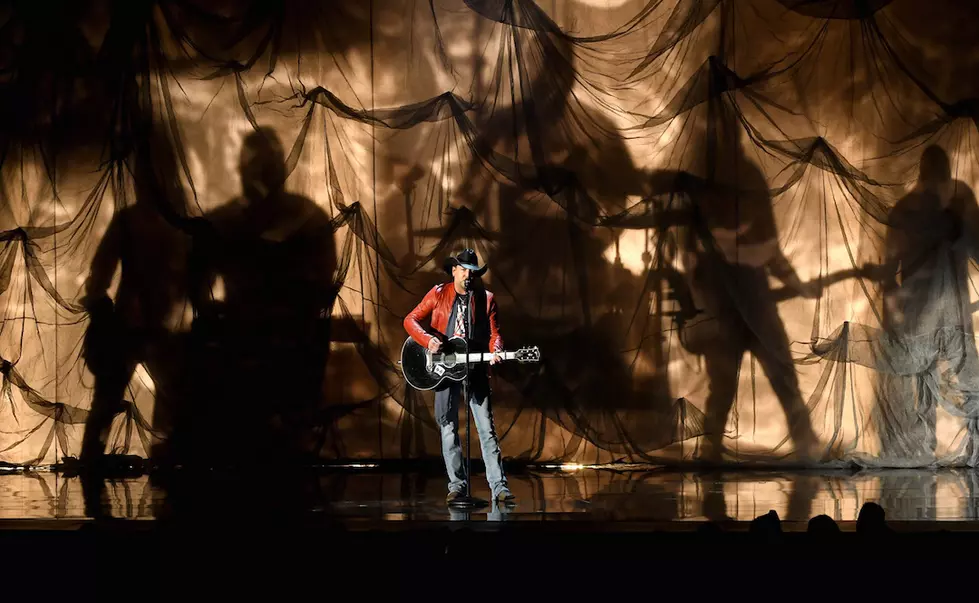 Jason Aldean Performs 'Any Ol' Barstool' at 2017 ACM Awards
Ethan Miller, Getty Images
Aldean kept things simple for his performance during the 52nd annual ACMs: It was just him, a band and those lyrics. A heartfelt and heartbroken song, "Any Ol' Barstool" comes from Aldean's seventh studio album, They Don't Know; it was released as the record's third single in November, following Aldean's No. 1 hit "A Little More Summertime."
Written by Deric Ruttan and Josh Thompson, "Any Ol' Barstool" is a track that Aldean calls "probably one of the best-written songs on the album." The mid-tempo tune is less party anthem and more melancholy ballad when compared to Aldean's first two singles off of They Don't Know; it's got a traditional country melody, and its lyrics are universally relatable.
"The guy is just trying to convince her that he's doing fine, not drinking too much. It's one of things we've all been through in some way," Aldean explains of the character in the song. "Plus, that traditional feel is the country music I grew up on and has always been important to me to include on our albums. I love that stuff."
Aldean is set to headline Country Jam 2017 and the 2017 Taste of Country Music Festival in June. Last year at the ACM Awards, he took home the Entertainer of the Year, earning the prestigious Triple Crown Award in the process. In 2017, Aldean received two nominations at the ACM Awards: Male Vocalist of the Year and Entertainer of the Year.
See Pics From 2017 ACM Awards Rehearsals, Pre-Show Interviews
How Well Do You Know the ACM Awards?