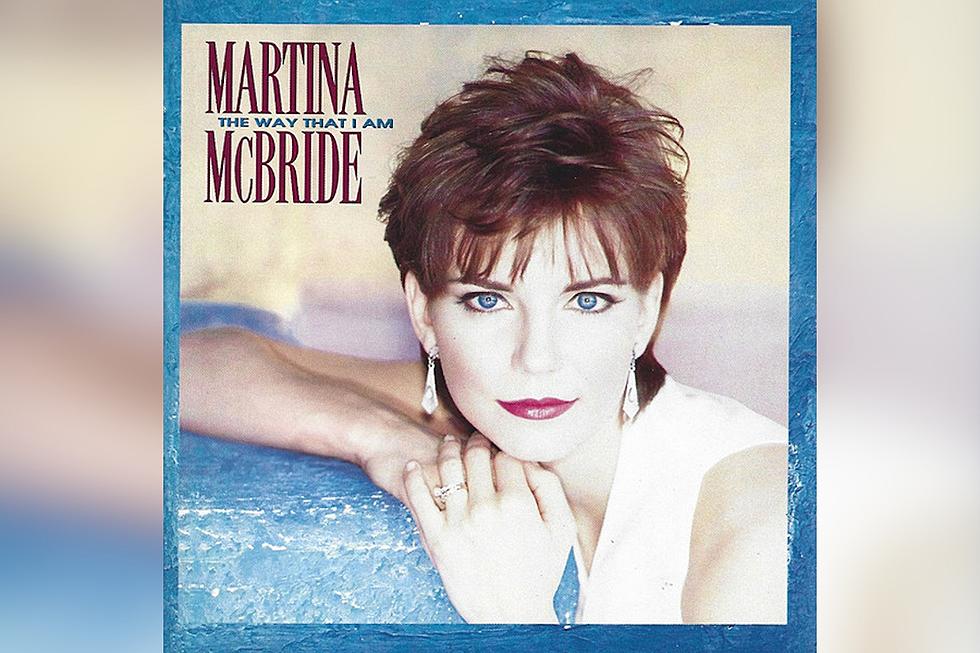 Classic Albums Revisited: Martina McBride Breaks Through With 'The Way That I Am'
RCA Nashville
In 1992, Martina McBride released her first album, The Time Has Come. Backed by RCA Records and already opening shows for country music legend Garth Brooks, it seemed that the record's title was a fitting declaration that a new powerhouse had arrived on the scene. However, this news fell on deaf ears. The titular single peaked at No. 23 on Billboard's Top Country Albums chart, while the follow-up tracks sent to radio never reached the Top 40. McBride's time would come — but not just yet.
When the Kansas native recorded her sophomore LP, she shed the traditional country and folk influences that permeated her debut. Instead, she embraced her originality and captured a bold sound that embraced pop elements. Just as importantly, McBride selected bold lyrics to match: powerful songs that told the stories of women who were both familiar and strong.
Finally, she had found her sound and message. When McBride released The Way That I Am in 1993, her moment arrived. The album's first single, "My Baby Loves Me," peaked at No. 2 on the Billboard Hot Country Songs chart and gave McBride her first of many major hits.
"My Baby Loves Me" was a celebratory, empowering song about ordinary, healthy love. McBride brought joy to the radiowaves singing the Gretchen Peters-penned lyrics, "Don't need no copy of Vogue magazine / Don't need to dress like no beauty queen / High heels or sneakers, he don't give a damn / My baby loves me just the way that I am." 
Over the course of ten songs, which she co-produced with Paul Worley and Ed Seay, McBride showed the world just who she was: a woman with a fiercely powerful voice who used it to highlight the hidden resiliency in everyday life. From "Goin' to Work," an upbeat track about a nine-to-fiver who takes pride in doing her job even when life gets tough, to "Life #9," a rocking confrontation between a woman and her two-timing lover, these songs approached life with some heart and some fight.
Looking back on the songs that defined her career, McBride told Taste of Country, "For me, country music has always been a bit about substance, it's been about relatability, it's been about real life."
The tracks that make up The Way I Am embody those values, especially those penned by Peters. The award-winning songwriter proved instrumental in McBride's career: Peters also wrote "Independence Day."
Today, "Independence Day" is one of McBride's most revered tracks, if not her career-defining song. Yet upon its initial release, the country star had to fight for fans to be able to hear it. Country radio programmers were uncomfortable playing a song in which domestic abuse was met with retaliation. McBride's persistence — and undeniable talent — kept the single from being stifled. Now, it's rightly recognized as one of the greatest country songs of all time.
Persistence, substance, a best-in-class voice, and a healthy dose of real-life all came to define McBride's breakthrough and her decades-long career since.
After all, it's just the way she is.
Martina McBride, The Way That I Am Track List:
1. "Heart Trouble" (written by Paul Kennerley)
2. "My Baby Loves Me" (Gretchen Peters)
3. "That Wasn't Me" (Gary Harrison, Tim Mensy)
4. "Independence Day" (Gretchen Peters)
5. "Where I Used to Have a Heart" (Craig Bickhardt)
6. "Goin' to Work" (Bill Lloyd, Pam Tillis)
7. "She Ain't Seen Nothing Yet" (Walt Aldridge, Anna Lisa Graham)
8. "Life #9" (Kostas, Tony Perez)
9. "Strangers" (Bobby Braddock)
10. "Ashes" (Chris Waters, Lonnie Wilson, Charlotte Wilson)
Martina McBride's Best Live Shots [PICTURES]
Take a look these snapshots from some of
Martina McBride
's most show-stopping performances.