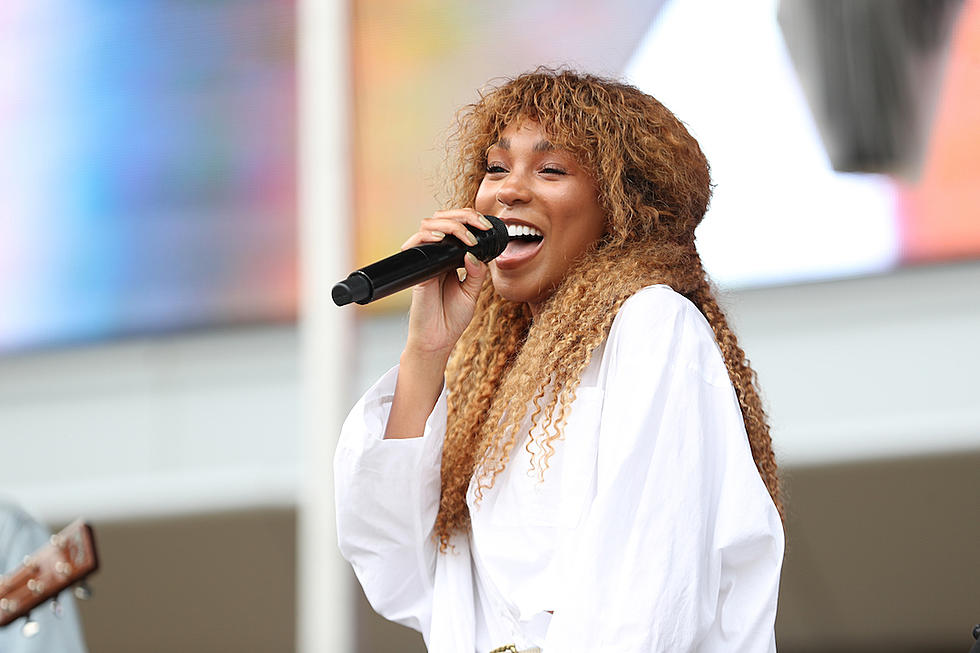 Tiera Kennedy's Dynamic Path Led Her to a Sound That's 'More Country' Than Ever [Interview]
Omar Vega, Getty Images
Every artist who enters country music must quickly develop a strong sense of self, and for women — especially non-white women — the risk of being pigeonholed or packaged by industry executive and well-meaning teams is especially great.
Tiera Kennedy knew going into the industry that she'd have to work to define herself on her own terms, and she surrounded herself with a supportive team who would stand behind her self-expression. Still, she acknowledges that it's sometimes been a struggle to find a balance between authenticity and commercial viability.
"I watched Shania Twain's documentary," Kennedy recounts to Taste of Country, "and just watching how hard she struggled to put out music that she was proud of, that was authentically her — how hard that was for her. It's that way for every artist. We all have our struggles.
"I have such a great team behind me that really believes in me and lets me be who I am, but it is a team, and at the end of the day, there is compromise sometimes that's hard when I'm so attached to my music and everything surrounding it," she continues.
Fortunately for Kennedy, her career history includes a couple of plot points that have left her uniquely equipped to advocate for herself in the studio.
As a college student at the University of Northern Alabama in Florence, she spent time recording and cutting her teeth at FAME Studios, a spot that's both legendary and off the beaten path. Back in the '60s, artists including Aretha Franklin, Etta James and Clarence Carter were able to carve out a uniquely new Muscle Shoals Sound at that studio. Just far enough from the spotlights of Nashville, New York and L.A., they were able to create magic without the scrutiny of the day's rampant segregation and criticism of white musicians (FAME's world-class session players, the Swampers) working with Black artists.
Today, FAME is still a breeding ground for artists wanting to work in a world-class studio that's also removed from the spotlight. During her time there, Kennedy linked up with in-house songwriter Noah Shell to write, record and experiment with sound.
"I actually feel like I spent more time at FAME than in the classroom," she remembers. "I was at FAME all the time. I just felt the history in that studio. Getting to record there, I compare it to standing in the circle at the Opry. It was as legendary as that to me."
It was Kennedy's first in-studio experience, and her time at FAME allowed her to develop her musical sensibilities on her own terms.
"It was such a carefree place for me to learn all aspects of music," she says. "I didn't have any pressure to feel like I was competing with anybody or racing against a clock. I just had a love for music and wanted to create as much as I could."
Once in Nashville, she flexed the musical ambidexterity she'd learned: Her tender, breakout "Found It in You" was a romantic ode to her husband, and more recently, she showed her spunky side with the hooky "Jesus, My Mama, My Therapist." Now, hard at work on her next album, Kennedy says she's embracing traditional country.
"Especially when we got to the studio, these songs ended up sounding more country than I expected, and I've loved it," the singer says. "I feel like I've really gone back to the songs that I love listening to, and it is that '90s country: The fiddle, the banjo, all that stuff in the background that really brings out the country flair. Everything has just gotten more and more country, which I'm so excited about."
She's also digging into more vulnerable territory, with a little bit of a push from her producer and frequent co-writer Cameron Bedell.
"He's always wanted me to write a bit more of a personal song. And I've always pushed away, because I'm like, 'I am not in that place right now. I do not want to dig up old wounds,'" Kennedy explains. When she finally took the plunge, though, the risk paid off: The singer describes one track on the album, called "I Ain't a Cowgirl," as "the most personal song I've ever written" and adds that it gave her a chance to dive into the insecurities and hard days that come along with fighting for authenticity in the music industry.
"It's an up and down kind of business. I was going through one of those 'down' moments, and the cool thing about writing that song was, I was writing it with people that understood the industry and understood me," she continues.
"As a female and also as a new artist, it's hard to speak up for yourself sometimes," she concludes. "But it's people like Shania and Dolly [Parton] and all of these icons, that I feel like fought to put out music that they were proud of. That's what I try to do every day."
See the Most Played Country Song from the Year You Were Born
Who had the most played country song during the year you were born? This list is a fascinating time capsule of prevalent trends from every decade in American history. Scroll through to find your birth year and then click to listen. Some of these songs have been lost through the years, many of them for good reason!
Gallery Credit: Billy Dukes