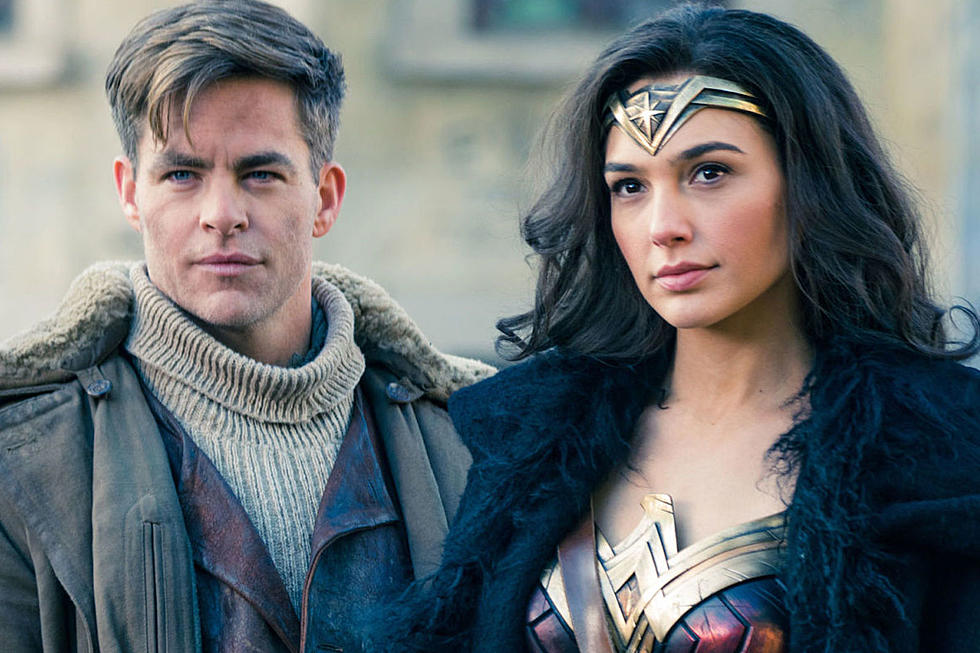 'Wonder Woman 2' First Look: Chris Pine's Steve Trevor Is Alive Somehow
Warner Bros.
Way to spoil the surprise, Patty.
Wonder Woman 2 director Patty Jenkins (technically Wonder Woman 1984 director Patty Jenkins) tweeted out a pretty shocking picture this morning. It's of Chris Pine, who played Wonder Woman's love interest Steve Trevor in the first film, back in action on the set of the sequel. That normally wouldn't be that big of a deal except for the fact that 1) this film is set some 70 years after the evens of the first film and Steve doesn't appear to have aged a day and 2) he kind of, like, totally got blown up in the last film.
Here's the tweet that will be sure to fuel speculation for the next couple months.
So how is a dude from World War I walking around in a jogging suit in 1984? Well, first of all, this is the DC Universe, lots of weird crap happens all the time. Wonder Woman hasn't aged a day since World War I, either, so it's not that nutty of an idea. There could be some time travel at work. Or he could be some kind of magical spell. Or, they could be taking a page from the old Wonder Woman TV show, where the first season was set in the past and the second season was set in the present (the 1970s) and they just had the guy who was playing Steve Trevor play his son, Steve Trevor Jr. Chris Pine could play his own grandson, right? People would just accept that?
Gal Gadot tweeted her own Wonder Woman 1984 picture (and, yeah, guess that's the official title) which has less Steve Trevor and thus will be less subject of feverish speculation).
These pics were revealed to commemorate the start of shooting on the big sequel
Fast forward to the 1980s as Wonder Woman's next big screen adventure finds her facing an all-new foe: The Cheetah. Principal photography is underway on Warner Bros. Pictures' follow up to the Super Hero's first outing, last summer's record-breaking "Wonder Woman," which took in $822 million at the worldwide box office. "Wonder Woman 1984" will also be helmed by acclaimed director Patty Jenkins, and star Gal Gadot in the title role.

As previously announced, the film also stars Kristen Wiig in the role of the Super-Villain The Cheetah, as well as Pedro Pascal. And Chris Pine returns as Steve Trevor.
Not much to go on there. They don't call him "Steve Trevor Jr." though. Wonder Woman 2 (1984) opens in theaters on November 1, 2019.
Gallery - The Best and Worst Superhero Costumes Ever: