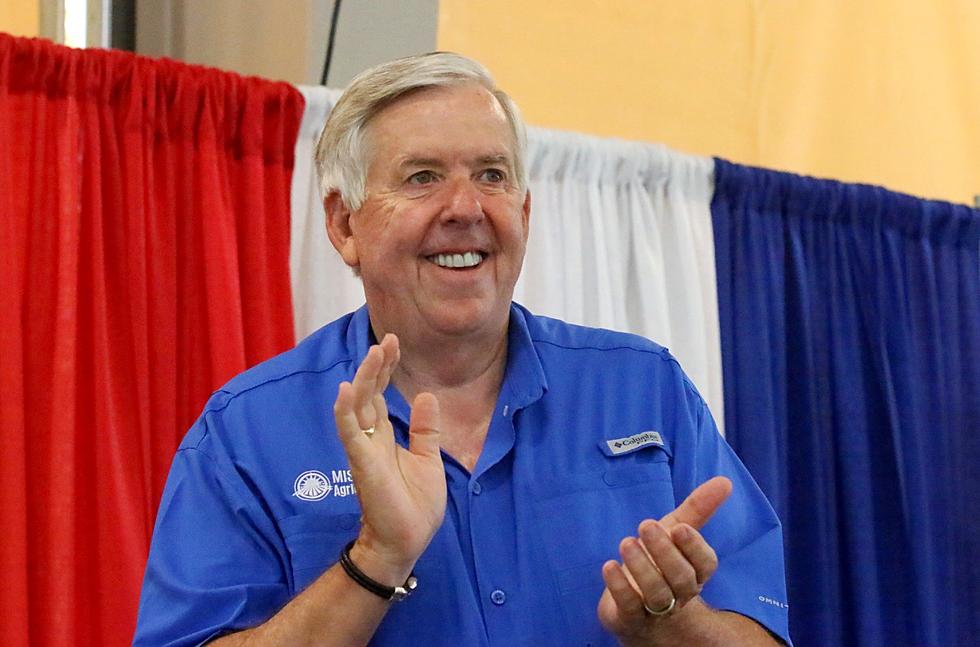 Governor's Ham Breakfast Gets Upgrade in Facilities
Randy Kirby
The 2021 Governor's Ham Breakfast was held in a brand new venue Thursday morning at the Missouri State Fairgrounds.
The Nucor Director's Pavilion was the site of the annual affair, which had to be skipped last year due to COVID-19, resulting in a greatly scaled-back event. The 2020 Fair was basically a youth livestock show, with no carnival and no entertainment.
The concrete and steel pavilion is situated just south of where the director's tent was normally located. Two giant fans on the ceiling of the permanent structure circulate the air, which is a vast improvement over a tent situation.
The highly political event was attended by state, county and local office holders and staff, and well as their supporters.
Director of Agriculture Chris Chinn served as mistress of ceremonies, and introduced State Fair Director Mark Wolfe and Gov. Mike Parson.
"We are the right track in this state. We just have to stay the course. We're going to be better as we move forward. But I couldn't be more happier today, being in front of you, as fellow citizens of Missouri, fellow farmers, men and women that I trust completely. And it is such an honor to up here and be governor of the State of Missouri," Parson said.
In his speech, Parson touched on the subject of mask mandates and mandatory vaccinations.
"You don't need the governor of the State of Missouri to tell you what to do for everything you need to do. You have to take that responsibility on yourself. That's what our forefathers done, that's what our grandparents done, and that's what our parents done. You have to take that responsibility on. I trust you to make the right decisions here in the State of Missouri. And I firmly believe we will make it. And we've been through tough times before, and we'll get through tough times ahead," Gov. Parson said.
One major portion of the morning's event has changed. The auction that generates money for the State Fair Foundation has been moved to Saturday's Sale of Champions at 1:30 p.m. at the Lowell Mohler Assembly Hall. That made for a shorter event on Thursday morning.
Aug. 19 is officially Governor's, Legislators; and Judges' Day at the Missouri State Fair, and also Throwback Thursday, with $5 gate admission all day.
Tonight's grandstand entertainment features Pettis County's own country music legend  Leroy VanDyke, and bluegrass recording artist Rhonda Vincent and The Rage.
Fore more information, go to mostatefair.com.