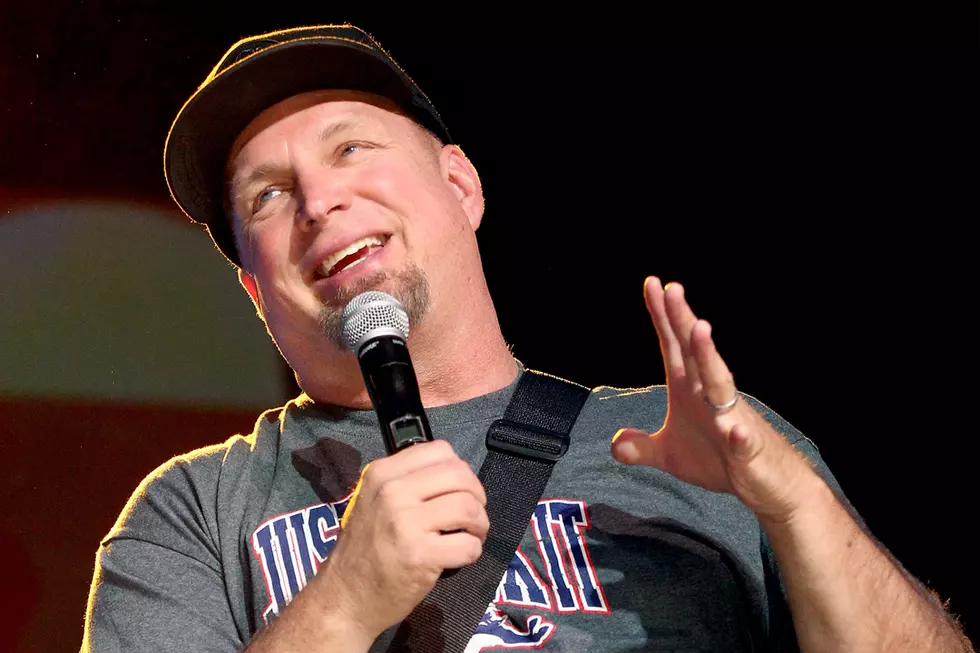 Garth Brooks Is Giving Away His New 'Triple Live' Album
Terry Wyatt, Getty Images
Garth Brooks' Triple Live album will be available for free on Monday night (Aug. 27), but you'll need to follow a few steps to secure it — and you'll need to hustle.
The title Triple Live plays off his record-setting Double Live live album, recorded during his 1996-98 world tour. A new three-disc project was recorded during his most recent world tour with Trisha Yearwood. It started in September 2014 and ran through last December.
On Brooks' Monday episode of Inside Studio G (his weekly Facebook livestream), the reigning CMA Entertainer of the Year will reveal a special code. From there fans can download the album on Ticketmaster. An unspecified, but limited number of downloads will be available onto a desktop or laptop computer only. Inside Studio G begins at 7PM ET.
This announcement was made during a press conference to announce the details of Brooks' upcoming show at Notre Dame. Tickets for the Oct. 20 show will go on sale through Ticketmaster on Sept. 14 at 10AM ET and cost (including taxes) $98.95.
Few track details for Triple Live have been shared, but Brooks did say that he asked Ashley McBryde if he could include her song "Girl Goin' Nowhere" on the album. She eagerly agreed.
One unique feature of Triple Live is that Brooks has enabled fans to choose their listening experience with the Fan Mix. You can adjust your speaker or headphone setting to sit in the middle of the crowd or on stage.
Brooks' current single is called "All Day Long."
Garth Brooks' Triple Live Album(s) Track Listing:
Disc 1
1. "The Thunder Rolls" (extended concert version)
2. "That Summer"
3. "Ask Me How I Know"
4. "Fishin' in the Dark"
5. "In Another's Eyes (duet with Trisha Yearwood)
6. "Rodeo"
7. "Mom"
8. "Papa Loved Mama"
9. Guy Goin' Nowhere"
Disc 2 
1. "Friends in Low Places (extended concert version)
2. "Two of a Kind, Workin' on a Full House"
3. "Unanswered Prayers"
4. "People Loving People"
5. "Shameless"
6. "Ain't Goin' Down ('Til The Sun Comes Up)"
7. "Tacoma"
8. "Standing Outside the Fire"
Disc 3
1. "Callin' Baton Rouge"
2. "The River"
3. "The Beaches of Cheyenne"
4. "The Fireman"
5. "More Than a Memory"
6. "Two Piña Coladas"
7. "Whiskey to Wine" (duet with Trisha Yearwood)
8. "We Shall Be Free"
9. "The Dance"
Garth Talks About "All Day Long"
Country Music's Sexiest Men Ever? Of Course Garth Made This List!