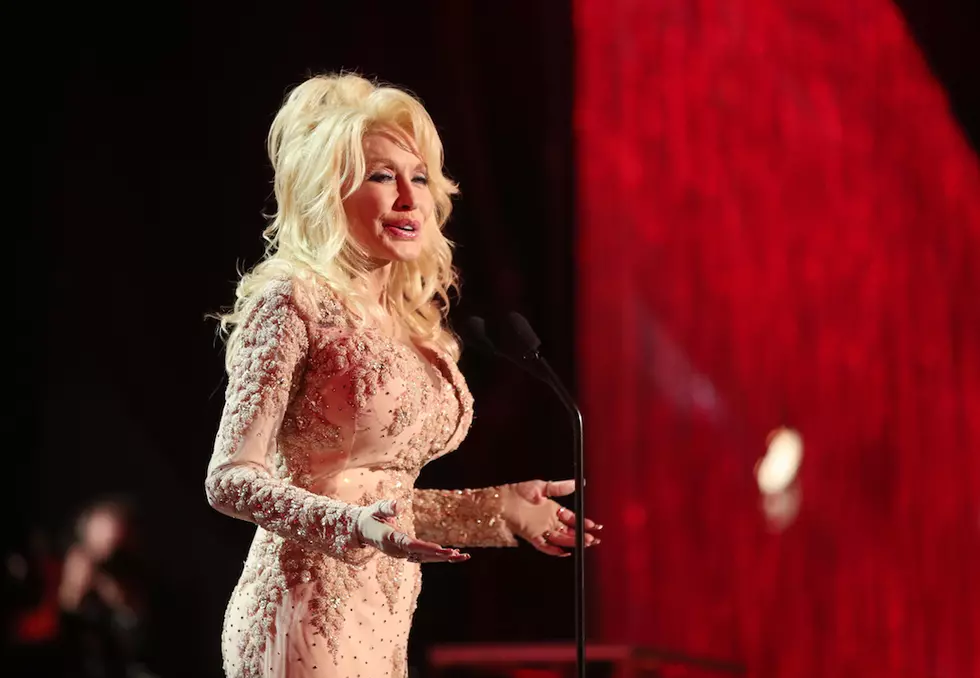 Dolly Parton Shuts Down 'Nightline' Reporter Pushing Her to Get Political [WATCH]
Christopher Polk, Getty Images
If you were thinking of trying to trick Dolly Parton into answering a question she doesn't want to answer, well, don't bother. David Wright of ABC's Nightline learned that lesson the hard way in a recent interview, during which he broached the subject of politics and was promptly and elegantly shut down by the country legend.
The interview takes a look back to 9 to 5, the 1980 film that stars Parton alongside Jane Fonda and Lily Tomlin, and tells the story of three female coworkers who turn the tables on  their "sexist, egotistical, lying, hypocritical bigot" boss. That movie is currently up for a remake, Parton told Wright in their interview. In the age of the #MeToo movement, the 9 to 5 message seems more culturally important than ever, but the country star demurred when asked about her own political leanings.
"Of course I have my own opinions about everybody and everything," Parton explains, "but I learned a long time ago, you keep your damn mouth shut if you want to stay in show business. I'm not in politics. I'm an entertainer."
Parton got a reminder of that lesson during the most recent presidential campaign, in an August 2016 interview with CNN, when she commented, "I think they're both nuts," and stated that the presidential campaign was "the greatest show on television right now." This earned Parton a fair amount of flak from supporters of then-presidential candidate Hillary Clinton, whom Parton had previously indicated she would support.
While she wouldn't comment on her own political viewpoints, Parton didn't shy away from one point: the advice she has for young women coming of age, in the entertainment industry and outside it, and running up against the same disadvantages Parton's character faced in 9 to 5. "You've got to really be strong, in the way that a man has always been strong in this world," the singer opined.
"I think [discrimination against women] is always going to a part of our society," she went on to say. "At least now it's been brought to the forefront. I think everyone that's ever been abused in any way should come forward to and should be listened to, be heard."
While Parton handled Wright's questions with a grace she's honed over more than 50 years of being active in the entertainment industry, it was clear that the topic was a hot spot for the country star, whose fanbase is so politically diverse. While the country music community typically slants conservative -- and Parton herself is from the deeply red state of Tennessee -- the singer also has a robust fanbase in the LGBTQ community, which tends to be quite liberal. From her impoverished childhood in rural Tennessee to her break-out performances on the Opry stage and the massive stardom she has since achieved, Parton has had to fight for herself in ways that she has said people of all stripes can relate to, and that diversity includes political diversity.
"I have a lot of fans out there, and I don't want to offend anybody," Parton told Wright.
Unforgettable Dolly Parton Moments