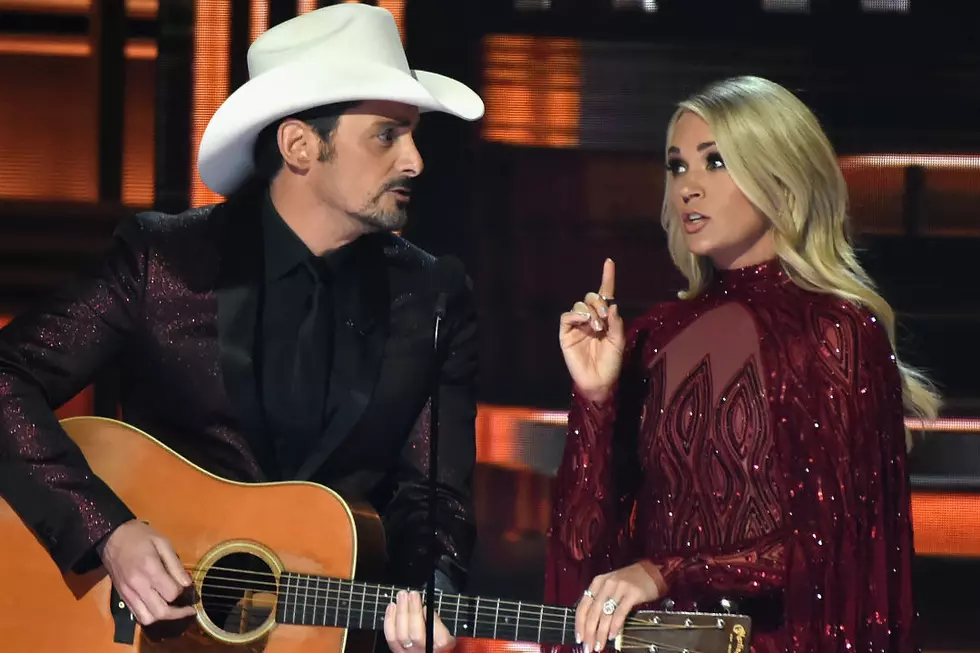 All of Brad Paisley and Carrie Underwood's CMA Awards Monologues, Ranked
Rick Diamond, Getty Images
For 11 years, the dynamic duo of Brad Paisley and Carrie Underwood took the stage as co-hosts of the CMA Awards. During their decade-plus together, the pair kept the live audience at the annual awards ceremony entertained with memorable discourse throughout the evening -- especially during their opening monologues.
In 2019, the Country Music Association revealed on Monday (Aug. 19), Underwood will return to host the awards show -- but with Reba McEntire and Dolly Parton as her special guest co-hosts, rather than with Paisley. From 2008 through 2018, however, the awesome twosome delivered a number of no-holds-barred roasts of colleagues, political icons and pop culture trends. Take a look back at all of them, ranked from our least favorite to our most favorite, below.
11

If we're being honest, Paisley and Underwood's final CMA Awards monologue, in 2018, wasn't their strongest. With Underwood pregnant with her second child, the duo turned again to joking about not revealing the baby's sex before actually revealing the baby's sex -- only, this time around, the punchline was totally expected, rather than totally surprising.

9

Underwood and Paisley spared none of their country megastar friends in their opening monologue at the 2015 CMA Awards. In a subversive jab at the then-recently divorced Blake Shelton and Miranda Lambert, they called out "two people who we all know and love" who called it quits -- before pointing out Kermit the Frog and Miss Piggy, who also announced their breakup in 2015, in the crowd.

8

The 2008 CMA Awards marked Paisley and Underwood's first turn at co-hosting. Clearly, the combo worked well, even if there were some first-year jitters.

7

Paisley and Underwood kicked off the 2013 CMA Awards with a tiny spat before they addressed the trend of feuds in popular culture. They also took a jab at the then-new Affordable Care Act with the song parody "Obamacare By Morning."

5

Paisley and Underwood took their first jab at West's infamous VMAs misstep in 2009, when Little Jimmy Dickens interrupted Paisley to recognize Swift for her music video. It was one of many cameo appearances that Dickens would make with the co-hosts over the years.

4

Underwood and Paisley took advantage of football superstar Payton Manning being in the 2016 CMA Awards audience, offering up a parody of his Nationwide insurance ad jingle. Manning turned the tables on the co-hosts by serenading Kenny Chesney as his favorite country star, however.

3

Not only did Paisley give Underwood a lesson in what the phrase "motorboating" means during their 2012 CMA Awards monologue, the pair also treated the audience to their own special version of the viral "Gagnam Style" dance. They also reminded Taylor Swift that she was "Never, Ever Getting Back Together" with her most recent ex, Conor Kennedy.

2

After a somber opening that addressed the succession of tragedies that took place throughout 2017, Underwood and Paisley took on the divisive politics of the year. The pair poked fun indiscriminately at politicians on both sides of the aisle.

1

From a "Jolene" parody, dubbed "Quarantine," that made light of the Ebola scare, to blaming major political upheaval on PPTSD -- Post Partum Taylor Swift Disorder, that is -- Paisley and Underwood were on their "A" game during ther 2014 CMA Awards monologue. But best of all? Paisley's "unintentional" reveal of the sex of Underwood's then-unborn first child, Isaiah.