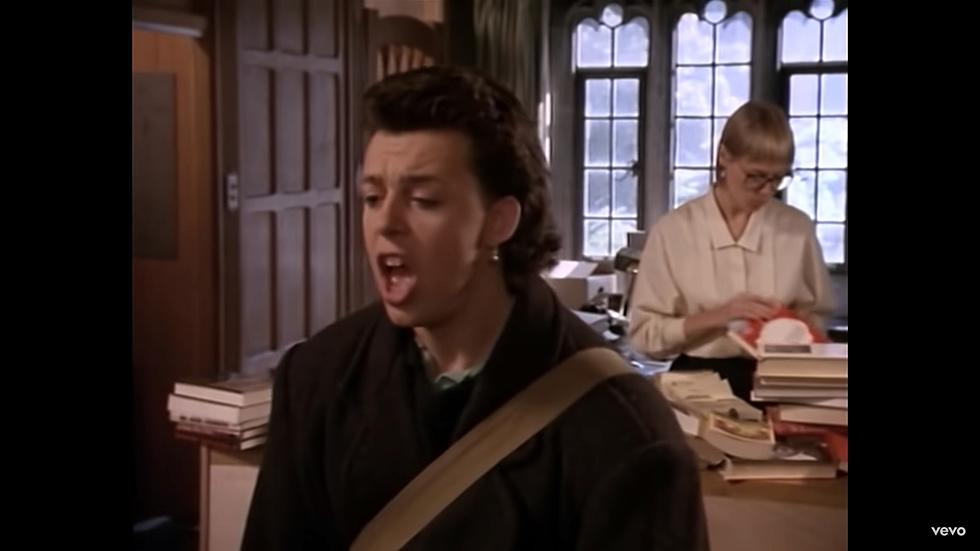 10 More Lost Songs From the '80s: How Many Do You Remember?
Tears for Fears via YouTube
I had so much fun last week sharing 10 Hits You Won't Hear On Our Awesome '80s Weekend that I decided I wanted to do another list. This week I give you 10 more lost songs from the '80s.
This week I'm not limiting it to chart hits, although I believe all these songs were either played a lot on MTV or at the time, we're played by radio stations when they were released in the '80s.
Did your favorite forgotten '80s tune make my list this week? Did you remember a song you had completely forgotten about? Gotta song you want me to put in one of these lists? Drop me a note using the message us function on the Awesome 92.3 app or drop me an email at rob.creighton@townsquaremedia.com.
Icehouse - Electric Blue 
Icehouse took this song, "Electric Blue", to #7 on the Billboard Hot 100 in the spring of 1988. The song was actually written by Iva Davies and John Oates after Oates sent Davis a note telling him he was a fan. If Davies hadn't released it with Icehouse, it would have been a slam dunk hit for Hall and Oates.
Herbie Hancock - Rockit 
Herbie Hancock's "Rockit" was all over MTV's 1984 Music Video Awards and picked up what were then known as five moon men thanks to the video created by Godley & Creme. While Rockit got the accolades for being a very creative video in 1984, in 1985 Godley & Creme's video for their own hit "Cry" was a big MTV hit using analog wiping and dissolving effects to achieve face morphing in the video, something that became easier to do digitally. As for "Rockit" it wasn't a big Billboard Hot 100 hit, it only went to #71. But you wouldn't know it based on how much MTV played it.
Gene Loves Jezebel - Jealous 
Ok, technically "Jealous" isn't an '80s song. It was released in 1990. But when it comes to music and genres and eras it can be somewhat messy. After all songs can't read the calendar. "Jealous" to me sounds like an '80s alternative tune that would receive a lot of play on MTV's 120 Minutes and pop up on some edgier radio stations. Jealous had a forgettable chart position on Billboard's Hot 100, but went to #1 on their Modern Rock Chart.
Nu Shooz - I Can't Wait 
Nu Shooz had to be patient for "I Can't Wait" to be a hit. The song, originally released in 1985 didn't really do anything until it was remixed by Dutch record producer Peter Slaghuis and put on the group's 1986 album "Poolside". That version was a #1 song in the clubs according to Billboard, and soon after wound up on Billboard's Hot 100 where it went to #3 and remained in the Top 40 for 15 weeks. It also was on the charts at the same time as Stevie Nick's "I Can't Wait" which I'm sure drove record company promo people up a wall. They hate stuff that can confuse the music-buying public.
Elvis Costello - Veronica
Elvis Costello has always been a darling of music critics and a very popular artist. Yet, a lot of his music has flown under the radar. Veronica is his biggest hit going to #1 on Billboard's Modern Rock Chart and hitting at very respectable #19 on the Hot 100 Chart. The tune features Beatle Paul McCartney playing his Hofner bass.
Oran "Juice" Jones - The Rain 
I thought I remembered this song from the "Less Than Zero" Soundtrack, but I was wrong. Oran "Juice" Jones has a song on the soundtrack, but not this one. "The Rain" went to #9 on Billboard's Hot 100 Chart, and was Def Jam Records' first #1 hit on the R&B Chart. I think the song's success largely stems from Jones'  long recitation at the end of the song. Like it or hate it it certainly is memorable. So memorable VH-1 ranked it at # 63 on their list of '80s one-hit wonders and artist/comedian/actor Donald Glover parodied the song in a 2018 episode of Saturday Night Live with Kenan Thompson and Cecily Strong.
Dream Academy - Life In A Northern Town 
This is one of those records that's just a solid song. There isn't a lot of flash to "Life In A Northern Town", just a really good hook that propelled it to #7 on Billboard's Hot 100 Chart in February of 1986. It did take a year to produce, and Pink Floyd's David Gilmour helped with the production. You'd think radio would still be all over this song, but that just didn't happen with this tune.
Irene Cara - Why Me 
The follow-up to Cara's big soundtrack hit "Flashdance", "Why Me" performed admirably well on Billboard's Hot 100 chart peaking at #13. The song was written and produced by Giorgio Moroder, who is sometimes called the father of disco because he was a pioneer in electronic music and heavily influenced the genres of  Hi-NRG, Euro Disco, New Wave, House, and Techno music. If there's a criticism of this song, it's that Moroder recycled riffs from "Call Me" which he had written and was done by Blondie. I noticed that right off when I played the song.
Pretty Poison - Catch Me (I'm Falling) 
Pretty Poison's "Catch Me (I'm Falling)" comes in at #47 on VH-1's 100 Top One Hit Wonders from the '80s. Its success was somewhat propelled by its inclusion on the soundtrack for the movie "Hiding Out" starring John Cryer. It was the group's only major hit topping out on the Billboard Hot 100 at #8. The video is a great example of why soundtracks became so important for films in the 1980s as the video includes film clips and audio, a great vehicle to promote a movie on MTV.
Tears for Fears - Head Over Heels 
It wouldn't surprise me if "Head Over Heels" pops up on our Awesome '80s weekend. You don't, however, hear it a lot on the radio because it was the third song released from their album "Songs From the Big Chair".  And if you ask anyone to sing a Tears for Fears song they're going to start singing "Shout" or "Everybody Wants to Rule the World". So those songs win, even though this song's chart performance and video was every bit as strong. "Head Over Heels" went to #3 on the Billboard Hot 100, and cracked the Top 10 on Billboard's Rock Track's list.
And there you have it. Ten more lost songs from the '80s. How many did you remember?
LOOK: TV Locations in Every State
The Cast of 'Friends': Then & Now