Everything We Know About Rascal Flatts' New Album, 'Back to Us'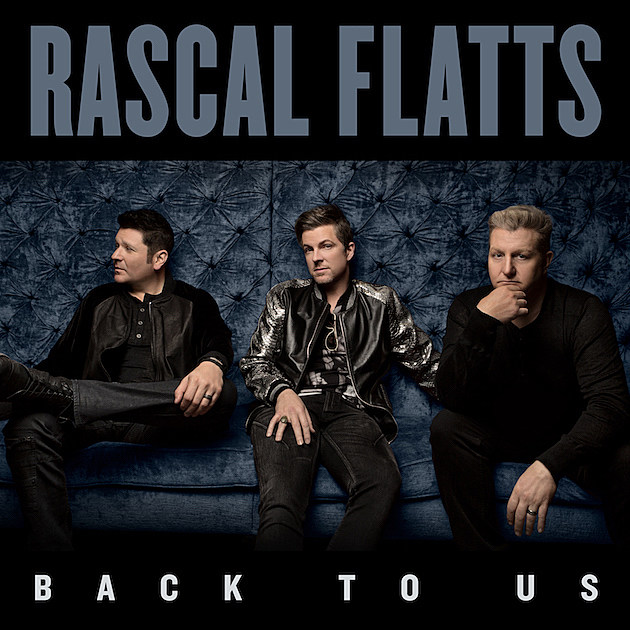 On March 3, Rascal Flatts delighted fans by announcing the release of their 10th studio album. Back to Us will hit stores and streaming sites in mid-May; it will be the country trio's first full-length studio offering since 2014's Rewind.
Jay DeMarcus, Gary LeVox and Joe Don Rooney first shared the news of Back to Us on The Ellen DeGeneres Show, and then through an official press release, in which the guys talked about the experience of recording their latest album.
"There was a nostalgic feeling between the three of us while in the studio for this record, a feeling that was more reminiscent of our first albums," DeMarcus says in the release. "The journey we've all been on together is unreal, and I can honestly say I'm even more excited about what is ahead for us."
The Title
Rascal Flatts' new album is named Back to Us; it takes its name from one of the tracks on the record, but also speaks to what DeMarcus describes as a "feeling that has been building around this new music."
"This time around, the three of us have been able to really focus and work together on what we want to say at this point in our careers," adds LeVox. "We've all been so energized by the process of making this album, and we still have a lot more music to make …"
The Release Date
Back to Us is scheduled to be released on May 19.
The Record Label
Back to Us will be released through Big Machine Records. Rascal Flatts first teamed up with Big Machine in 2010; their new offering will be the band's fifth release with the label, including their three most recent studio albums as well as their 2016 Christmas album, The Greatest Gift of All.
The Album Cover
Rascal Flatts released the album cover for Back to Us via an official press release on March 3. DeMarcus, LeVox and Rooney are posed on a deep blue velvet couch, with the band's name above them and the album title below. As with past album covers, the band members are featured prominently; however, this time, the color scheme is darker and richer than on prior covers (for example, the bright white of 2014's Rewind).
The Producers
No word yet on who the producers of Back to Us are, but considering that Rascal Flatts have earned producing credits on every album since 2009's Unstoppable, it's a safe bet that the band will play a big role in the production of their 10th studio album.
The Single
Rascal Flatts released "Yours If You Want It" on Jan. 6, as the first single from Back to Us. The song was written by Andrew Dorff (who passed away in late December) and Jonathan Singleton, and is all about giving your whole heart to the one you love.
"We all felt like "Yours If You Want It" was the perfect way to introduce our fans and radio to the new music we've been making," DeMarcus says. "We've been working really hard, and we're very proud of this track, and what's more, the late Andrew Dorff is a writer on it, and we are so honored to be a small part of making sure his legacy lives on. We have a special angel watching over it, for sure."
The Songs
The track listing for Back to Us has not been revealed yet, but The Boot will share it as soon as it's announced.
The Tour
No word yet on whether Back to Us will be accompanied by a tour. Rascal Flatts wrapped up their 2016 Rhythm and Roots Tour in September, after spending more than three months on the road with Kelsea Ballerini and Chris Lane.
See the Rascal Flatts Guys + More Country Stars Then and Now
How Well Do You REALLY Know Rascal Flatts?

Source:
Everything We Know About Rascal Flatts' New Album, 'Back to Us'