Little Big Town Dish on How They Balance Parenting and Touring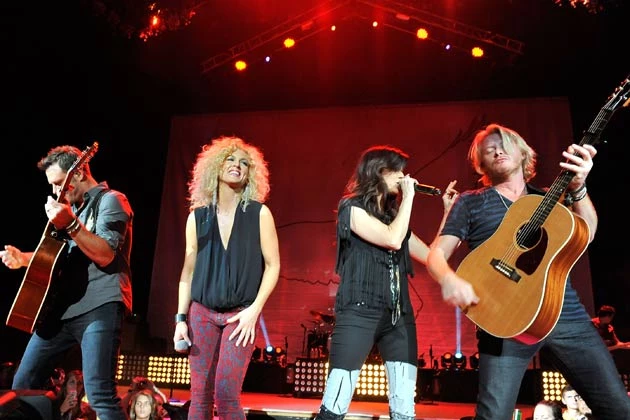 Traveling the country in a bus full of people is hard enough, let alone with three young children spun into the mix. Yet somehow, the members of Little Big Town seem to make parenting on the road work well, even with their on-fire careers.
"We've always just figured it out as we went along," Kimberly Schlapman tells Taste of Country. "We didn't know what we were going to do when the first one came along. Everybody just kind of jumped in and we figured it out. It's trial and error, and a lot of preparation and a lot of thinking ahead… 'Here comes a four or five day run! Do we have enough clean underwear?' We try to give them as much normalcy as possible, and they love each other. They're like brothers and sisters. They don't know, really, any different," she says of the kids, adding, "We just made it work."
As Phillip Sweet chimed in, 'normal' to the collective LBT kiddos is a far cry from what it is to most kids. "The road life, too, they don't know any different than having a bunk and doing all the things you do out on the road," Sweet explains. "They probably think every kid has a bunk! It's awesome."
Because Schlapman's daughter, Daisy, and Sweet's daughter, Penelopi, are the oldest, LBT husband and wife duo Jimi Westbrook and Karen Fairchild get a bit of a break with raising their 4 -year-old son, Elijah.
"Last week, I heard Penelopi in the dressing room," Fairchild tells us, grinning. "Elijah was grabbing a Sharpie, which of course he's not supposed to have a black Sharpie in his hand. She goes, 'Don't even think about it, baby Elijah!' I didn't even have to say anything. She had it all worked out!"
"We just try to make it work," the singer and mom says of managing all of the kids. "Really, it's just a day-to-day thing. They eat Lucky Charms in the morning, they tear the bus apart with plastic toys and baby dolls and cars and trucks everywhere, they get on each others nerves, then they love each other… It's just like a family. It's just normal."
Source:
Little Big Town Dish on How They Balance Parenting and Touring