Everything We Know About Chris Stapleton's Sophomore Album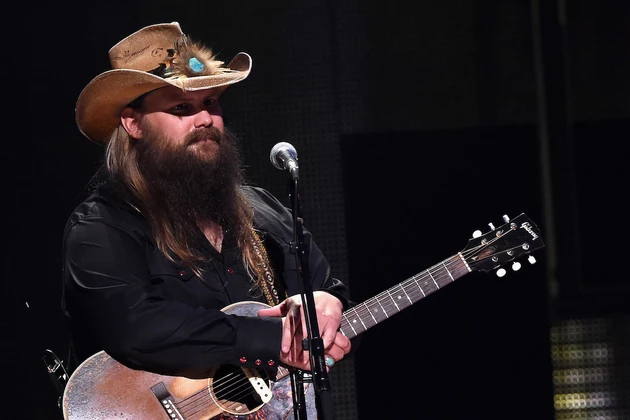 Ever since Chris Stapleton became 2015's breakout country star thanks to his debut album Traveller, fans have been eagerly anticipating the singer-songwriter's follow-up project. The good news: As of May 5, the wait will finally be over.
In February, Stapleton announced that he will release his sophomore album this spring, in conjunction with an impressive five-month tour. Scroll down to learn everything known so far about Stapleton's new album.
The Title
Stapleton has not announced the title of his second album, but stay tuned — The Boot will let readers know as soon as it's announced.
The Release Date
Stapleton's second studio album will be released on May 5.
The Record Label
Stapleton is signed to Mercury Nashville.
The Album Cover
The album cover for Stapleton's sophomore album has not been released yet, but The Boot will share it when it's revealed
The Producers
No news yet on who will be producing Stapleton's second album. Traveller was produced by the singer and well-known producer Dave Cobb; Stapleton and his wife Morgane teamed up with him again in the studio, for Cobb's 2015 concept album Southern Family.
The Single
A first single has not yet been released from Stapleton's new album.
The Songs
While the official track listing for Stapleton's second record has not yet been released, the singer has unveiled two new songs within the past year, which may hint at the direction this new offering will take.
In April of 2016, Stapleton began incorporating a previously unreleased song, entitled "Hard Living," into his live shows. The song is a blues-infused jam session that Stapleton and his core band (Morgane Stapleton on backing vocals, bassist JT Cure and drummer Derek Mixon) developed during soundcheck while on the road.
"We try to have extended soundchecks, take a couple hours, where the first 45 minutes is actually soundchecking and the back half is working on new songs, or we goof around and jam for an hour," Stapleton says, adding that the track was inspired by legendary blues guitarist Freddie King: "We are huge Freddie King fans, and not that anyone could be him, but we'll get in a blues jam and try to channel some of that."
In February, Stapleton performed another new track at the Ryman Auditorium, during Universal Music Group's luncheon at the 2017 Country Radio Seminar. The song is called "Broken Halos;" Stapleton and wife Morgane also sang the song during Dolly Parton's Smoky Mountains Rise telethon in December. At his UMG luncheon performance, Stapleton explained that the song is "about people who have passed away before their time," noting that he wrote it after the untimely death of a childhood friend, who passed away due to pancreatic cancer at the age of 38.
The Tour
In addition to his new album, Stapleton will also be hitting the road in 2017, on his All-American Road Show Tour, which is set to kick off on March 9. The All-American Road Show Tour will feature the Brothers Osborne, Lucie Silvas, Brent Cobb, Anderson East and Margo Price at different shows throughout the trek.
New Country, Americana, Alt-Country, Bluegrass and Folk Albums Coming in 2017
Unforgettable Chris Stapleton Moments

Source:
Everything We Know About Chris Stapleton's Sophomore Album